Congress plays 'Dard-e-Banaras' campaign as Sonia gears up for Varanasi roadshow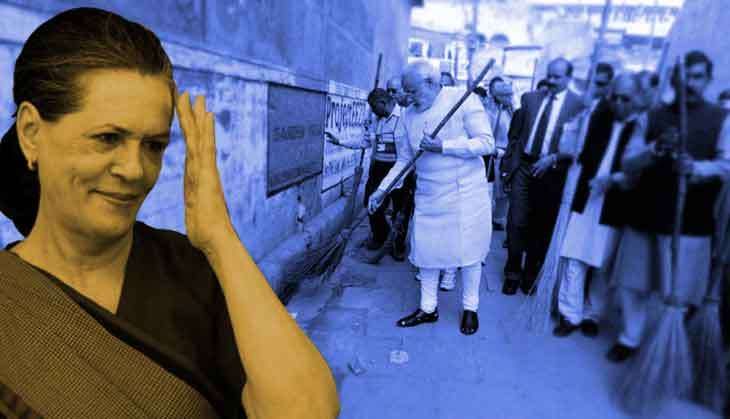 The roadshow that Congress President Sonia Gandhi will hold in Varanasi on 2 August is an emphatic raising of party stakes in the run-up to the Uttar Pradesh Assembly elections.
After announcing a chief ministerial candidate and then getting party vice-president Rahul Gandhi to address party workers at a public event, this will be the third bold move from the Congress.
Must Read:Sheila Dikshit as UP CM face: 5 reasons why Congress has aced it
Its objective appears to be two-fold - energising party cadre and conveying its seriousness to rival factions.
Sonia Gandhi, according to reports, will launch the roadshow from an Ambedkar statue. She will be paying her tributes to the late Congress veteran and former Chief Minister Kamlapati Tripathi and will also be visiting the Kashi Vishwanath temple.
While the response that she will get during the roadshow will be something to watch out for, a glimpse of the issues the party will be raising can be seen in a campaign that it has been running, called Dard-e-Banaras.
A series of nine videos feature ordinary residents of Varanasi who have spoken up about how nothing has changed in Prime Minister Narendra Modi's Lok Sabha constituency.
The issues touched upon in the videos include the filth in the city, the poor condition of the Ganga, unemployment and how 'Achche Din' have come only for Modi.
Talk about rolling up the sleeves up and getting into the pit!
Take a look at these videos here.
Also Read: Uttar Pradesh polls: Desperate for a tie-up, Congress woos both BSP & SP
Also Read: Why Rahul Gandhi should agree to lead the Congress in UP
Also Read: Drenched in the rain, Rahul Gandhi brings UP Congress back to life
Also Read: Is a BSP-Congress-RLD Grand Alliance emerging in UP?