Congress leader Adhir Ranjan Chowdhury's 'misogynist' personal attack on Nirmala Sitharaman rakes up controversy in Lok Sabha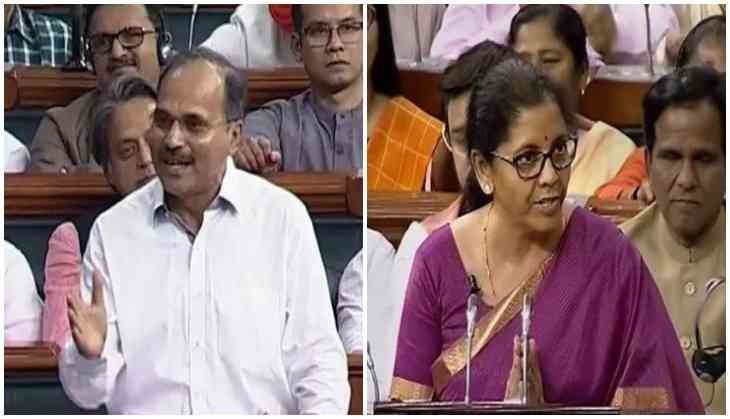 Leader of Congress party in the Lok Sabha Adhir Ranjan Chowdhury has made a personnel attack against Finance Minister Nirmala Sitharaman. He said, " sometimes I feel your name Nirmala Sitharaman would appear more appropriate if I call you "Nirbala" Sitharaman. The Hindi word "Nirbala" in English means "weak".
This is Adhir Ranjan's second personal attack on BJP senior leaders in two days. On Sunday, he called Prime Minister Narendra Modi and Home Minister Amit Shah "intruders" and "migrants" in Delhi. The Congress leader also said PM Modi and Amit Shah are migrants since they have their homes in Gujarat but they are now living in Delhi.
BJP leaders have taken offence of personal attack against Finance Minister Nirmala Sitharaman.
Congress MP Adhir Ranjan Chowdhury in Lok Sabha: Yeh humare leader Sonia Gandhi ji ko ghuspethia keh rahe hain. Kya kar rahe ho aap(BJP) log? Agar mera leader hai (ghuspethia) toh apka leader bhi hai pic.twitter.com/yfbfSGg4vt

— ANI (@ANI) December 2, 2019
BJP leader GVL Narasimha Rao has demanded that such derogatory remarks against woman finance minister should be immediately expunged from the Lok Sabha records. "If such things are allowed then there is so much that we can say against the Congress leadership that they will need to run for cover," Narasimha Rao said.
Narasimha claimed that Nirmala Sitharaman has taken many bold decisions recently and she should be respected for her work.
" Adhir Ranjan Chowdhury has made a misogynist statement and needs treatment," he said.
Also Read: Hyderabad gang-rape rocks Rajya Sabha: Why Ghulam Nabi Azad's statement holds key to possible