Congress fires heavy salvo at BJP, MMRDA as they hire tainted contractor for Metro work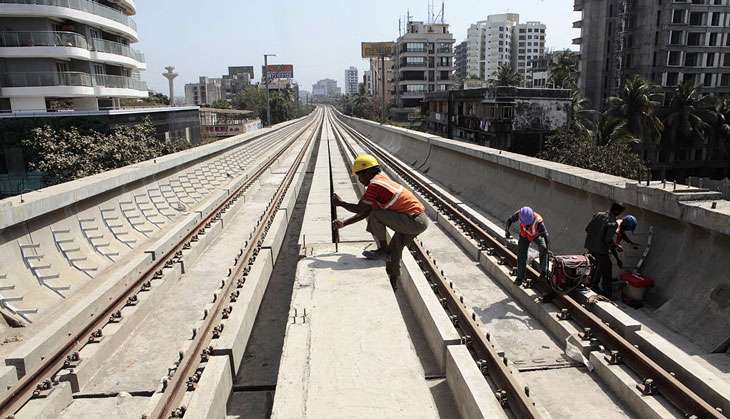 Congress fires heavy salvo at BJP (Photo by Sattish Bate/Hindustan Times via Getty Images)
The Bharatiya Janata Party (BJP) came to power criticising previous Congress and Nationalist Congress Party (NCP) for rampant corruption during their one-and-a-half-decade tenure. The party, in fact, played this 'corruption' card to the fullest. But these corruption allegations have come back to haunt the BJP as the Opposition has been raising its ante from the cabinet to the municipal corporations.
The promise of a clean and transparent governance worked as the BJP's USP when they won the Maharashtra state Assembly elections held a few years ago.
Allegations 1.0
However, within a few months of coming to power, BJP faced serious corruption allegations themselves, so much so that the senior-most leader in the state Eknath Khadse had to resign following allegations of misuse of power and serious financial irregularities.
Ever since Khadse resignation, the Opposition had leveled serious corruption allegations against ministers such as the Women and Child Development Minister Pankaja Munde, Irrigation Minister Girish Mahajan, Civil Supplies Minister Girish Bapat. However, the CM Devendra Fadnavins had defended his colleagues in these 'difficult' times.
Allegations 2.0
After serious corruption allegations against key ministers in the cabinet, Congress has now targeted the Mumbai Regional Development Authority (MMRDA) which comes directly under Fadnavis's control.
Maharashtra Pradesh Congress Committee (MPCC) spokesperson Sachin Savant has alleged that the MMRDA has awarded the contract for the Mumbai Metro Rail Phase III and VII to a tainted contractor, who has been blacklisted by the Municipal Corporation of Greater Mumbai (MCGM).
"The MMRDA, which is under the direct control of the CM, has roped in J Kumar Infra Project Ltd (JKIPL) for the work on Phase III and VII of the Mumbai Metro Rail. Surprisingly, the Advocate General (AG) of the state had suggested against awarding contract to JKIPL given the action taken by MCGM against the company for faulty road works in Mumbai," Savant said.
He alleged that the state government has allotted contract worth Rs 5000 crore to JKIPL in Phase III and VII of Mumbai Metro Rail project.
"The party came to power with the promises of a clean and transparent governance and forgot the promise the moment it took charge. The contractor who has done such poor road work in Mumbai cannot be trusted with the lives of millions of people who will use the Metro Rail daily," Savant said.
Shoddy record
The contract for the part of Metro Rail Phase III and VII was awarded to JKIPL in July this year and after the uproar over the appointment on the back drop of Bombay High Court's strictures against the company for pathetic road works in Mumbai, the state government came under heavy criticism.
It was then decided that the legal opinion would be sought from the AG on the issue.