Cong summons Manipur CM & party chief after 25 MLAs turn dissident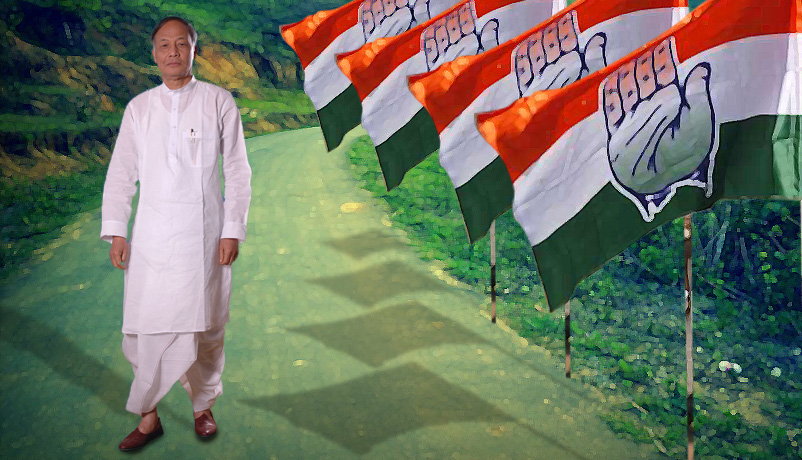 Burned by the experience in Arunachal Pradesh, where its own MLAs toppled its government, Congress president Sonia Gandhi has summoned Manipur Pradesh Congress Committee (MPCC) chief Gaikhangam and Chief Minister Okram Ibobi Singh.
This comes after 25 dissident Congress MLAs met Gandhi and Congress vice-president Rahul Gandhi on 11 March in Delhi. The MLAs highlighted their grievances and placed some demands.
Also read -
Smoke signals: how to read the
BJP
win in Manipur. And why it matters
The trouble for the Congress is that while the dissident MLAs may deny it right now, it is believed they are contemplating going the Arunachal way by defecting to the BJP or forming a new party if the high command doesn't consider their grievances. Manipur BJP chief Thounaojam Chaoba Singh himself has publicly proclaimed that 'about 20-plus Congress MLAs are likely to join the BJP soon'.
A dissident MLA, who refused to be named, categorically denied any move to topple the government or to replace the CM. He said their demands were to do with reshuffling ministries, adhering to the 'one-man-one-post' principle and decentralisation in governance for more accountability.
This is Ibobi's third term as the Chief Minister, and not only does that make him the longest-serving CM of Manipur, his dominance over governance is total. It is said that nothing ever passes through any ministry without his nod.
Invincible Ibobi, growing detractors
The Manipur Legislative Assembly has 60 seats. Statutory provisions allow only 12 ministers, while there are 48 Congress legislators to accommodate. The remaining seats are held by the Naga People's Front (5), BJP (2), Trinamool Congress (3), the LJP (1) and the Nationalist Congress Party (1).
State Assembly elections are likely to be held early next year, and the aggrieved MLAs complain that Ibobi's non-consultative, autocratic style of functioning has left them voiceless in governance. This has punched holes in their credibility, and forced them to come to the high command in an attempt to decentralise power.
As Ibobi's invincibility has grown, so have his detractors. What has hurt the MLAs most is how the CM keeps them at bay; he doesn't even meet them when they call on him.
The MLAs have highlighted the failure to shuffle out non-performing ministers after two-and-a-half years, but rather than targetting the CM, they have trained their guns on Gaikhangam, the Deputy Chief Minister in charge of Home affairs, which they consider one of the darkest spots in the Manipur government.
Gaikhangam's dual responsibility in the government and the party also goes against the one-man-one-post principle of the Congress, and they want him to quit his party post in favour of former Assemly Speaker TN Haokip. Gaikhangam has been the MPCC president since 2006.
Also read - All you need to know about the Arunachal crisis that's haunting the Parliament
Crisis can still be handled
With the Arunachal fiasco fresh in their minds, AICC leaders are unwilling to take the growing unrest in Manipur lightly. Ibobi and Gaikhangam's meeting with the top leadership is set to be crucial in this context.
With tactful handling, the internal wranglings in Manipur can still be handled. But, as the Arunachal case has proved, the Congress is capable of letting things snowball into disaster.
The dissidents' expectations are high, and they are keeping their cards close to their chest. It'll be interesting to see who blinks first.
More in Catch - Tribe trumps party: decoding the crisis in Arunachal Pradesh
Arunachal Congress rebels meet Rahul; claim 'positive developments'