Coming soon to Mayawati's Dalit parks: BJP's pick of non-Dalit icons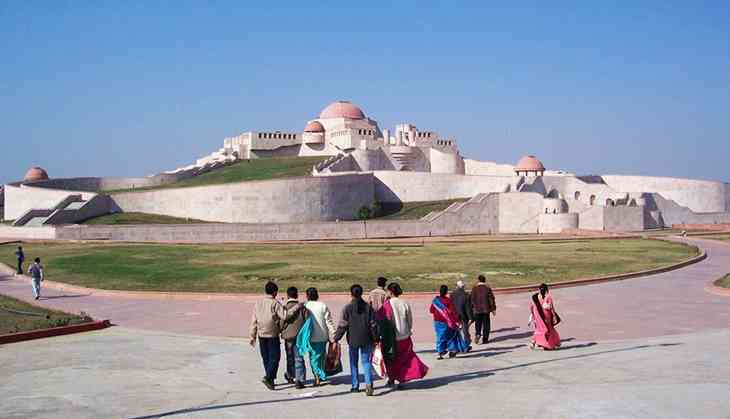 In what may come as a blow to Mayawati and the Bahujan Samaj Party in Uttar Pradesh, the state's Bharatiya Janata Party government has plans to end the exclusivity of Dalit memorials by installing statues of icons from other castes.
Among those joining the ranks are Raja Suheldev, Savitribai Phule, Ahilyabai Holkar, Daksh Prajapati, Guhraj Nishad, Maharana Pratap and Prithviraj Chauhan.
These icons, barring the two Rajput kings, belong to Other Backward Classes (OBCs).
The statues will be put up both inside and outside the Bhimrao Ambedkar Samajik Parivartan Sthal (Ambedkar Memorial) in Lucknow.
The Yogi Adityanath government, which is still trying to figure out ways to raise revenue to meet its commitments towards a farm loan waiver and to pay commission payouts, has also sanctioned money for the upkeep of Mayawati's memorials.
So far, BSP's response has been cautious. "Hum sirf itna kahenge ki sabhee santon aur mahapurushon ka hum samman karte hain… unke prati bhee hamaari aasthaa hai (I will only say that we respect all the saints and great icons… we also have faith in them)," says party member Ram Achal Rajbhar.
"We do not have anything to say on this," a Samajwadi Party spokesman said.
Maya's parks
In April 2009, Mayawati had placed statues of Bahujan leaders, including herself, for which she was heavily criticised, at the site.
Besides BR Ambedkar, Kanshi Ram and Mayawati, there are white marble statues, all seven feet tall, of Ramabai Ambedkar, Chhatrapati Shahuji Maharaj, Kabir Das, Sant Ravidas, Jyotiba Phule, Birsa Munda, Narayana Guru and Guru Ghasidas. The cost of the statues is estimated to be Rs 1.08 crore.
According to Om Prakash Rajbhar, the backward classes welfare minister, many of the 13 platforms outside the Ambedkar Memorial are vacant and could be used for installing statues of icons from other castes.
To begin with, about 18-foot tall statues of Raja Suheldev, one in bronze and the other in white marble will be installed in and outside the Ambedkar Memorial.
Icon appropriation
Rajbhar, a former BSP leader, is the leader of the Suheldev Bharatiya Samaj Party (SBSP), which enjoys considerable political support in East UP. The SBSP was among the first political entities with which the BJP entered into a pre-poll alliance for the 2017 assembly elections.
Before the polls too, the BJP and the Vishwa Hindu Parishad (VHP) had tried to appropriate the legacy of Raja Suheldev of Shravasti, but its attempts were strongly opposed by Rajbhar.
Raja Suheldev is important for Rajbhar as the 11th century king is said to belong to the community.
In April, Chief Minister Yogi Adityanath agreed with the VHP's demand to rename the Sainik School in Lucknow after Suheldev, who is said to have defeated and killed Ghazi Saiyyad Salar Masud.
He also agreed to their demand that a sun temple be constructed where Masud's burial site is in Bahraich. A dargah currently stands there, but the Rashtriya Swayamsewak Sangh (RSS) has claimed that an ashram once stood there.
Caste politics
Prof SK Dwivedi, a political scientist, explained how the move is a continuation of caste politics. "The decision to install statues of OBC and upper caste icons is aimed to keep the BJP's support base intact," Dwivedi said.
Mayawati, he said, had used the statues to psychologically impress her Dalit voters.
"The present government could have done something to propagate the teachings/ ideas of the leaders whose statues are planned to be installed," Dwivedi said.
The former head of Lucknow university's political science department said he was happy when the government decided to prune the list of government holidays on the birth and death anniversaries of important personalities.
"The chief minister had said that instead of holidays, children should be taught about the eminent people instead of being given holidays in their name. Something similar should have been done in the case of the statues," Dwivedi said.