Chief Justice's tears: spare some for poor litigants, your Lordship
P Pullarao
| Updated on: 10 February 2017, 1:51 IST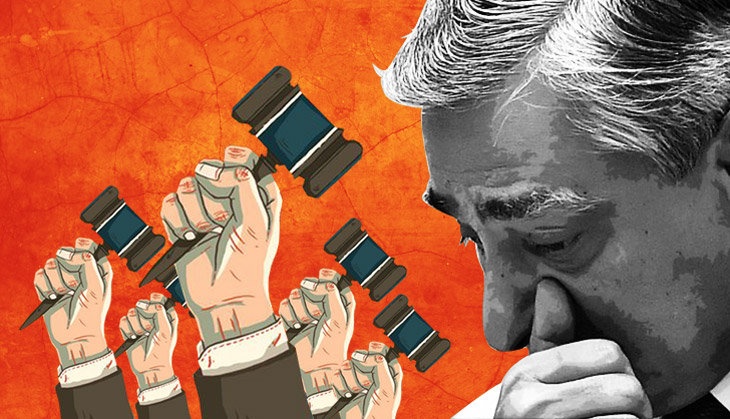 It was really a sad sight to see Chief Justice TS Thakur crying before Prime Minister Narendra Modi recently. Perhaps there has been no such sight anywhere except in Idi Amin's Uganda when some judges were dragged away from courts and never seen again.
The Chief Justice broke down simply because he could not get more judges sanctioned. He claims that had there been more judges, he would have gotten rid of the backlog of 3 crore cases. More judges might be needed, but it is highly doubtful whether the backlog would come down.
Read: The judiciary is setting the balance right
The only way the Chief Justice can reduce the backlog is to reject and eliminate cases like mine. I had the great misfortune of representing 5 lakh farmers, tribals and Dalits, who are facing eviction, displacement and other cruelties because of the government's Polavaram Dam project.
This is the largest dam in Indian history and displacement and evictions are also the largest ever in Indian history. But it seems to have rung no bells.
Background
The construction of the dam began in 2005 on the river Godavari in the districts of West & East Godavari in Andhra Pradesh. Thus far, nearly 1 lakh acres of land was acquired. Nearly 1 lakh people are facing eviction and eventually 4 lakh more will be evicted.
Polavaram dam will be completed only after another 15 years. But government and contractors have formed a happy family and neither the Land Acquisition Act of 1894 or even the recent Land Acquisition Act of 2013 are being applied.
Polavaram is a central project under the ministry of water resources. We found serious violation of constitutional rights and went to the Supreme Court. The case was fixed in June 2015, before the vacation bench of the Supreme Court. On the day when our case came up, we went to the court full of hope.
Also read: By protecting Teesta Setalvad, the Supreme Court just saved all of us
Justice UU Lalit, a recent appointee to the Supreme Court, said "I have to be recused because many years ago, I appeared for the government on Polavaram ". The case was postponed. We went through great suffering and cost to find a lawyer and come to Delhi.
Is it right for Justice Lalit to make such a grand statement of his probity at our cost? Should not judges recuse themselves beforehand and protect litigants? What does the Chief Justice have to say about such incidents?
Then after 15 days, our case came up again before another bench. With great trouble, we rustled up lawyers. In a 2 judge bench, one favoured giving a notice and another kept saying "go to the High Court".
We pointed out since 7 central Ministries were involved, the Supreme Court was appropriate. But the Bench insisted we go to the High Court in Andhra Pradesh.
In Andhra Pradesh High Court, the case - PIL 140 of 2015 - came up before acting Chief Justice Dilip Bhosale. The Justice was very positive at first. He straightaway said that based on initial perusal, great injustice was being done to lakhs of people and it must be remedied. He ordered that notices be issued to 12 parties. Justice at last?
But after 3 dates , we found that there was a subtle change in the attitude of the court. We found that the court did not respond severely to the fact that central ministries did not reply to notice.
There were suggestions that maybe we should withdraw the case. I asked , "Withdraw and go where? If my case had no merit, let it be dismissed". That meant we have to go back to the Supreme Court.
Observations
1. I found that unless we had expensive Senior Advocates, our case will never be heard . My case affects 5 lakh people and is well-documented.
2. I suggest  that judges should not recuse themselves as a grand gesture. They can recuse themselves quietly at an earlier stage when the case is assigned to them  and spare us the extra cost and the court its precious time.
3. I found that state High Courts seldom help poor litigants in large numbers when they are fighting a government. Judges might act bravely in individual cases but the plight of lakhs of people does not evoke the same reaction. Government advocates seem to impress them easily.
Read: Supreme Court stays Uttarakhand HC order revoking President's Rule till Wednesday
4. The Chief Justice of India should ensure that cases get decided not by senior lawyers hired but on merit. The CJI should ensure that Indian justice is not seen to be owned by Senior Advocates.
5. Everyday, Supreme Court can post online the cases argued and who the lawyers were. At least Indians will know how much money some lawyers made that day. Any real estate broker will confirm that entire posh areas in Delhi like Jor Bagh, Golf Links and Sunder Nagar are being bought by lawyers. Let us know who is making how much.
The CJI should know that no number of new judges will help. The very system is rotten. Parkinson's law will operate here. The CJI should first make justice accessible. I know it is not. The CJI should have wept over the rotten system and not paucity of judges.
Till then, I am continuing my search for a generous lawyer.
(The views expressed here are personal and do not necessarily reflect those of the organisation.)
More in Catch:
#Malegaon: Muslim accused discharged, but justice is far from done
Shocking tech: this wristband electrocutes you into ditching a bad habit
Meet Hatecopy: South Asian pop art that makes fun of cultural appropriation
CJI Thakur's tears: should judiciary show weakness to the govt?