Captain Amarinder Singh catches up: Has AAP lost steam in Punjab?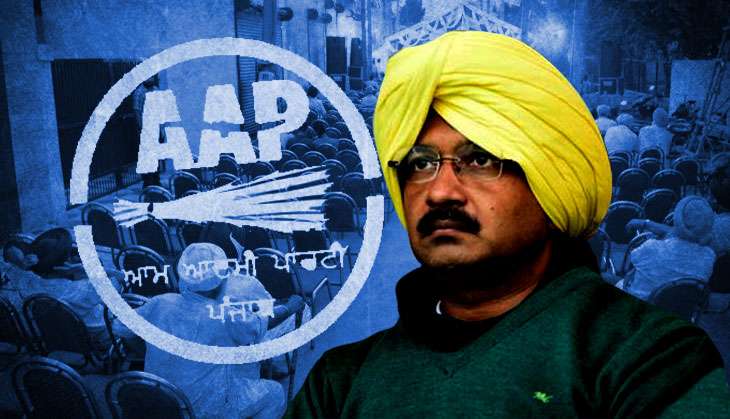 The just concluded Punjab visit of Aam Aadmi Party (AAP) national convener and Delhi chief minister Arvind Kejriwal has given AAP cadres with very little to cheer about. The visit was supposed to infuse a fresh enthusiasm among the party cadres to overcome the setbacks that the party has received after the departure of its state convener Succha Singh Chhotepur and the rebellions that have marked the distribution of tickets on the 61 seats so far. But the visit ended in a subdued manner. For now, the cadres will have to contend with continuing a low intensity poll campaign.
The high point of Kejriwal's visit was supposed to be the release of trade and industry manifesto of the party in Ludhiana, followed by discussions with industry representatives at various places. He did release the manifesto but the event failed to generate any ripples even among industry circles. In fact the rival Congressmen were gleefully circulating pictures of empty chairs at the venue in Ludhiana.
The participation of the public at discussions at other places was by invitation. The response was nowhere near to what the party has got when it released its youth manifesto and more recently the farmers' manifesto. To make matters worse Kejriwal did not turn up for one of the discussions at Mohali.
Twitter war
If at all, Kejriwal's visit would be remembered for his bitter twitter war with the Congress president Captain Amarinder Singh in which the latter had the last word. The war was marked by ugly exchanges of tweets on issues right from drug money to allegations of shoot and scoot politics. The war had started with Kejriwal accusing Amarinder and Badals fighting a joint war against him. It slowly moved to Kejriwal accusing Amarinder of using revenue minister Bikram Majithia's drug money for his campaign. This was followed by him posing questions on why Badals closed corruption cases against Amarinder.
But Amarinder retaliated all guns blazing, lambasting Kejriwal for his 'shoot and scoot' politics and accusing him of indulging in theatrics to grab headlines.
Amarinder kept rubbing it in even when Kejriwal fell silent. The other Congress leaders took off from there calling Kejriwal a 'bhagoda'.
"Having proven to be no match against the volley of salvos fired by the former solider of the Indian Army during the Twitter showdown, Kejriwal appears to be studiously evading the media since then. He appears to be sulking," said Congress leaders Kewal Singh Dhillon, OP Sonia and Rana Gurjit Singh.
They played up the issue saying that there are no takers for brand Kejriwal in Punjab. "Kejriwal has already disappeared from the Punjab election scene, even before the announcement of the poll dates. Have you lost your tongue, or are you simply sulking - a trait you have evidently mastered as Delhi chief minister?" they said.
Just last month, in September 2016, the Congress in Delhi had observed 'Bhagoda Divas' to protest against the chief minister's continued absence from the national capital while the people there were battling a virtual epidemic of diseases, the Punjab Congress leaders pointed out.
Shiromani Akali Dal (SAD) chief Parkash Singh Badal enjoyed the 'Kejriwal vs Captain' twitter war from the sidelines. He said that both these leaders are 'paper tigers' who roar only on social media. Badal said that both hardly work on the grass-roots level and are totally ignorant about the problems of masses. He once again underlined that Amarinder and Kejriwal believe in living a luxurious life and are not even aware of basic rural life.
Calling them chronic non-performers who have totally failed in fulfilling the aspirations of people whenever voted to power, Badal said that while Amarinder's regime in Punjab is known for its non-performance and anti-people stance, Kejriwal's government in Delhi has not even fulfilled even a single promise made to the people. He pointed that both these leaders are now showing green pastures to people in the false hope of attaining power in Punjab.
Kejriwal's appeal
Just before his departure for Delhi, Kejriwal appealed to the people to donate any small money, they want, to AAP to contest the Assembly polls in Punjab, as it would be contest between the people's hard earned money versus Akalis' ill-gotten money of drugs.
"Donate whatever small money you want to donate to AAP, as your money would be useful to defeat the corrupt regime of Akalis' who are all set to spend their ill-gotten money from drugs, not only for their own party, but to their 'friendly' party - Congress," Kejriwal said.
He spoke out against corporate donations to political parties. He said that in Delhi AAP government could reduce the power tariff for the welfare of people because it did not accept the political donations from Tatas, Adanis and Ambanis.
"How can you expect the schemes of social welfare from the political parties, which contest elections with the money donated by the corporate houses?" he quipped.
"It is not merely an assembly election in Punjab, but a contest between Dharma aur Adharma, Sach aur Jhooth to make new Punjab for the benefit of future generation of the state," Kejriwal said.
Another aspect of his visit was his continuing efforts to woo the religious heads of various denominations. All his visits during the last one year have been marked with visits to religious deras or similar institutions. This time around he met Bhai Panthpreet Singh Khalsa of Gurmat Sewa Lehar. Panthpreet had led the protest against the sacrilege of holy texts at Bargadi village last year in which two Sikh youth were killed in police firing. Kejriwal also met former Jathedar of Dam Dama Sahib Takht Giani Balwant Singh Nandgarh.
AAP for the last couple of months has been sticking to a low intensity campaign in the state. The aggression that was associated with the party in terms of campaigns and setting the agenda for the other to follow is not visible for now. Even on the social media AAP's Punjab unit seems to have lost steam. It remains to be seen whether this is being done on purpose as a part of strategy or it is a compulsion.