Candidate Modi made big promises to farmers. Has PM Modi kept any?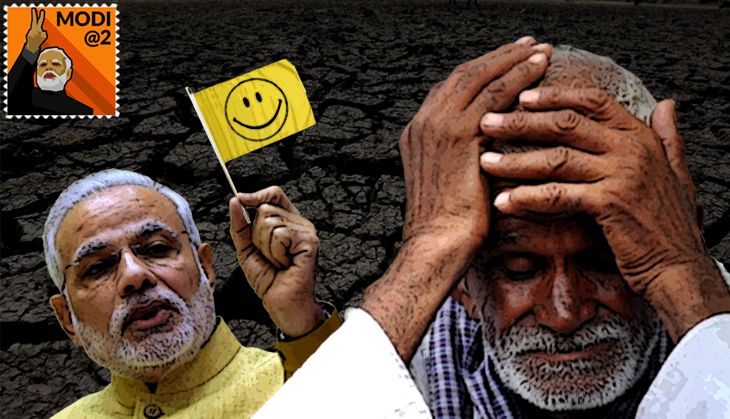 In its 2014 general election manifesto, the BJP promised that if it was voted to power, farmers would earn "a minimum of 50% profits over the cost of production". This meant that for every Rs 100 spent on farming, one would earn a minimum Rs 150.
The far-fetched promise came back to bite the party quite soon. Cornered by a PIL filed in February 2015, which sought implementation of this promise, the BJP government confessed to the court that it was unfeasible. It said that raising the minimum support price this much would distort the market.
Read: Narendra Modi's Republic of Fear
This backtracking exemplifies, in general, the Narendra Modi government's dealing with farmers. Over its two years in power, the regime has found itself across the fence from farmers on many issues - a draconian land acquisition ordinance which it was compelled to withdraw, a sudden supply crunch in urea fertiliser, a proposal to introduce genetically-modified mustard. On the last issue too, it had to backtrack after BJP's own farmer organisations objected.
Even in the three budgets presented by the Modi government, a steep drop in agricultural budget in the second year had to be clumsily restored in the third with an accounting gimmick.
While some of its policies have been lauded as reforms, farmers are skeptical as none of these have actually come into force.
Budget
The Union budget for 2016-17 was touted by the Modi regime as "farmer-friendly". It came after a drought in 2015, which has since worsened, and today affects nearly one-third of the country's population.
But in reality, the Rs 35,983 crore allocated was 11% less than in the 2014-15 budget. Besides, Rs 15,000 crore got added simply because the amount (under interest subsidies) was transferred from the finance ministry to the agriculture ministry.
Funding was actually cut for most farming schemes of the agriculture ministry. Only crop insurance and irrigation gained, and there too structural bottlenecks were not resolved.
Other initiatives like setting up a national agricultural market have not enthused even the section of farmers it could benefit. "Policies like crop insurance and the national market are welcome. But will they deliver? There is skepticism because the policy fine print is still not in place," said Ajay Jakhar of the Bharatiya Krishak Samaj.
Urea
Jakhar also pointed to the urea crisis of 2014-15. In late 2014, the central government imported only a third of the urea it normally does, sparking an acute shortage of the crucial fertilizer. The opposition Congress blamed the government for also not paying Rs 30,000 crore subsidies it owed to domestic urea makers.
Also read- Beyond the jumla: how far has Modi succeeded in acting against black money?
"What happened with urea hadn't happened in this country in at least 10 years. It was a governance failure because it's the government's responsibility to ensure supply, and they should have been proactive about it," Jakhar said.
Farmer income
There's muted response to the government's promise, made in the last budget, to double farmer incomes by 2022. One reason is that this itself translates only to a modest 16% rise, not accounting for inflation.
The second reason is that market rates of wheat, rice, cotton and other agricultural produce have been dropping for a year. Onions prices have hit rock bottom. The government's modest increases in minimum support price are not backed up by purchases.
"Often, like with onions currently, prices drop and there's no system for the government to purchase them at a remunerative price. I am in Madhya Pradesh right now and the onion situation is bad, farmers are throwing it away. There are about 125 main crops being grown in India, and some of these face steep price falls. If the government had a system to procure them at such times, farmers would be happy," said Prabhakar Kelkar, vice president of the RSS-affiliated Bharatiya Kisan Sangh.
"However, while farmers had a negative impression about Modi, the last budget changed this. The announcement of schemes such as crop insurance showed that the government is serious about farmers," Kelkar added.
Drought
Many admit that the Modi government's agricultural baptism was by fire - an unprecedented drought that was not its doing. But the drought is also perhaps Modi's biggest test, and he seems to have realised this. In the last few weeks, the Prime Minister's Office has held multiple meetings with chief ministers of the states that have declared drought. The delay is glaring since most of these states declared drought as early as October 2015.
"What we have witnessed in the last 2-3 months is a government which got alarmed by its nosediving image on the question of farmers and, therefore, has got into an image management exercise. But the government doesn't believe they need to change anything other than their image," said Swaraj Abhiyan's Yogendra Yadav. He is also convenor of the Jai Kisan Andolan, a farmers organisation promoted by the Abhiyan.
Read more- Under the lens: what photos of Modi doting on his mother tell us
In the recently concluded Supreme Court case on drought relief, based on a petition filed by the Swaraj Abhiyan, the government insisted that it was the states' job to deal with drought. But the court's judgement, delivered on 11 May, pulled up the Modi government for not implementing disaster relief mechanisms that could have still played an important role.
Yadav argued that ignoring agrarian distress would cause Modi's fall. "To my mind the real source of Modi's Waterloo is not what people think -- nationalism, JNU etc. His real Waterloo will be rural distress and agrarian crisis, to which his government has no answer and no desire to give an answer," he said.
Edited by Mehraj D. Lone
More in Catch:
Verdict 2016: BJP rising, Congress floundering, Left middling
Women in Hollywood are doing worse today than in 1998. Here's proof
West Bengal: How RSS and mysterious sadhus helped BJP improve its tally
Delhi at 45, Barmer at 47.5. What exactly is behind this scorching heat wave over north and central India?