Bypoll battle: 3 LS & 5 Assembly seats up for grabs. Can BJP get back its winning streak?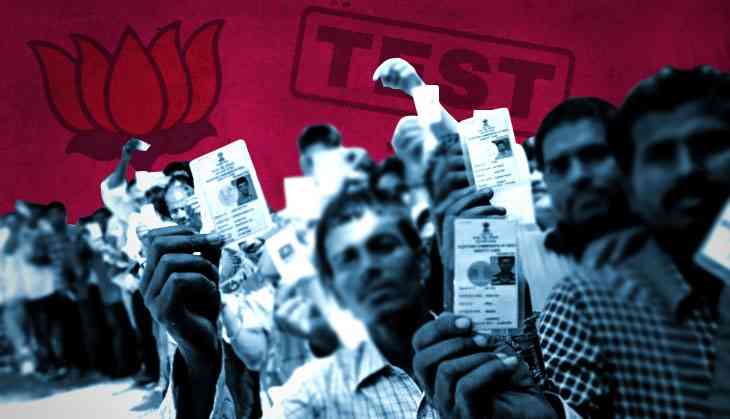 A string of by-elections for Lok Sabha and Assembly seats to be held in February and March will yet again test whether the BJP has been able to sustain its popularity under the leadership of Prime Minister Narendra Modi. Defeats in the recently held Lok Sabha by-elections in Rajasthan and a close contest in Gujarat have exposed chinks in BJP's armour and it remains to be seen whether the saffron party is able to use the forthcoming bypolls in Uttar Pradesh, Bihar, Odisha and Madhya Pradesh recover its winning streak.
On February 24, elections would be held for two Assembly seats in Madhya Pradesh and one seat in Odisha while the results would be announced four days later on 28 February. The elections in these states remain crucial for the BJP since it is looking to return to power in Madhya Pradesh where elections are to be held later this year. Meanwhile, in Odisha, it is an acid test for the saffron party looking to end BJD's 18-year-rule in the state.
Madhya Pradesh
The by-elections in Madya Pradesh were necessitated due to the demise of sitting Congress MLAs – Mahendra Singh Kalukheda and Ram Singh Yadav – who represented Mungaoli and Kolaras Assembly seats. Interestingly, both these segments fall in Congress' Jyotiraditya Scindia's Guna Lok Sabha constituency giving much hope to the Grand Old Party.
Widely considered to be a semi-final battle before the Assembly polls, both Congress and BJP are leaving no stone unturned to ensure their victory in these seats which could come as a huge morale booster before the final contest. While Congress, which for a longest period of time has been equated to a divided house, is trying to present a united face which reflects in its spirited campaign, BJP's chief minister Shivraj Singh Chouhan is literally camping in these two seats to ensure a big blow to the Congress.
Chouhan has even gone to the extent of promising to work as an MLA in these two seats for the next six months if BJP manages to snatch these seats out of Congress' hold. If BJP manages a win here, this will help the chief minister reassert his popularity and silence his critics who have been demanding a change of face in Madhya Pradesh before the assembly polls.
Meanwhile, Congress is hopeful of winning these seats considering Scindia had been an MP from Guna since 2002. However, BJP leaders have gone to claim how these seats have oscillated between the two parties with the saffron party winning the seat four times and Congress three since 1985. A Yadav-dominated seat, both the parties have fielded Yadav candidates for Mungaoli which will witness BJP's Baisaab Yadav, widow of former BJP MLA, take on Congress' Brijesh Singh Yadav.
In Kolaras, the BJP has fielded former MLA Devndra Jain against Congress' Mahendra Singh Yadav who is hoping to ride on a sympathy wave considering he is the son of former MLA Ram Singh Yadav whose death necessitated the polls.
These elections are being seen as a direct contest between Chouhan and Scindia and a loss here for any of them could come as a big blow to their party's aspirations to rule the state. It could be a bigger blow to Scindia who is hoping to named as the Congress' chief ministerialcandidate.
Odisha
In Odisha, the contest is even more intriguing considering how Congress' influence in the state has been on the wane with BJP making significant inroads in the coastal state considered to be a BJD bastion. The by-elections in Bijepur were necessitated after the demise of Congress MLA Subal Sahu in August last year.
Congress would be hoping to regain the seat which at present looks a difficult proposition considering how BJP has gone all guns blazing with party president Amit Shah along with several Union ministers and leaders campaigning for their party's candidate. With Assembly elections only a year away, BJD too has launched an aggressive campaign in Bijepur with the intent to deflate BJP's ambitious mission of winning more than 120 seats in the 147 member assembly.
The elections in Bijepur could very well foretell what lies ahead for the state in 2019 and whether the BJP could outsmart the wily Odisha chief minister Navin Patnaik who has been ruling the state for the last 18 years. Interestingly, while both BJD and BJP are sweating it out in Bijepur, Congress has become completely sidelined despite having won the seat in 2014.
The by-election is also a testimony of the political transformation in Odisha wherein the Congress seems to have conceded the opposition space to BJP without much fight. Even if BJP loses this seat and comes second, it will claim a moral victory over Congress and look forward to take on the BJD in 2019.
Uttar Pradesh
Meanwhile, the second round of by-elections are most intriguing wherein BJP will try to assert its position -- UP and Bihar. All of five seats will witness a bypoll in the two states on 11 March which include two Lok Sabha seats – Gorakhpur and Phulpur – in UP and Araria Lok Sabha seat in Bihar. By-elections in two Assembly segments of Bihar – Bhabua and the Jehanabad – will also be held simultaneously.
The two seats in UP fell vacant after Yogi Adityanath and Keshav Prasad Maurya became chief minister and deputy chief minister respectively. Though the BJP is not leaving anything to chance, it faces a stern test from Opposition parties that are planning to field a joint candidate to ensure the ruling party's rout. The Congress and SP are trying to field a common candidate though nothing has materialised as if now. An SP leader informed that all the parties in the fray are still deliberating over the candidates and they are hopeful of reaching a consensus.
Sources have informed that the Opposition parties are keen on fielding Union minister Anupriya Patel's estranged mother Krishna Patel from Phulpur on SP ticket. Wife of late Sone Lal Patel, who founded the Apna Dal, Krishna Patel has considerable following among Kurmis and both the parties are hoping that it would be enough to swing the mandate in her favour.
However, Krishna Patel is keen on contesting on Apna Dal ticket with support from Congress and SP. At the time of filing this report, negotiations were still being held and the decision could be announced on Tuesday. Widely considered to be an SP bastion, Maurya turned the tide after he defeated SP candidate from Phulpur in 2014 with a margin of over three lakh votes.
Meanwhile, both the Opposition and the BJP have maintained complete silence on who would contest elections from Gorakhpur. The last date of filing nominations in 20 February and the names could be revealed in the next few days. BJP would be hoping to continue its golden run in UP where it won 325 of the 403 assembly seats in 2017 and 71 of the 80 Lok Sabha seats in 2014.
Bihar
A close contest is also on the cards in the by polls to be held in Araria Lok Sabha seat Bhabua and the Jehanabad Assembly constituencies. These three seats fell vacant after the death sitting representatives for which polls would be held on 11 March. BJP had won the Bhabua seat in 2015 while RJD leader Mundrika Singh Yadav won from Jehanabad. The Araira seat fell vacant after RJD leader Mohammad Taslimuddin passed away.
Interestingly, JD(U) has announced that it will not contest any of the three seats that fell vacant paving way for BJP to contest elections on these seats. Further, soon after the party made the announcement, its sitting MLA from Jokihat, Sarfaraz Alam, who is also the son of Taslimuddin, quit JD(U) and joined RJD.
This is a major boost for the RJD which feels that Alam is a strong candidate and could very well win the elections riding on the sympathy wave. Overall, the upcoming elections will witness a direct contest between the BJP and RJD. Out of three seats, BJP had won the Bhabua assembly seat while the other two were with the RJD.
With Alam joining RJD, there are strong chances of the party winning all three seats which serve as shot in the arm for the beleaguered party that is yet to come to terms with jail to its founder Lalu Prasad Yadav on charges of corruption. In the prevailing circumstances, this battle between the BJP and RJD could also set the tone for the General Elections in 2019. BJP in all probability will try to corner the RJD by bringing the corruption cases against its patron and if RJD still manages to snatch a victory, it will give the party huge boost as it approaches the next big test.