Burning a Chitta Ravan, Congress uses Modi's Ludhiana visit to up the ante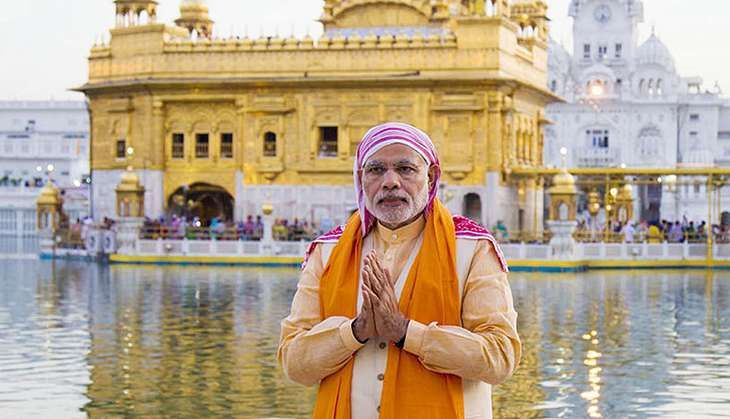 Prime Minister Narendra Modi's visit to Ludhiana is being effectively used by the Congress party in Punjab to up its ante against the ruling Shiromani Akali Dal (SAD)-BJP government in Punjab.
What could have been an event to boost the SAD-BJP's image in the poll-bound state turned out to be a scoreboard for the Congress as the party held parallel events.
Also read -In a first for Punjab, PM Narendra Modi to present MSME awards in Ludhiana
Reality vs expectation
The prime minister was expected to make a political statement or at least announce a package for Punjab that would help the ruling alliance that is battling heavy anti incumbency.
Modi did try to reach out to the dual constituencies of Dalits and industrialists of the state but refrained from making any direct political points in his speech at Punjab Agriculture University (PAU). He talked of promoting the Micro Small and Medium Enterprises (MSME) besides urging people to buy khadi with the slogan "Khadi used to be for nation, now khadi is for fashion" during the ongoing festive season as it would help poor families.
Modi said that the MSME sector must target the global market. Pointing that Ludhiana is an important economic hub, he said it is natural to launch a scheme related to MSME from there. He launched a National SC/ST Hub and Zero Defect Zero Effect initiatives.
The SC/ST hub has been launched with the objective of promoting enterprise culture and entrepreneurship among the Dalits and increase their stake in public procurement. Meanwhile the 'Zero Effect, Zero Defect' programme is to ensure that the products made by these enterprises have no defects and the processes involved have no environmental and ecological side effects.
Quoting Guru Gobind Gobind Singh for raising his voice against casteism and untouchability, Modi said, "We know that due to our societal anomalies, hearing out some incidents targeting our Dalit brothers even today, my head hangs in shame. After 70 years of Independence, we cannot wait longer."
Watching the wheels
Modi also distributed 500 traditional wooden charkhas to women spinners from five local khadi institutions given by khadi and Village Industries Commission (KVIC). This distribution of charkhas has comes a surprise as charkha is seen as an outdated implement that is hardly in use.
"It doesn't make any sense to distribute charkhas. The charkha will end up as a show piece in the drawing rooms and as memory for the women that they got it from Modi," said eminent economist Dr SS Johal.
Beant Singh, a researcher on Punjab's rural economy interprets charkha distribution in a political manner. "Since charkha is associated with Mahatma Gandhi, he is trying to don the mantle of peace. This also jells with the RSS-BJP campaigns on Swadeshi. He is trying to sell himself as a true nationalist. Otherwise it's nothing but a cover up. It needs to be asked who can sustain oneself by weaving a charkha these days when the Khadi Udyog offices in the state are faring very poorly and most of them are locked," he told Catch.
Senior Congress leader Sunil Jakhar while thanking Modi for giving charkhas in a sarcastic tone, told Catch at Chandigarh, "It is true that he is trying to present himself as a follower of Gandhi."
Pointing to the spiraling violence against Dalits in Punjab Jakhar said, "Dalits will become entrepreneurs only if they are allowed to survive in Punjab." He came out with fresh allegations against the Parkash Singh Badal led state government for misutilising and misappropriating Rs 472 crore meant for providing post matric scholarships to Dalit students over the last two years.
The Congress lashes out
Meanwhile on ground zero in Ludhiana, Congress president Captain Amarinder Singh held a parallel event where the Congress workers and supporters burnt a "Chitta Ravan" - a representation of the drug menace as 'chitta' is a synthetic drug used it Punjab.
Burning the chitta Ravan at Ludhiana. Congress stands united in its fight against Drugs. Will boot out both drugs & Badals from Punjab pic.twitter.com/llOBu0iCGC

— Capt.Amarinder Singh (@capt_amarinder) October 18, 2016
Sources even said the Ravan had pictures of chief minister Parkash Singh Badal, his deputy Sukhbir Badal and cabinet minister Birkramjit Majithia on it.
Addressing Modi, he charged Badal with plunging the state into total anarchy and said, "Don't go by his innocent face. He (Badal) is an extremely shrewd man who knows how to fill his own pockets at the cost of the people of Punjab. Industries have fled the state, farmers are committing suicide, Dalits are being massacred, children and youth are falling prey to drugs."
Amarinder declared that once in power, he would get every scam and criminal allegation against the Badals probed under law. "They will be put behind bars if found guilty."
The vanishing revolution
He also attacked Modi for his half-hearted attempts to reach out to the industry in Punjab ahead of the assembly elections. "The Badals have thrown the Punjab industry to the dogs in the past 10 years and these overtures on the part of their ally, the BJP will not help salvage the situation now," he said.
Johal told Catch that Punjab today clearly stands at a disadvantage on the industrial front. "Jammu and Kashmir, Himachal Pradesh and Uttarakhand were given industrial packages and tax holidays that led to Punjab's industry fleeing to these states. On the other hand states like Haryana and Uttar Pradesh became parts of industrial corridors. Punjab is nowhere in the picture. There has been no policy initiative to improve things."
Cheaper Chinese goods, unfavourable tax regimes and the high cost of power have also hit the industry in the state hard. "Things like single window system exist only on paper," said an industrialist.
Amarinder has promised sweeping policy changes to revive the sick industries. During a visit to a closed sugar mill in Faridkot, he said that once in power he would take immediate steps to incentivise the industries in the state in line with the concessions being provided to attract industrial development in states like Gujarat.
He said industries in Punjab have been forced to flee due to unfriendly Badal government policies that are in complete contrast to Prime Modi's much-hyped `Make in India' campaign. He said it is unfortunate that nobody is prepared to `Make in Punjab' while the rest of the country is talking of Modi government's `Make in India' campaign.
Badal's two bits
In his address at PAU, Badal urged Modi to constitute an expert group to explore industrial potential of Punjab as agriculture, the mainstay of Indian economy has reached a plateau.
In his address at PAU, he said that Punjab's economy has been badly shattered on account of factors like Partition, decades long militancy, liberal concessions to neighboring states and finally discriminatory freight equalisation policy. He said it is high time that the Centre ensures a level playing field for hard working and innovative industrialists of Punjab. With the squeezed margins of profit in agriculture, industry is the only viable solution for development, he added.
Badal impressed upon Modi to constitute another expert group to make agriculture a remunerative preposition. Highlighting the major initiatives taken by his government to promote industrial development, Badal said that Punjab is power surplus. Claiming that cheap power is being provided to the industry, Badal underlined,"Punjab government is committed to provide conducive business environment."
The Akalis also hit back at the Congress for burning Chitta Raavan with pictures of Akali leaders on it. SAD leader Manjinder Singh Sirsa has termed the act as shameful, deplorable and a product of the Congress legacy. Calling the party anti-Sikh and anti-Punjab, Sirsa accused the Congress of burning people while referring to the anti Sikh riots of 1984.
Edited by Aleesha Matharu
More in Catch - Punjab polls: Congress & AAP tap into farmers' resentment against SAD-BJP
Dharna outside CM's house: Congress more aggressive than ever in Punjab