Senior leader Azam Khan might quit SP; may join Shivpal Yadav's Samajwadi Secular Morcha ahead of assembly polls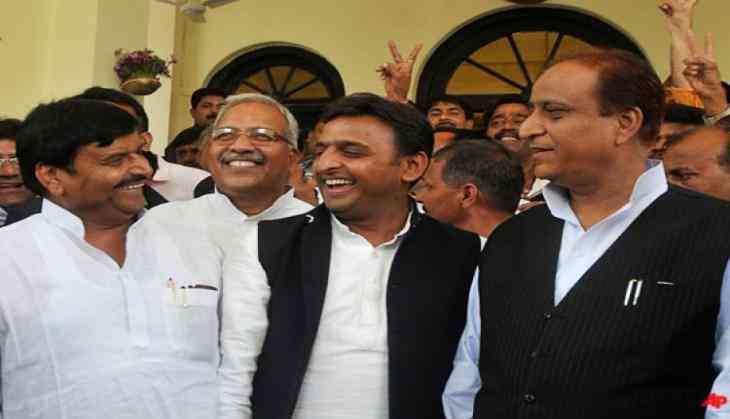 Samajwadi Party (earlier)
After Mulayam Singh Yadav's brother Shivpal Yadav's exit from the Samajwadi Party, another senior leader Azam Khan might be planning to exit the party over several issues of getting sidelined and the leadership of Mulayam's son and SP supremo Akhilesh Yadav.
Azam Khan had earlier supported Akhilesh Yadav in the midst of a rift between his father Mulayam Singh Yadav and Shivpal Yadav. He even stood firm with Akhilesh against the charges of former party leader and MP Amar Singh, who was later ousted from the party.
Several posts on social media are doing rounds about the possible alliance between the Samajwadi Party leader Azam Khan and Shivpal Yadav, who are in a fray to contest elections together.
The Samajwadi Secular Morcha recently welcomed Aparna Yadav, the daughter-in-law of Mulayam Singh Yadav, where she vowed to support Chacha Shivpal and the Samajwadi Secular Morcha. Shivpal later on said that she would also contest the Lok Sabha elections and will be the face of the party.
Shivpal Yadav recently received waivers from the Yogi Adityanath government, when he was allotted the bungalow of former UP CM Mayawati and reportedly have been given a Z security cover, as he received threats to his life.
Samajwadi Party has been trying to forge an alliance with the local party's and even the foe turned friend Mayawati, where in the By-polls, the duo were able to defeat the BJP in Yogi Adityanath's den.
Azam Khan has been on target of former SP leader Amar Singh, who vowed to launch a FIR yatra from Lucknow to Delhi, exposing the former.
Also read: Assembly Election 2018: Ajit Jogi's Janta Congress ties up with Mayawati's BSP in the poll-bound