Ambedkar: why Left, Right & Centre are romancing this theorist of resistance
Nishant
| Updated on: 14 April 2017, 11:00 IST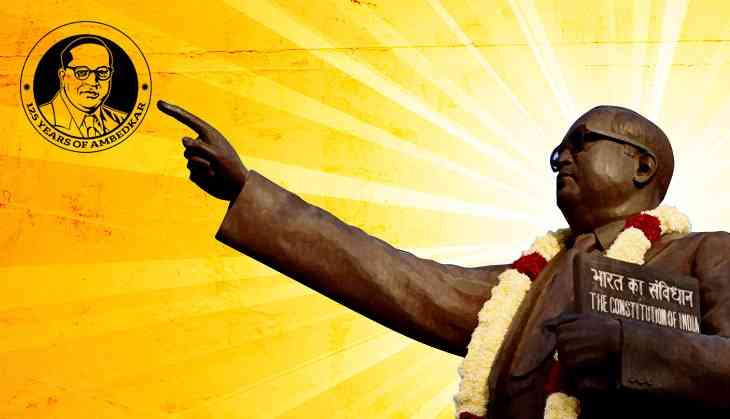 One hundred and twenty-five years after the birth of B R Ambedkar, the political legacy of this theorist of resistance has undergone a sea change in India. He is now beginning to make a serious mark at the international stage too. As a powerful voice of the 'depressed classes', he was coveted, engaged, eulogised or repudiated by most political forces of the British era, depending on whether they saw him as an ally or adversary.
Read- Ambedkar's greatest 'bhakt': Modi moves to appropriate Babasaheb
However, there was one force which ignored him for as long as it could, till the rise of 'Ambedkar's children', the Dalit and Bahujan intelligentsia - which is also termed almost disparagingly 'the creamy layer' by the upper castes and in courts - forced it to acknowledge him as a hero. This is the Hindu right-wing.
Their neglect can be explained in two ways. First, that was an understandable first reaction of the forces for a person who directly hit at the core of their existential logic, that is Brahaminism. Second, these forces were not as big as they are today, because of the dominant space Mohandas Gandhi's Congress occupied in those days.
The other political formation that tried to benevolently ignore Ambedkar was the Left intelligentsia, which tried to explain the caste question through the imported idea of class. Once again, even this school of thought is forced to acknowledge the persistence of the caste question as much through the doggedness of Ambedkar's children as much by their own electoral irrelevance.
Discovery of Ambedkar
Times have changed and the relevance of Ambedkar is almost irreversible
at least in the democratic future of India. That is where one can locate the recent surge of interest in Ambedkar and various attempts from the right and the left to either appropriate him or do business with him.
Also read: Why Mayawati will never let BJP appropriate BR Ambedkar
Running into his 125th birth anniversary week, Outlook and Open magazines have put him on the cover. But more importantly, even the Rashtriya Swayamsewak Sangh mouthpiece Organiser has dedicated its latest issue to Ambedkar's legacy. Add to it the fact that in meetings after meetings Kanhaiya Kumar, the president of JNU Students' Union, raises the twin slogans of 'Jai Bhim-Lal Salaam' and one can conclude that most major political formations of the country have discovered Ambedkar.
But, has Ambedkar's appeal become universal in India? Has he already become a Marx-like figure for social movements and resistance theorists of the country, who has something to offer to everyone? Or, are there groups which may not like to appropriate his legacy, even if they do not want to be overtly critical of him?
RSS appropriation
A part of the answer to these questions may lie in the reason why the
RSS or the Bharatiya Janata Party wants to appropriate Ambedkar after being critical of him for so long. The editorial in the recent issue of Organiser is quite candid on this count. With reference to the Left students' slogans, it says '... [when] heinous attempts are being made to combine Ambedkar with Marx or to limit his leadership to a caste group, there is a need to develop a spirit of consensual legacy'. And, then comes the gem:
"While dealing with both these forces we have to remind them that though Babasaheb criticised and denounced the rotten customs of Hinduism, when he had to find an alternative path, instead of going for foreign originated Semitic religions or divisive ideologies, he preferred the path of Buddha, simply because he was aware of the cultural spirit of his motherland."
Read more- Songs of the dawn: how the Bhim Yatra articulated protest and hope
Though Ambedkar's reason for choosing Buddhism was not that it had originated in the Indian subcontinent or that Islam and Christianity did not, this political act of conversion contained in it its own negation on two counts. One, the defeat of Buddhism in the hands of Hinduism in the Indian subcontinent was way too overwhelming to be reversed at the time of Ambedkar's conversion or thereafter, and the Hindu religious elite had allowed the appropriation of the Buddha to an extent that politically a Buddhist posed no threat to a Hindu.
Second, Ambedkar did reject other religions, particularly Islam. It is of no consequence to the RSS why somebody dislikes Islam, as along as they do and that opens up Ambedkar for Hindu appropriation.
The RSS' appropriation of Ambedkar is also partly located in a
convenient reading of his treatise on Pakistan, which he wrote for the Independent Labour Party (ILP) as soon as the Pakistan resolution was passed by the Muslim League. This was a descriptive treatise, whose task was to detail the Pakistan question in all its implications for the members of the ILP and the general public.
In its prologue, Ambedkar cautions against reading it as his preference for a Muslim homeland or a lack of it. However, it does tell us what he thought about it and then there are other writings which explain his position on the Muslim homeland. The RSS ideologues selectively read this treatise and try to argue that Ambedkar was as critical of Muslims as they are.
Ambedkar, like Nehru, was a global socialist thinker
Just as this premise of the RSS ideologues is not true, its opposite is
also not true. While Ambedkar was pragmatic enough to say that Indian had to come to terms with the Pakistan question as peacefully as possible, he hoped that Muhammad Ali Jinnah would opt for what later came to be called Nehruvian secularism, a kind of political arrangement where the communal identity does not define the characteristic of a nation-state.
Also read- Lord Ram & the Constitution: Rajnath's democracy goof ups
Ambedkar's politics and understanding of history developed in the same intellectual space as that of Western thinkers of the time, who were imagining the best possible contours of a post-colonial world, especially that of the colonies. The progressive thinkers of the times debated the question of nationalism and its moral foundation. Nehru saw a civilisational logic for the validity of the concept of India as a nation-state, which Ambedkar challenged for the oppression it contained for Dalits. But, both the premise and its counter-argument are based on the critical issue of ethinic, cultural and/or racial identity of caste and other such markers.
Both Nehru and Ambedkar, the progressive socialist colleagues that they became in later years, emphasised the primacy of social identity as the focal point of political negotiations. This put them in the league of global socialist thinkers and pitted them against Communists, for whom nothing mattered more than the question of class.
Dalit assertion
In a democratic set-up, be it of socialist variety or not, identity
assertion soon hits its limits. Since political mobilisation is a slow process, especially when it involves awakening a historically oppressed group, the Dalit identity assertion did not reach its limits in Ambedkar's lifetime.
Read: 4 things Ambedkar said that Modi or his ministers would never quote
In fact, it took a matured shape much after his death, when Kanshi Ram experimented with different political formations and eventually settling for the Bahujan Samaj Party. But, as the chequered career of Mayawati shows, it is possible for more organised political dispensations to neutralise the awakening of Dalits every now and then.
At a time when the Dalit intelligentsia is convinced that no one can afford to ignore Ambedkar any longer, the politics around his ideas may have hit a plateau. This situation particularly lends itself to Ambedkar's appropriation because the Ambedkarite politician is vulnerable on the ground and seeks alliances for survival, thus allowing for the dilution of his ideas.
Both Ambedkar and Nehru sought legitimacy for social identities and rejected some other, most notably the one that Jinnah sought, even if they were constrained to accept it. There is a revival of interest among the Indian Left about the Kashmiris' right to self-determination. Both Ambedkar and Nehru's belief in social identities can be tested on this question.
Read more- 'Vishwa Manav' BR Ambedkar was 'messiah' of labourers: PM Modi
The sections of the Indian Left that support the right of self-determination and Dalits' right for social justice is constrained to be quiet about Ambedkar's views on Kashmir, because he was not particularly enthused about either Islam or regional identity assertions, something that is the basis of the self-determination movement of Kashmir.
The limits of social identities as direct politics came to be recognised among political theorists after both Ambedkar and Nehru were gone. This leaves the space open for interpretation of Ambedkar's legacy by an Ambedkarite philosopher who can decipher for the world how the great theorist of resistance can be the glue for progressive social movements and also clarify which movements to keep out. She may have to define a postmodern Ambedkar, who can be borrowed by other movements whom Ambedkar did not directly speak about in his lifetime.
Edited by Aditya Menon
More in Catch:
#HandwaraKillings: north Kashmir is burning, but what lit the fire?
Odd-even 2.0: All you need to know about PoochhO, the Delhi government's carpooling app
Emerging contours of the Naga settlement
Just when you think you've seen everything, along comes spreadable beer. Inside the insane food trend biz