BJP youth leader calls for Mamata's decapitation. AITC leaders lose their heads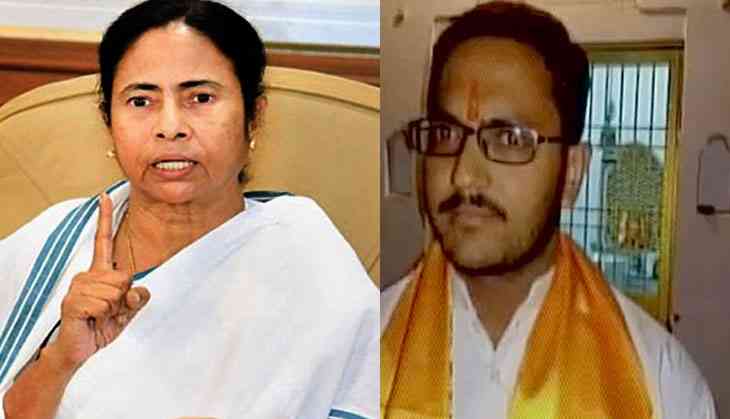 Bengal is mired in fresh controversy after BJP youth wing leader Yogesh Varshney announced a bounty of Rs 11 lakh for beheading Chief Minister Mamata Banerjee.
The All India Trinamool Congress (AITC) has demanded that Varshney be arrested. Varshney, the leader of BJP's Yuva Morcha in Aligarh, announced the bountry after the police lathicharged BJP workers at Suri on 11 April during the celebrations for Bir Hanuman Jayanti.
A FIR has been lodged at Kalighat police station in this regard.
Belligerent Didi
Mamata has said that she will not be browbeaten in this manner. "Bengal's soil is very strong and no one can break the social fabric of the state. They can cry, they can make an attempt to kill me, they can also spread calumny, but they cannot polarise the people on religious grounds," Banerjee said at a public rally at Domkal in Murshidabad.
Claiming that BJP leaders are trying to grab attention by creating a divide between Hindus and Muslims, Banerjee said, "We are a secular country and we do not get frightened by any sort of intimidation."
"The more BJP leaders speak, the more AITC will proceed. We are confident that after Bengal, we will rule Orissa, Jharkhand, Delhi, Punjab and then even Uttar Pradesh."
In Kolkata, state parliamentary affairs minister Partha Chatterjee said criminal charges should be brought up against Varshney.
"There have been many attempts on Banerjee's life since 1990s. Statements like this are against the political culture of the country. We have seen the violent politics of the 70's during CPI(M) rule. Trinamool workers are ready to sacrifice their lives for Banerjee. We do not want politics of 70'S to return in Bengal," he said.
Counter fatwas
Countering Varshey's statement, the Imam of Kolkata's Tipu Sultan Mosque Nur-ur Rehaman-Barkati issued a fatwa on 12 April with an award of Rs 22 lakh for Varshney's head.
"I will award Rs 22 lakh to a person if they behead Varshney. Banerjee is our respected leader and I consider her to be my sister. I won't tolerate such hoodlums of BJP-RSS," Barkati said to Catch.
BJP national secretary Rahul Sinha says that it "needs to be seen whether Varshney is a BJP worker or not". "We do not endorse politics of murder," he said.
General condemnation
State BJP president condemned Varshney's remark. "Why has Mamata Banerjee remained silent when Barkati announced fatwas against Prime Minister Narendra Modi? We are a disciplined party and we condemn such acts."
BJP general secretary and observer for West Bengal Kailash Vijayvargiya said, "We do not endorse this kind of opinion from a BJP leader. This is his personal view."
Even the Congress has joined the chorus condemning the bounty. Party leader Adhir Chowdhury said, "BJP leaders are speaking like ISIS. BJP is hand in glove with the ISIS and are speaking their language. This is not the culture of India."
Mohammad Salim CPI(M) leader said, "We condemn the statement made by Varshey. How can a BJP leader make such comments when there is a secret understanding between Didibhayi and Modibhayi?"