BJP's 'Project Tripura' takes off: 6 expelled Trinamool MLAs join party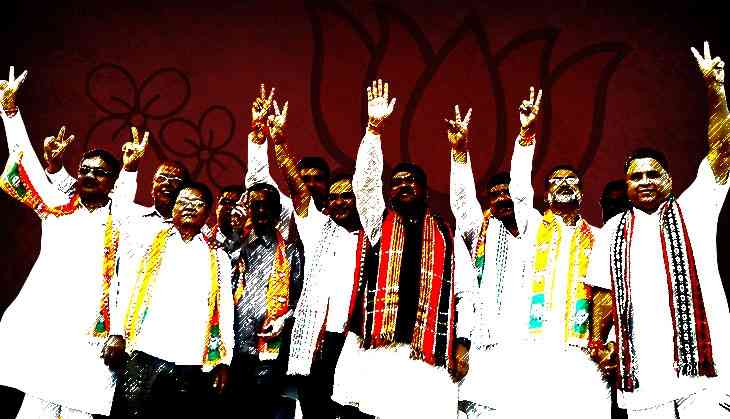 The BJP has gained a significant foothold in Tripura, one of the remaining two bastions of Communist Party of India (Marxist), with six expelled All India Trinamool Congress MLAs switching their allegiance to the party on 7 August.
The drama has been unfolding ever since the MLAs supported NDA's nominee Ram Nath Kovind in the Presidential poll last month. They were subsequently axed by the AITC for flouting the party's instruction to vote in favour of Opposition candidate Meira Kumar.
The MLAs, who only a year ago defected from the Congress to AITC, announced that BJP was only party that can ensure end of the CPI(M) regime in Tripura in the Assembly elections due in February next year.
The development is politically significant as BJP has never won an assembly seat in Tripura with the CPI(M) and other Left Front constituents accounting for 51 members in the current 60-member assembly. The state has been ruled by the Manik Sarkar-led CPI(M) for the past nine years.
Making inroads
"The BJP is the main opposition in Tripura now. BJP's good governance helped the party to gain acceptance in the Northeast. Our party has formed the government in Assam, Arunachal Pradesh, Manipur and ruling Naga People's Front (NPF) is our ally in Nagaland. We're in a good position to dethrone the Communist party from power in Tripura," Sudhindra Dasgupta, a member of BJP's national executive, said.
The MLAs - Sudip Roy Barman, Asish Saha, Biswabandhu Sen, Pranajit Singha Roy, DC Hrangkhawl and Dilip Sarkar - formally joined the party at a rally attended by Union minister of state for petroleum and natural gas Dharmendra Pradhan and Assam's finance minister Himanta Biswa Sarma, party general secretary Ram Madhav, BJP's Northeast general secretary Ajay Jamwal, state president Biplab Kumar Deb and party prabhari Sunil Deodhar.
The BJP has expressed it hope that this new development may help it oust Left parties from power in the state.
Dasgupta said it was national president Amit Shah's approval that had paved the way for the expelled AITC members to join the BJP. According to Deb, several other AITC members from other parts of the state are expected to join the party too.
The BJP had earlier had set a deadline for nine opposition MLAs (six from Trinamool Congress and three from Congress) to join the party by 31 May without any precondition. Otherwise, they would field their own candidates in the nine seats they represent for the 2018 polls.
"Tripura is important for BJP's political ambitions. During the past two years, more than 30 ministers have visited Tripura. BJP leaders have decided to focus its Tripura election campaign on the issue of development, law and order and healthcare. People in Tripura can only find an alternative in BJP," political analyst Dr Jagadis Gan Chaudhuri says.
Mere hype
The CPI(M), however, has termed the development as mere 'hype'.
"BJP's stunt masters are at it again. Such comments that with six BJP MLAs BJP is going to uproot CPM is an over statement," CPI(M) central committee member Bijan Dhar said.
During the 2014 assembly elections, CPI(M) had won 49 seats, reducing Congress to just 10 seats while CPI won 1 seat.