BJP's lone victory underplays the party's impact on Kerala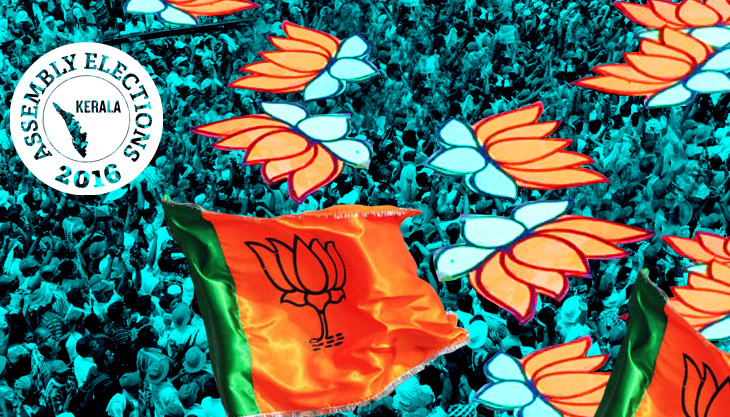 The BJP-led NDA 's lone victory belies the impact it had on the Kerala Assembly elections this time.
The BJP believes the election has shown that the party and its allies are emerging as a third force in the state. The Congress-led UDF and the CPM-led LDF have reigned over the state, alternating control for decades.
Also read - Verdict 2016: BJP rising, Congress floundering, Left middling
BJP's lone winner in the state, O Rajagopal won with a margin of 8,671 votes. And the party would like to consider K Surendran's defeat in Manjeswaran by a slender margin of 89 votes as glittering as victory. It was virtually a slip between the cup and the lip.
The party is disappointed that its tie-up with the Ezhava leader Vellappally Nateshan's BDJS did not translate into more victories. In seven constituencies, the BDJS came second, pushing the UDF and the LDF to the third position.
In Manjeswaram, where Surendran lost, the BJP polled 56,781 votes. The other constituencies where it came second are: Kasargode (Raveeshan Thanthri with 56,120 votes), Malampuzha (C. Krishnakumar with 46,157 votes), Vattiyurkavu (Kummanam Rajasekharan with 43,700 votes), Kazhakoottam (V. Muralidharan with 42,742 votes), Palakkad (Shobha Surendran with 40,076 votes) and Chathannur (BB Gopakumar with 33,199 votes).
The party polled more than 30,000 votes each in 11 other constituencies-Thiruvananthapuram, Kattakkada, Manalur, Nedumangad, Parassala, Kunnamangalam, Mavelikkara, Aranmula, Kanjirappalli, Irinjalakkuda and Puducaud.
Also read - The Kerala verdict: the winners, losers and an emerging third force
Seven BDJS candidates also polled more than 30,000 votes each. Most of these constituencies where either the BJP or the BDJS polled upwards of 30,000 votes, until the 2011 Assembly elections, presented the BJP between 3,000 and 10,000 votes.
The message is clear. In Kerala now, the election has turned into a three-cornered one.
More in Catch -'He who must not be named': Wait on for LDF to reveal Kerala's next CM
O Rajagopal's nearly 50-year long wait ends, becomes BJP's first MLA in Kerala
Hindu backlash thwarts Chandy's dreams of retaining Kerala