BJP poaches AITC workers but they still think Mamata is doing a good job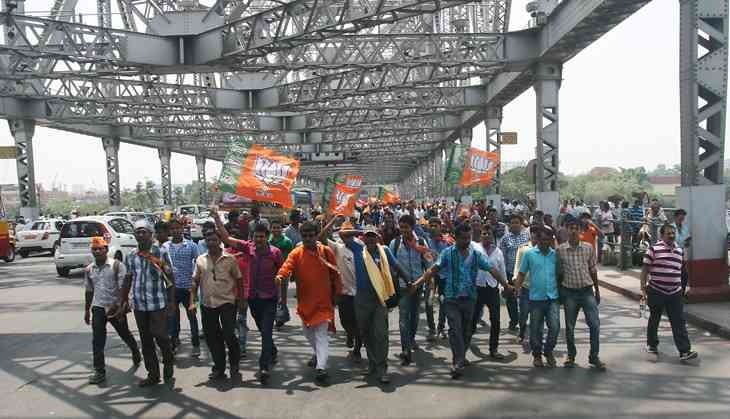 ( Debajyoti Chakraborty/NurPhoto via Getty Images)
With Panchayat elections in West Bengal scheduled next year, BJP is planning to poach leaders from the ruling Trinamool Congress.
On Friday, around 400 All India Trinamool Congress workers joined BJP in Purulia. The defecting workers claimed that they are dissatisfied with the internal wrangling within the AITC. However, they did admit that the Mamata Banerjee government was doing a good job.
Mohon Samanta a resident of Balrampur in Purulia said "We have been associated with TMC since Banerjee came to power. But we saw that despite our efforts at highlighting the good work done by the party and the government, we are not being promoted. Moreover, due to internal feud between various factions of TMC , the workers who perform are not being given due importance ."
Samanta's statement also shows that despite the dissatisfaction with Trinamool Congress, the popularity of Mamata Banerjee and her government continues to be high and the resentment is largely with the factionalism in the party
BJP, on its part, realises that it cannot succeed in West Bengal without making inroads into the Trinamool machinery.
"Many rebel CPI(M) workers have joined out party. But we realise that it won't be possible for us to expand our base in the state without poaching Trinamool workers. We are in touch with several TMC leaders and workers," a BJP leader said on the condition of anonymity.
BJP leaders say that in districts like Birbhum, the dissatisfaction among Trinamool workers is high and once they switch sides, these workers can be used to identify households that are against Trinamool.
State BJP president Dilip Ghosh said, "Trinamool workers are frustrated with the party and that's why they joined our party at Purulia. Some dissatisfied workers in Bankura have also expressed their desire to join our party and we hope that these workers help us to strengthen our base in the state ".
According to Ghosh, Trinamool workers complained that they are facing violence from rival factions within the party.

However Trinamool Congress does not seem perturbed with BJP decision to poach their leaders.
Partha Chatterjee state parliamentary affairs minister said "West Bengal BJP should first understand the geography before trying to grow in the state."
It may be mentioned that Trinamool Congress itself used the same technique to expand in Bengal – it poached dissident workers and leaders from CPI(M).