BJP moves in for the UP kill: Modi sells Achhe Din, Amit Shah stokes fears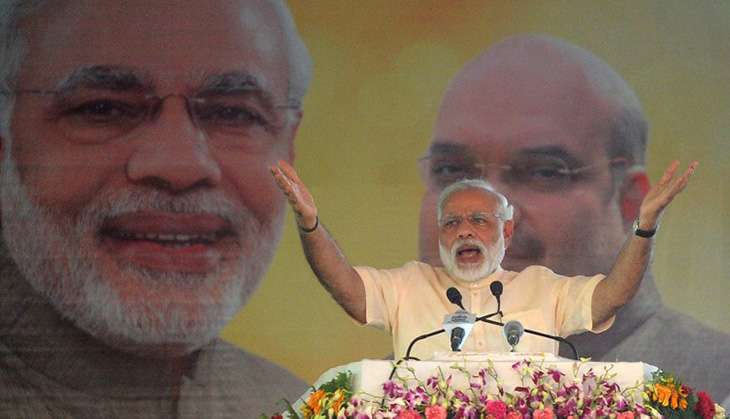 Here you go. Narendra Modi is back in his original mode: the loud, aggressive and calculated election campaigner.
After the formality of the two-day national executive meeting, the BJP, and the prime minister in particular, came out all guns blazing at Monday's rally in Allahabad. It was a stark contrast from Modi's rally in Saharanpur on 26 May, which was markedly understated.
Also read - Battleground UP: how Mayawati is laying the groundwork for 2017
So, why this shift in approach? It appears to have been brought about by the party's desperation to win Uttar Pradesh. So aggressive was the rhetoric at the rally it was as if the assembly election was about to be held, not eight months later. From the list of speakers to the personalities mentioned in their speeches, from the pantheon of leaders on the stage to the content of resolutions adopted at the national executive, the poll fever has visibly gripped the BJP.
Heady cocktail
Modi has cleverly packaged the campaign for Uttar Pradesh. On one hand, he's touting the "achievements" of his regime and urging everybody to "rise above caste and religion", and on the other his foot soldiers are making loud noises over "issues" like Kairana. It is a perfect cocktail of development and hardcore Hindutva.
At the rally, Modi talked about the achievements of his government, as did Home Minister Rajnath Singh. They were raising the slogan of development to go with party president Amit Shah's raking up of the alleged migration of Hindus from Kairana in his speech at the national executive.
In these speeches, there were tones and tunes for all sections of the party's potential voters.
Caste arithmetic
Modi appealed UP's people to rise above the considerations of caste and religion and vote for development. Yet, the speeches made by several BJP leaders from the same stage as well as the "shows" put on were curated to appeal to particular castes. For example, Murli Manohar Joshi and Kalraj Mishra, the party's most prominent Brahmin faces in UP, haven't received such welcome and warmth from the party as they did Monday.
The optics of it wasn't lost on anybody. The BJP is led in UP by an OBC and the poll campaign is going to be helmed by a Rajput, so the party had to play the Brahmin card. Joshi and Mishra were handy props.
The three speakers that preceded Amit Shah and Modi represent three castes the BJP is banking on - Mishra is a Brahmin, Rajnath a Rajput, and Keshav Prasad Maurya an OBC.
Indeed, Modi began his speech by mentioning Joshi, Rajnath and Mishra. Then, for the benefit of EBCs and OBCs, respectively, he duly brought up Nishad Raj and Vallabbhai Patel. Yadavs, of course, found no representation in his remarks.
Big state-ment
AFP Photo/Sanjay Kanojia
In Saharanpur, Modi had declared: "I am from UP". In Allahabad, Shah reminded the gathering: "Modiji is from Benaras". Modi himself took it further, saying, "Is manch ko dekh kar lagta hai ki UP ka kendra mein kya dabdaba hai (One look at this stage and you realise that UP dominantes the central government). The prime minister is from UP, the home minister is from UP, even the defence minister is from UP."
Not just the heavyweights; they were all there, any BJP leader who has any association with UP - Sanjeev Baliyan, Uma Bharti, Ram Shankar Katheria, Anupriya Patel, Mahesh Sharma. Modi said, "There is a majority government at the Centre after 30 years and the credit for it goes to Uttar Pradesh. People say I achieved a lot whenever I went abroad, be it to America or Switzerland or Afghanistan. But those are not my achievements. The credit for them goes to you."
From a broader angle, Modi talked up three things. One, how UP was given its best government by the BJP under Kalyan Singh and Rajnath Singh. Two, how much importance he himself has given to the state. Three, how it won't amount to much what India achieves unless development comes to UP.
Communal card
Just before Modi rose to speak, Amit Shah had delivered his address. "The migration from Kairana is an eyeopener. Do you want this kind of migration? If not, then throw away this SP regime," he exhorted the gathering, repeating what he had said at the national executive the day before. Other BJP leaders faithfully followed his lead and talked up Kairana all they could in front of TV cameras.
Modi, however, did not so much as mention Kairana, as though he did not even know what the fuss was about. It was typical: since the Dadri lynching at least, he has keeping a disturbing silence whenever incidents that stoke communal passions take place, leaving it to the BJP's "fringe" to vent the polarisation rhetoric.
Power point
All this is geared towards achieving one objective: a victory in UP. To this end, Modi and his party are sparing no effort. Understandably too, since as Amit Shah put it, "2019 ka Dilli ka raasta Lucknow se hokar jata hai (The path to national victory in 2019 goes through Lucknow)". It is no secret that to have any chance of repeating its spectacular 2014 victory in 2019, the BJP needs to win UP.
Currently, the party has only 41 MLAs in the 403-member assembly. This election, the target is to win 265+ seats. It is, in fact, their campaign slogan. Modi said, "Humko paanch saal dijiye. Agar paanch saal mein niji swarthon ke liye humne aapka nuksaan kiya to hamein laat maarkar baahar nikaal dena (Give us five years. If we harm you by pursuing personal interests, then kick us out)".
Modi has never resorted to such rhetoric earlier in recent campaigns. He even alleged that Mayawati and Mulayam Singh Yadav, his chief adversaries in the state, had a secret arrangement to "loot alternatively after every five years".
Amit Shah was more graphic: "SP sarkar ko koi hara sakta hai to woh BJP hai. BSP aur Congress ke beech ILU ILU chal raha hai (The only party that can defeat the SP regime is the BJP. As for BSP and Congress, they are more interested in flirting with each other."
Political theatre
Just before the prime minister was to speak, Mahesh Sharma told the crowd to download the "Modi app" on their phones by putting through a missed call to a toll free number. The app showcases the "achievements" of the Modi regime.
Then, Modi himself asked the audience to switch on their phone torches. He said, "This is for the people of Assam. Wave your mobiles with the lights on for them." He asked them to do the same while concluding his speech. Tacky through it was as political theatre, the message wasn't lost. Assam, remember, just voted in a BJP government.
What Modi is doing in UP is much more than he did as part of his Mission Bihar - in rhetoric and effort. There is, however, a danger of the aggressive campaigning petering out given that the election is still a long time away. In fact, whether the BJP can sustain such intensity over the next eight months or not may well determine whether UP's voters will end the party's 14-year vanvaas from power, or land a fatal blow to the Modi wave.
More in Catch - BJP gives a push to UP campaign with Allahabad national executive
UP polls: Is Amit Shah repeating the mistakes his party made in Bihar?