BJP is banking on Anupriya Patel for Kurmi votes in UP. Can she deliver?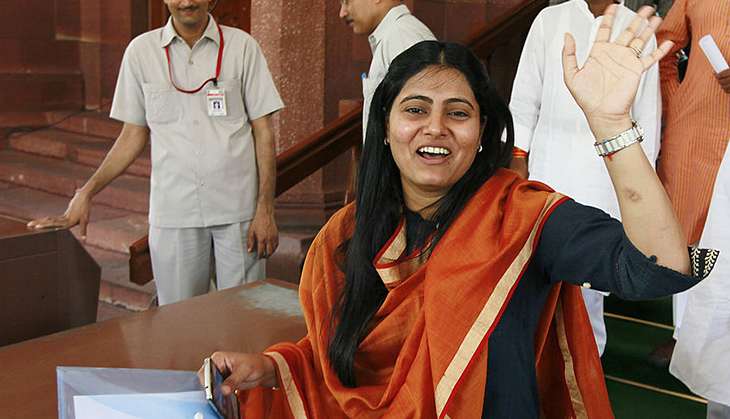 Anupriya Patel is a young and ambitious MP. The Apna Dal leader is aiming for the sky, but the ground beneath her feet seems to be slipping.
Patel is tipped to be among the fresh faces to be inducted in Prime Minister Narendra Modi's Cabinet. However, the bet BJP had placed on Anupriya does not appear to have paid off.
Today, Anupriya Patel stands expelled from the Apna Dal. Her mother Krishna Patel holds the reins of the party after the death of her husband Dr Sonelal Patel, Apna Dal's founder and a prominent leader from Uttar Pradesh. Anupriya was expelled from the party by Krishna Patel herself.
Also read - UP BJP president Maurya as CM candidate? It could be a game-changer
She plans to launch her own party. Her aide Jawahar Patel has already registered a party for this purpose.
On 2 July, Anupriya is organising a rally in Varanasi, which is likely to be attended by BJP president Amit Shah, BJP in-charge for UP, Om Prakash Mathur and state unit president Keshav Prasad Maurya.
Anupriya has chosen the birth anniversary of her father for this event. The aim is to shore up the support of her Kurmi community. The rally is being considered as an important step for Anupriya's future political plans. BJP will mark its presence at the rally to estimate her strength.
The Kurmi vote bank
The BJP is eyeing the Kurmi vote bank by keeping Anupriya on its side. The political history of Uttar Pradesh shows Kurmis are the most influential vote bank among the state's backward castes after Yadavs. The members of this community use surnames such as Verma, Patel, Sachan, Katiyar, Gangwar etc. Kurmis are known to be economically well-off. They have some landholdings and are, therefore, less dependent on upper castes. Many Kurmis are also employed in local businesses.
The clout of Kurmis dates back to the pre-independence era. The Akhil Bhartiya Kurmi Mahasabha came into being in 1919, just a year after Awadh Kisan Sabha was formed under the leadership of Baba Ramchandar. The Yadav Mahasabha was founded in 1923.
Kurmis constitute around 4-6% of UP's electorate of UP. They are a deciding factor in several constituencies. Beni Prasad Verma hails from the same caste. He joined the Congress before the 2009 Lok Sabha elections. That was a time when the Congress' fortunes were on the upswing and the party managed to win 22 Lok Sabha seats from the state.
Beni babu was upset with Samajwadi Party at that time. However, Mulayam Singh Yadav has succeeded in bringing Verma back to his parent party. Mulayam now hopes of getting a chunk of the Kurmi votes.
Bihar Chief Minister Nitish Kumar also belongs to the Kurmi community. This has given him the confidence to test the political waters in Uttar Pradesh and challenge Modi's influence. Kumar believes he would be able to prevent Kurmi votes from going the BJP's way and thus hampering its chances of winning the state.
The importance of Kurmi votes is also underlined by the fact that BJP had greatly benefitted from its alliance with Apna Dal in the 2014 Lok Sabha elections. This holds true especially for Varanasi, where Kurmis have a significant presence.
According to BJP's scheme of things, a ministerial post to Anupriya Patel at the centre would send a positive signal to the Kurmi voters in the run-up to the assembly elections. This is the main reason that Achhe Din are here for the young leader. A red beacon in Delhi would be no mean achievement for someone who has been an MP for just five years.
Mother versus daughter
Around the same time as Anupriya's rally with the BJP in Varanasi on 2 July, her mother Krishna Patel would be addressing a parallel rally of the Apna Dal in Allahabad.
"Anupriya is no longer a member of our party. We have nothing to do with her rally. More than 90% party workers and supporters are with us. Anupriya has forgotten the principals espoused by her father to pursue her political ambitions," Krishna Patel told Catch.
When asked whether Apna Dal is still with BJP, she replies, "Our support to BJP would continue. We have no plans of merging with BJP. We will continue to struggle for the welfare of our community."
A visibly perturbed Krishna Patel extends her greetings in advance for Anupriya's possible induction into the central cabinet. But she does not forget to reiterate that her party has nothing to with her. Krishna Patel admits that she has met Nitish Kumar, but insists it has no political connotations.
Does Anupriya still hold sway over Kurmi votes? Or BJP is courting a fading star of UP politics? The Varanasi rally could settle this question. Many of Anupriya's supporters, on the other hand, are parting ways with her. On 30 June, Vikas Chandra Tiwari, the president of the party's Varanasi unit, withdrew his support to Anupriya Patel.
"She has not even taken our phone calls after becoming an MP. Besides, she has been maligning upper castes. Anupriya has no interest in the functioning of the party and its workers. We don't want to be insulted any further. This is the reason we are separating from the party," Tiwari told Catch.
This augurs ill for Anupriya Patel before her proposed rally. It will also not go down well with BJP leadership as well.
BJP is hoping to win Kurmi votes by placing its bets on Anupriya Patel. But there are many other leaders in the state who claim to represent the community, including from the BJP's own stable, such as Vinay Katiyar and Santosh Gangwar.
The weakening support base does not bode well for Anupriya's political future. Keeping BJP's faith and also that of her own community is a tough challenge for her.
More in Catch - BJP steps up Dalit-wooing, but avoids direct scrap with Mayawati
Puttar Pradesh: RLD's Jayant Chaudhary set to join Akhilesh's govt