#BiharPolls: Will the 4th phase decide the winner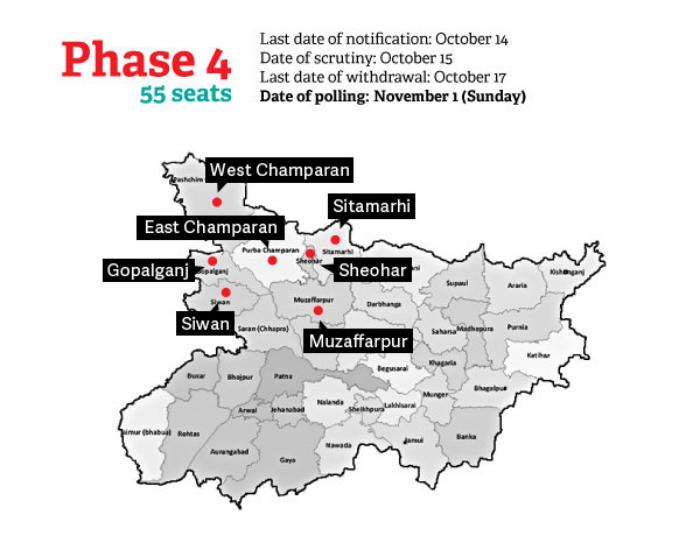 Crucial round
Bihar votes for the fourth phase today
Some say this round may decide the final winner
Who is ahead
On paper, NDA and Grand Alliance are poised equally
But a lot of things have changed in political equation
More in the story
What\'s the voters\' assessment of Nitish Kumar
Battle lines are drawn the fourth time. And the penultimate time.
On Sunday morning, voters of 55 constituencies in northwest Bihar will decide the fates of 776 candidates. They may also end up deciding who gets to govern the state next, several political analysts say.
This is a phase marked by a large number of muscle men and rebel candidates in the fray: 16 contestants face murder charges and 60 more allegedly attempted murder.
Rebels may make or break the prospects of the big 'uns in at least 27 Assembly seats, says Ashish Jha, a retired professor.
The phase is particularly important for Samajwadi Party, which seems to be posing considerable challenge to both the principal alliances in areas adjoining Uttar Pradesh. "Our presence will be clear after the results," party spokesperson Ramesh Vaishya says.
The political fortunes of several of the kins of Ram Vilas Paswan and Lalu Prasad will be decided too: While Lalu's brother-in-law has turned against him, the LJP supremo was able to placate his son-in-law with a ticket.
Among the stalwarts in the race are
Renu Devi Betia (national vice-president, BJP)
Ranju Geeta (minister in Nitish government)

Ramai Ram (minister in Nitish government)

Manoj Kumar Singh (minister in Nitish government)

Lovely Anand (Samajwadi Party leader from Sheohar)
Another minister, JD (U)'s Awadhesh Prasad Kushwaha, was replaced as the candidate from Pipra with Krishan Chand after a sting operation implicating Kushwaha in a bribery scandal.
Data suggests the electoral scales are evenly balanced between the National Democratic Alliance and the Grand Alliance. Of the 55 seats, 26 were held by the BJP while 24 by the JD(U). The RJD had two MLAs and three seats were held by independent candidates.
Nitish Kumar's development initiatives find takers in all constituencies of this phase that this reporter visited. Some, however, felt a lot more needs to be done.
Rebel trouble
The JD (U) is likely to face a stiff challenge from rebel candidates such as
Raju Kumar Singh (fighting for the BJP from Sahebganj)
Ajit Kumar Singh (Hindustani Awam Morcha-Secular; Kanti)

Dinesh Kushwaha (his relative Ajay Kushwaha is a BJP candidate now)

Rajesh Kumar Singh (Valmikinagar)

Guddi Devi (Saidpur)

Avnish Kumar Singh (Saidpur)

Shahid Ali Khan (HAM-S; Sursand)

Maha Chandra Prasad (HAM-S)
Former minister and independent MLA Vinay Bihar is the BJP candidate from Lauriya. The party has also given ticket to Pawan Jaiswal from Dhaka. He was an Independent MLA from the same seat.
At the Bochaha seat in Muzaffarpur district, LJP replaced Baby Kumari at the last moment to field party chief Paswan's son-in-law Anil Kumar Sadhu. Baby is now contesting as an Independent.
Laluland
The fourth phase includes Gopalganj district, where Lalu hails from. Six of its Assembly seats were evenly divided between the BJP and the JD (U) in 2010. But equations are different this time.
Narendra Modi's Gopalganj rally on Friday caught people's attention, but it remains to be seen whether it results in a significant shift of votes for the party.
Gopalgunj is Lalu's homeland. Will PM Modi's rally sway the voters away from him
The BJP has fielded candidates in Gopalganj, Barauli, Bhore and Baikunthpur, whule Kuchaikot has gone into LJP's kitty and HAM (S) is contesting from Hathua. Lalu's prestige is at stake here with his brothers-in-law - Sadhu and Subhas Yadav - contesting against the RJD.
Yadavs make up more than 16% of Gopalganj's electorate, and some of them may side with Sadhu and Subhas. While Sadhu has floated the Gareeb Janata Dal Party and fielded candidates in all the six seats, Subhas has joined hands with Pappu Yadav. Though he is not a candidate himself, he is quite active in making things difficult for his brother-in-law.