Bihar polls: SP's real "humiliation" has been at the hustings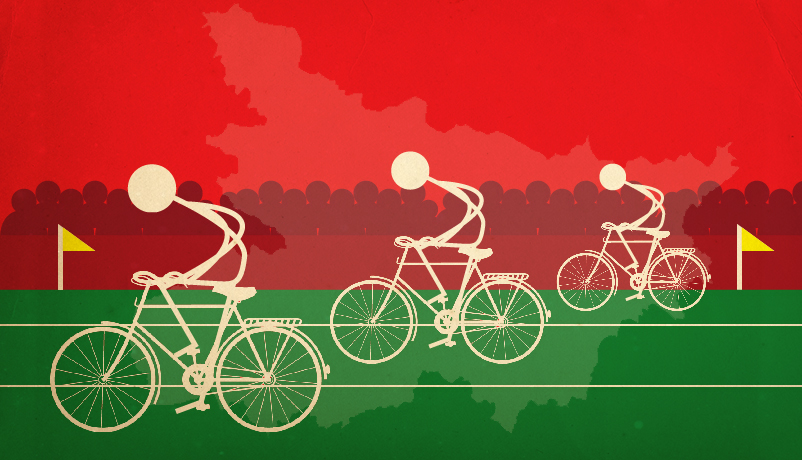 The humiliation
Samajwadi Party quit the Grand Alliance in Bihar, claiming it had been humiliated over seat sharing
It was offered 5 seats by its alliance partners
Its exit has, in effect, helped the BJP
The real reason behind the withdrawal seems to be CBI pressure
It seems Mulayam is afraid that CBI probe into the Yadav Singh case may affect his family
The history
SP has become a virtual non-entity in Bihar
It won 4 seats in February 2005, 2 in October-November 2005 and 0 in 2010
Its vote share has been consistently falling as well
Given this track record, the offer of 5 seats was reasonable
The Samajwadi Party left the Grand Alliance in Bihar, claiming that it had been humiliated by the paltry numbers of seats it was offered. To put it crudely, the party probably got what it deserved.
SP has been losing on most, if not all, of the seats it has been contesting in the last two decades. Ever since its formation in 1992, it has contested 5 assembly elections in the state - in 1995, 2000, February 2005, October-November 2005 and 2010.
In all these elections, its performance has been abysmal. It won 2 out of 176 seats it contested in 1995, forfeiting its deposit on 173.
In 2000, it won none of the 122 seats it fought on, forfeiting its deposit on 118. February 2005 gave SP its best tally in the state - 4 out of 142 seats. It still lost its deposit on 131 seats.
Continuous slide since 2005
Since February 2005, its performance in the state has been continuously on the decline. The hung verdict of these elections necessitated another election in October-November, in which SP contested on 158 seats and won on only 2. It lost its deposit on 150 seats. The percentage of votes it garnered came down to 2.52% from 2.69% in February 2005.
Sliding further in 2010, the party won none of the 146 seats it fought on, losing its deposit on all of them. Its vote share came down to 0.55%.
Given this track record, its clear that SP's real humiliation has been at the hustings. Then why did it take umbrage at being offered 5 seats by the JD(U), RJD and Congress?
Five seats seems a respectable figure as it's more than the number of seats the SP has ever won in Bihar.
National Secretary of the Samajwadi Party Rajesh Dixit offers the standard explanation. He says political parties are born to contest elections and they don't stop fighting elections because of losses.
Dreams of expansion
Director of the Centre for Study of Developing Societies (CSDS) Prof Sanjay Kumar says parties fight outside the state of their origin in order to expand.

They keep fighting inspite of losing so that party workers in these states can be mobilised, he adds. He also explains that by fighting on a large number of seats, a multiplier effect ensures greater mobilisation of workers.

Professor Kaushal Kishore Mishra, Head of the Department of Political Science at Banaras Hindu University, offers an ideological explanation. He recalls that when veteran socialist leader and Mulayam Singh Yadav's mentor Ram Manohar Lohia was asked whether he thought he will be able to defeat the Congress one day, his reply was that socialism as an ideology was born to fight, irrespective of victory or loss. However, Prof Mishra adds that SP fights in Bihar as well as other states like Maharashtra to be able to claim that it is a national party.

In 2010 SP lost all the seats it contested in Bihar. Its vote share was a paltry 0.55%

However, he also points out that the SP's decision to break away from the 'Grand Alliance' in Bihar and fight on all the seats independently, seems designed to damage the alliance and help the BJP. He says that Mulayam needs the BJP's help to ensure that he and his family are kept safe from the outcome of CBI's investigation into corruption cases against former Noida chief engineer Yadav Singh.
Using polls to remain power brokers
Political analyst Naval Kishore Chaudhary, who was principal of Patna College says that not only does the SP fair poorly elections in Bihar, it doesn't register its political presence in any way either. However, fighting elections helps local leaders in functioning as power brokers round the year, he explains.
The sad reality of contemporary electoral politics, according to Prof Chaudhary, is that parties use elections to fill their coffers by taking money from local candidates for giving them tickets.
For the candidates, contesting helps them increase their social standing. The local leader, he notes, will paste a party sticker on his fancy vehicle and use it to not just establish influence among common people but also extort local government officers.
This year's decision by the SP, Prof Chaudhary also agrees, appears to be guided by the CBI factor.
The Election Commission lists the Samajwadi Party as a state party, which shows that the party has not been able to realise its dream of becoming a national party even after two decades of struggle. Moreover, it is now worried about its very survival in its home state especially after it was reduced to 5 seats in the 2014 Lok Sabha elections.
The SP's leader, called 'Netaji' by his shrinking band of followers, seems to have shown all the traits of a petty politician, buckling before whoever controls the CBI.