Bhaichung Bhutia shifts political focus by launching Hamro Sikkim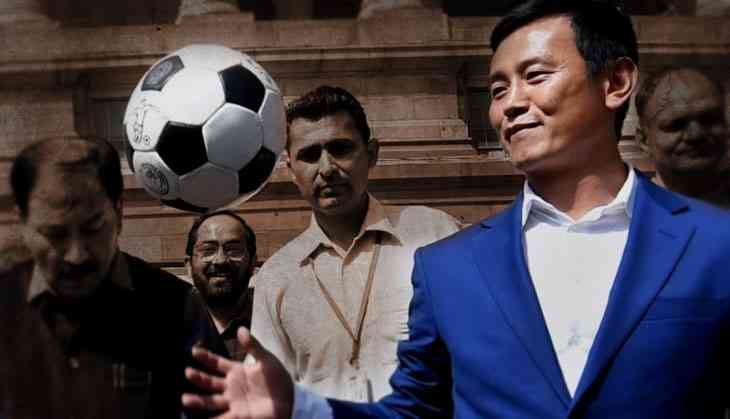 Former India football captain Bhaichung Bhutia Thursday launched Hamro Sikkim, a political party, in New Delhi. Bhutia in February quit Mamata Banerjee-led Trinamool Congress.
Bhutia said he would focus on corruption and unemployment in his home state in theh run-up to next year's Sikkim Assembly elections. "Corruption, unemployment, high suicide rates, youngsters getting into drugs/alcohol and lack of leadership in the state are some of the key issues for me," Bhutia said.
He slammed the current Pawan Chamling-led Sikkim Democratic Front government for approving numerous hydroelectric power projects. "Sikkim has a fragile environment. What is the need to have 29-30 hydel projects? Despite having so many power projects, uninterrupted power supply has still not reached a large part of the state," he said.
"And while we vouch for organic farming, agricultural lands are being taken away by pharmaceutical companies. We need development, but a sustainable one. Even today, a tarred road has not reached my village," he added.
Alleging corruption under Chamling, Bhutia said the ban on the entry of Central Bureau of Investigation (CBI) in the state must be lifted. "If they are clean, they need to prove it," the football ace said.
There has been speculation about Bhutia's political future after he fell out with Trinamool. Some quarters guessed he would join the Bharatiya Janata Party (BJP), th party against which he unsuccessfully contested the 2014 Lok Sabha election from Darjeeling and the Siliguri Assembly constituency in 2016.
He was always considered an outsider in Trinamool, Bhutia alleged at the launch. He said he did not agree with the party's stand on Gorkhaland. "I believe that the people of Darjeeling must have an option to not remain in West Bengal," he added.
Bhutia said the formal launch of his party in Sikkim will be in a few weeks, and it will aim to pose a challenge to five-times CM Chamling.
The party president and the CM candidate will be named soon. "This is not my party. This is a party of the people of Sikkim. If my party wants, I will contest the elections," Bhutia said.