Bengal civic polls: Trinamool scores 4/7. Starts afresh in hills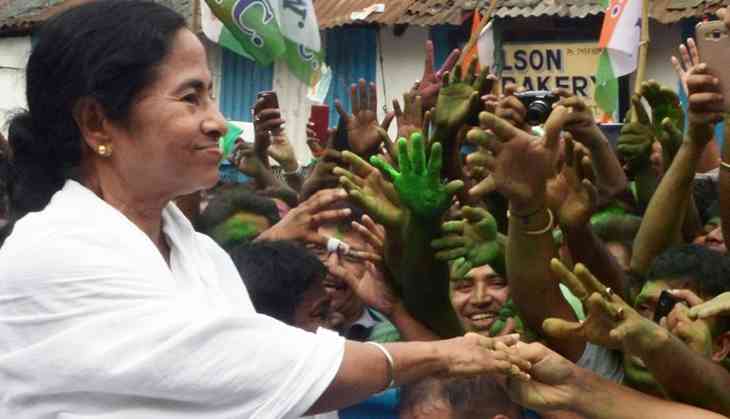 (AFP Photo/Dibyangshu Sarkar)
In the face of a saffron offensive in Bengal, the All India Trinamool Congress (AITC) on Wednesday clinched victories in four of the seven civic bodies that went to polls on 14 May.
While AITC bagged Domkal, Pujali, and Raigunj in South Bengal, the party made inroads in to the hills by winning Mirik. This was the first time the Gorkha Janmukti Morcha (GJMM) have lost a civic body to the AITC.
The results, announced on Wednesday, also saw the Congress being dealt a severe blow as it lost both Raigunj and Domkal. Both these municipalities had been held by the Congress so far.
It may be mentioned that two days ago, Pradesh Congress Chief (PCC) Adhir Chowdhury had claimed that he would leave his MP post if the Congress lost in Domkal and Raigunj.
CPI(M) could bag only two wards in Pujali and Domkal.
The results proved to be quite a disappointment for the BJP. The party just bagged three wards – Ward 3, 9 of Pujali in South 24 Parganas and Ward 1 in Raigunj.
The general secretary of Bengal BJP, Sayantan Basu, said, "We have clinched three wards at two civic bodies in South Bengal, Pujali and Raigunj where there was no presence of the BJP till now. We are confident that we can increase our vote share in other municipalities too."
"Results of the municipality election once again proved that people have kept their faith on TMC government and despite BJP's initiative to create religious polarisation in the state, it has failed to grab any of the civic bodies," said Partha Chatterjee, the state parliamentary affairs minister.
Congress leader Manoj Chakraborty said, "Votes have been looted and we demanded that elections to three civic bodies should be countermanded and fresh elections dates should be announced by the State Election Commission(SEC)."
Aroop Biswas, the minister who was in charge of North Bengal said, "We feel that people want an alternative party in the hills and that's why they have voted for the AITC. The results indicated that people are not satisfied with the development work of GJMM."
AITC spokesperson Derek O' Brien tweeted:
Todays's results reconfirm that @MamataOfficial well and truly in the driver's seat #VerdictOfBengal https://t.co/ycIYoDTnXZ

— Derek O'Brien (@quizderek) May 17, 2017
Political analysts, however, are of the opinion that this is a great victory for the AITC as it has managed to gain a civic body in the hills after a decade. They also said that the time has come for the BJP to acknowledge that caste politics can not be sustained for prolonged period in Bengal.
Amol Mukherjee, political analyst and former professor of Political Science at Presidency College said, "In West Bengal, BJP's caste manipulation has not proved to be worthy and we feel that BJP needs to give attention to strong leadership rather than dividing people on communal lines to garner more votes."
Seven municipalities in Bengal went to polls on 14 May. Violence was reported in three civic bodies – Raigunj, Pujali and Domkal. Allegations were levelled against the ruling AITC that they hurled bombs near several polling booths and EVM's were damaged at Domkal municipality in the Sekhalipara area. Some incidents of booth capturing were also reported.
Clashes between AITC workers, Congress and the CPI(M) continued till the election ended and violence reached such a stage that the Opposition parties, including BJP, were forced to withdraw their candidates.
Commissioner of the State Election Commission, AK Singh, however, did not want to meet the representatives of the Opposition party during the election day.
Edited by Jhinuk Sen