Bengal civic body elections: BJP demands deployment of Central forces in 7 municipalities going to polls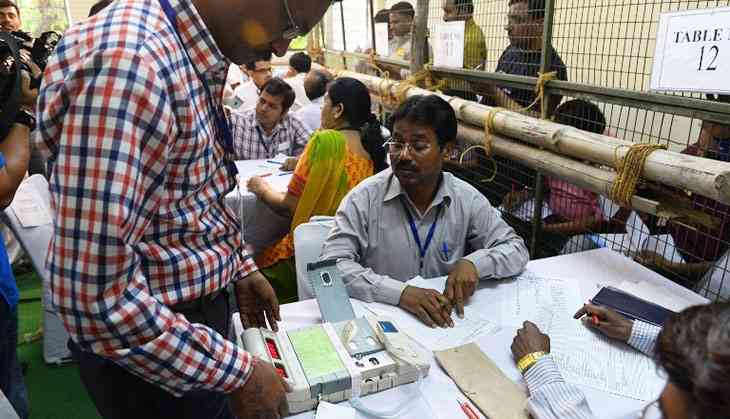 (AFP PHOTO/Chandan KHANNA)
With an eye on the upcoming municipality elections in Bengal, the BJP have demanded that Central forces be deployed to make sure all goes off smoothly. The State Election Commission has decided to send the demand of the state BJP to the Election Commission of India (ECI) for their consideration.
The election for seven municipalities – Darjeeling, Kalimpong, Kurseong, Mirik, Raigunj (North Dinajpur), Domkal (Murshidabad) and Pujali (South 24 Parganas ) are scheduled to be held on 14 May and it was decided that state police forces would be posted at around 400 booths in the state to ensure ease of voting.
A senior official of the State Election Commission said, "For the deployment of Central forces we need to intimate the Ministry of Home Affairs (MHA) three months prior to the election. Based on the availability of the forces they sent a letter to the state government informing them how many can be sent for duty. The letter is then be forwarded to the ECI by the State Election Commission and following the ECI's recommendations, the forces are deployed."
The state BJP's request came in a week ago, but the State Election Commission has already sent the request to the ECI for their consideration, added the senior official.
According to the statistics available with the state government, there are around 150 vulnerable booths in the seven municipalities that are going to polls, which need the added protection.
On Friday state BJP president Dilip Ghosh claimed at an election rally that they fear that All India Trinamool Congress (AITC) is going to loot their votes and that is why they have demanded Central forces to be deployed besides state police forces.
Ghosh said, "We fear that people in the seven municipalities will not be able to cast their votes without fear as the AITC has already unleashed a reign of terror in these areas."
Sources in the State Election Commission said that in some of the wards at Pujali and Domkal they have received information about incidents of clashes between the AITC, BJP and CPI(M) workers. They also said that they were taking proper action in this regard.
It may be mentioned that Asadul Sheikh, a Trinamool Chhatra Parishad (TMCP) leader from Behrampur was allegedly murdered on late Thursday night by some miscreants close to the Congress leader Adhir Chowdhury. The police have already arrested a close aide of Chowdhury's from Dum Dum in this connection.
While the Left and the Congress are fighting in alliance for the upcoming municipality election, BJP has decided to fight alone.
Senior BJP leaders claimed that presently BJP has got five councillors in the seven municipalities and they are trying to grab the Muslim voters to increase their vote bank in these areas.
State parliamentary affairs minister Partha Chatterjee said, "BJP can demand Central forces, but it is up to the ECI to decide whether there is a need for it or not."
Edited by Jhinuk Sen