BCA graduate Manish gives Modi a 10/10. Find out why he's not voting Nitish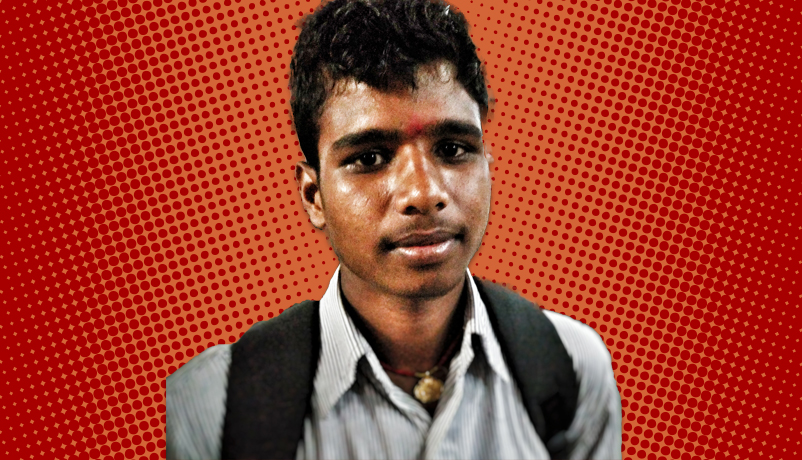 The graduate
Manish Raj Singh is a 23-year-old BCA graduate from Nawada distric
He wants to go out of Bihar for higher studies
The fatal flaw
Manish thinks the Nitish Kumar government has done well in most sectors
However, he thinks Nitish has ruined the primary education system of the state
More in the story
Manish\'s take on the Lalu-Nitish alliance
How he rates Narendra Modi as PM
Elections are not just about politicians. They're about people and issues. And what will really drive their vote.
Catch is, therefore, starting a 'People of Bihar' series, which will daily capture what different impact groups across the state are feeling. This is true insight on the Bihar election: up-close and hyper-personal.
We meet 23-year-old Manish Raj Singh at the Rajendra Nagar railway terminal in Patna. It's around 11:30pm and he's waiting to catch a train to Bhagalpur.
Manish is the son of a farmer from Dumraon in Nawada district, and has completed his BCA from the KLS College in Nawada. He's now planning to go out of the state for higher studies.
Manish belongs to the Bhumihar caste, and says he is supporting the NDA in the polls. He acknowledges the work done by Nitish Kumar in his 10-year reign as CM - he himself has benefitted from the government's cycle scheme - but disapproves of his grand alliance with Lalu Prasad Yadav and the Congress.
He also believes that the poor implementation of the 'Shikshamitra' policy, where temporary teachers are hired to fill in for absentees, has done immense harm to the education system of Bihar.
Here's more from the conversation.
VK: Who are you supporting in these elections?
MRS: I have voted for Narendra Modi, because I have high hopes from him. I had voted for BJP during the general elections too. Our local NDA candidate, Aruna Devi, is a good leader as well.
VK: Nitish Kumar is asking for votes in the name of development. What do you think about that?
MRS: He is not wrong. Nitish has improved road infrastructure; electricity is now more readily available. In fact, my village has a power supply of 17-18 hours every day.
VK: Then why didn't you vote for him?
MRS: He has ruined primary education in the state. My village has teachers in primary schools who know absolutely nothing. They have been employed merely based on marks - this will do no good to the education system.
"My village has teachers in primary schools who know absolutely nothing," says Manish Raj Singh
VK: Are there other fields too where you feel Nitish has failed?
MRS: No, he has done a good job in most other sectors.
VK: How do you view Nitish as a leader?
MRS: He is a good leader. But joining hands with Lalu was his mistake. Lalu shoots from the mouth. Take his recent statement about Hindus eating beef - after all, he himself is a Yadav, meaning a cowherd. He should have refrained from making such a statement.
VK: What about Narendra Modi do you find most appealing?
MRS: I like the fact that he is visiting the world for our country's development. In addition, it would be beneficial to have a BJP government in the state, as it also rules the Centre. Having a party opposed to the Centre in power in the state can hamper development.
VK: How would you rate Modi's performance as the Prime Minister?
MRS: I would give him 10/10.
VK: Why?
MRS: Because he has done a lot of work in the last one-and-a-half years. He has given a special package to Bihar. Also, his foreign travel is going to accelerate India's development.
VK: How do you define development?
MRS: To my mind, development is the availability of everything. It isn't enough to have roads and electricity, but no proper education in schools. It has to be all-encompassing.
VK: Who should be the Chief Minister if the NDA comes to power?
MRS: Sushil Kumar Modi.
Also read: Bihar's Brahmins ask: why is our vote taken for granted?
Dalit PhD student Krishna: 7/10 for Nitish, 3/10 for Modi
An ATM guard who's always with a book, and why he'll vote NOTA
Banka Silk founder Udayan Singh wants a third term for Nitish
Graduate Azra feels Modi isn't inclusive enough to vote for
Whoever comes to power must create jobs: front-office boy Divyanshu
Nitish is a better leader than Modi: Student politician Zeeshan
Nitish has ruined his chance by joining Lalu: Lakshmi, graduate, Muzzafarpur
There's little to choose between Modi and Nitish: wannabe cop Vinit argues for NOTA
Lawyer Indira Sharma: Nitish started well, but has now lost his mind
Farmer Ali Ashraf: 'Dadri is jungle-raj. I don't want that in my state'
Researcher Sunita: don't like BJP but today's Nitish is worse
Social worker Munna Jha: no matter what surveys say, I'll vote for Nitish
Madrasa student Ahmed: Modi's promises fake, I'll vote for Nitish
Entrepreneur Imran: give BJP a chance to prove secular credentials
BCA graduate Manish gives Modi a 10/10. Find out why he's not voting Nitish