Battleground UP 2017: It is insiders versus outsiders as rebels flock to BJP camp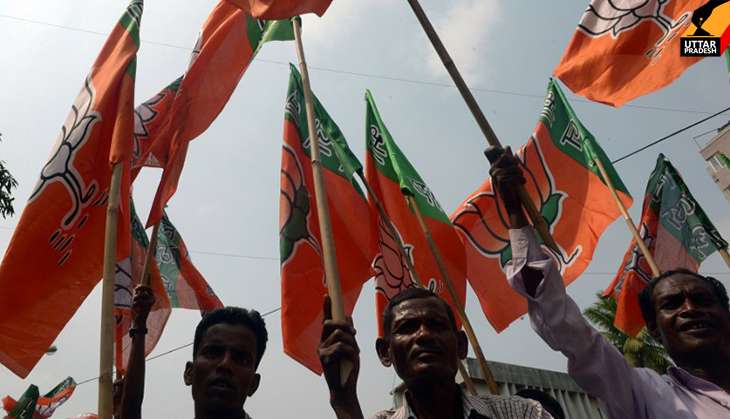 Expecting to form a government in Uttar Pradesh, rebel leaders from other political parties have made a beeline to the Bharatiya Janata Party (BJP) in the hope of being nominated for the 2017 Assembly elections.
Not all of them may be lucky, but they have caused a disquiet among ticket seekers in the saffron camp.
There are about a dozen legislators, besides some prominent leaders of other parties who are aspiring for BJP tickets, either for themselves or their relatives.
BJP's own ticket aspirants are too many to be accommodated without causing any heart burn. There also are relatives of BJP leaders who are waiting for their big break into politics and their elders are said to be backing them.
Dynasty politics
Rajnath Singh, Lalji Tandon, Kalraj Mishra, Hukum Singh are among those who want their sons and daughter to be fielded in the coming elections.
It is feared that the party's list of candidates would open the floodgates of discontent as Union Home Minister Rajnath Singh's son Pankaj Singh and the daughter of Hukum Singh, the Lok Sabha MP, are ticket aspirants from Noida and Kairana.
The list will also reveal BJP's stand on dynasty politics.
There's talk of Kalyan Singh's son and Etah MP Rajveer lobbying for his wife Premlata or son Sanju to be made a contestant from Dibai, the traditional stronghold of the former chief minister who is serving as the Governor of Rajasthan.
Besides these leaders there is Banda MP Bhairon Prasad Mishra, Dhaurehra MP Rekha Verma and Amroha MP Kanwar Singh Tanwar are also in the queue for nephew, niece and son.
According to a BJP source, there are over 24 senior leaders who want tickets for the relatives.
Make way for the rebels
More than its own senior leaders who want their sons, daughters, nephews and nieces to make a career in politics on BJP tickets from this election season, it is the turncoats who have complicated the ticket distribution process.
Swami Prasad Maurya, who dumped the Bahujan Samaj Party (BSP) to join the BJP, wants his son Utkrishta and daughter Sanghmitra to be given tickets.
Rita Bahuguna Joshi, the former UP Congress president, is learnt to be lobbying for her son Mayank.
Maurya had turned rebel because Mayawati refused to give tickets to his family members. Rita Bahuguna Joshi, whose brother Vijay Bahuguna, a former Congress leader who is now with the BJP, is herself a contender for a nomination from Lucknow.
The list of turncoats who would be keen on BJP nomination is long and has pitted the "outsiders" against the old members of the party. Irrespective of whether these 'aayaa rams' get nomination or not, the BJP will have a lot of discontent to deal with.
Easy come, easy go?
There are nine BSP leaders including Maurya who switched sides after weighing BJP's poll prospects. The other eight who joined the BJP are:
Brijesh Pathak
Rajesh Tripathi (MLA from Chillupar)
Bala Prasad Awasthi
Hargovind Singh Kushwaha (former state minister)
Paramdev Yadav
Vasudev Maurya
Rakesh Jaiswal
Tulsiram Yadav
Rakesh Lodhi.
Of these at least Swami Prasad Maurya, Brijesh Pathak and Rajesh Tripathi are serious ticket aspirants. Maurya though would also be happy if either his son or daughter is given preference over him.
Barring Rita Bahuguna, Ganga Charan Rajput, the other Congress member who crossed over to BJP may be passed over for nomination as he has already been nominated to the party's national council.
Also on the BJP's national council are Maurya, Pathak and Dara Singh Chauhan, another new entrant to the party.
There is, of course, fierce opposition to the new entrants being given weightage over party loyalists. A BJP general secretary, however, has dismissed any discontent over turncoats.
"If a BJP candidate was placed fifth or sixth in any constituency and the winner of another party is now with us, shouldn't he be nominated?" he asked.
He emphasised that the criteria of winnability will outweigh any other consideration in ticket distribution, but refused to comment on senior leaders wanting tickets for their children.
Edited by Jhinuk Sen