Battle Field Punjab: how the state's farmers are suddenly being wooed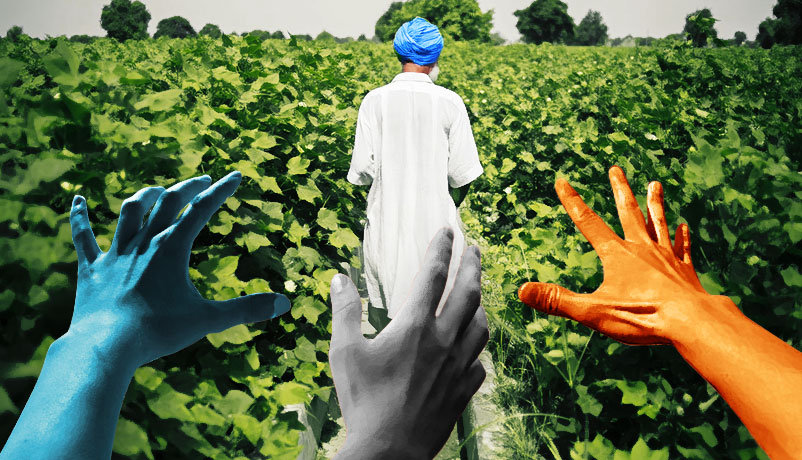 Aware that the state's agrarian crisis will be a key issue in the forthcoming election, Punjab's three major parties are sparing no effort to reach out to the farmers.
While the the Congress and the AAP is telling the rural electorate how the SAD-BJP regime has failed them, the Prakash Singh Badal government is announcing sops for the farm sector.
But mere sops or promises won't do. Punjab's agrarian sector is plagued by too many ills which must be fixed urgently.
A state of crisis
The state has an agricultural debt of Rs 69,355 crore, according to a team of experts from the Punjabi University, Patiala, which carried out a survey for the Indian Council for Social Science Research recently.
Read- Cotton farmer suicides: Punjab has been here before and not learnt
In the absence of a concrete policy intervention, a large number of farmers and farm labourers continue to commit suicide, unable to bear the economic distress.
Crops of cotton, and more recently peas, have been destroyed by spurious pesticides and seeds.
Affected farmers have not been getting adequate compensation for their damaged crops. If this wasn't distressing enough, the little produce they manage to save doesn't fetch adequate returns. Also, there's little value addition in terms of food processing.
Indeed, there are reports of farmers levelling their kinnow orchards and others giving up Basmati cultivation as both have become unproductive.
A lack of social security, state investment in public healthcare and education has also adversely affected the farmers.
AAP strategy to win over Punjab's farmers - Parivar Jodo campaign, 'Punjab Dialogue' with rural folk
Many experts point out that since the farmer is compelled to divert his funds towards getting private healthcare and education for his children, he is further trapped in debt.
Shrinking land holdings have made farming a non-profitable vocation, and rural unemployment has taken a hit.
Punjab has over 10 lakh farming families, a significant votebank that no party can afford to ignore.
Congress' promises
Amarinder Singh, who took over the reins of the Congress in the state two months ago, has launched a 'Pagri Sambhal Kisana' campaign in rural areas. The campaign aims to "restore respect to the farmers of Punjab, which was once the granary of the country".
Amarinder launched this "direct interaction with farmers" campaign from Faridkot district and plans to take it to all districts over the next few months. Speaking at the event, Amarinder lashed out at the Badal government as well the Modi regime at the Centre.
Also read : Why staying with Akalis will help BJP in Punjab
"If the Centre can waive off the bad debts of corporates worth Rs 1.14 lakh crore, why can't it waive off loans of poor farmers which in no way amounts to so much?" he asked. He asked why Badal doesn't take up this issue with the "friendly government" at Centre, where his daughter-in-law Harsimrat Kaur is a minister.
The Congress has set up a committee to prepare a list of farmers who have committed suicide over the past decade and to find the reasons behind these suicides. The party is also promising to investigate the supply of spurious pesticides and seeds if it's voted to power.
AAP's outreach
The AAP, on the other hand, has been working in the rural areas for quite some time now, raising local issues and organising programmes. The party, too, recently launched a 'Parivar Jodo' campaign, as part of which its workers are "reaching out to all households in the state". The workers are also going from village to village interacting with farmers and telling them about the party's agenda.
AAP leader Ashish Khaitan has announced that the party would launch the 'Punjab Dialogue', a pre-poll initiative modelled on the Punjab unit, from 15 March. Interactions with farmers and rural residents would be a key part of this programme, he added.
Badal's sops - no VAT on raw honey, cheap power for flower cultivators, PF, pension for small farmers
Delhi chief minister Arvind Kejriwal is reportedly undertaking a week-long tour of Punjab from February 20. A "key agenda" of his visit is meeting the families of farmers who have committed suicide.
The AAP has already formed a Kisan and Labour Wing to collect figures on suicides and reach out to farmers, particularly those facing economic distress in the cotton belt.
SAD's sops
Badal, battling heavy anti-incumbency, is banking on a series of "initiatives to improve the lot of farmers" that he has announced over the past few days to win over the rural electorate.
He has given assent to abolish VAT on unbranded honey, as well as the equipment, boxes, food grade containers and wax required for apiaries. He has extended the 40% subsidy been given to beekeepers on 50 boxes to 100 boxes.
Read more- Shadow lines: the drugs and terror track in Punjab
Badal's government has decided to set up a "market intelligence wing" to provide marketing support to the farmers. He has approved 24-hour power supply at agriculture power tariff to flower producers.
The chief minister has also announced an initiative to promote mushroom cultivation and asked his officials to include it in the next plan to ensure it gets budgetary support.
The government is also expected to announce a provident fund and pension scheme for farmers who own less than five acres of land, as well as for landless farm workers aged above 60. Punjab has an estimated 3.58 lakh farmers with under five acres of land and about 12 lakh landless labourers.
Badal is also likely to announce a cashless health and accidental insurance scheme for farmers from March.
The other prong of the Akalis' strategy is hitting out at the Congress. They are asking why Amarinder's wife Preneet Kaur was silent when Punjab's farmers were being "discriminated against by the UPA government in which she was a minister".
As the election draws near, the fight over the farmers' vote is only going to get more intense.
Edited by Mehraj D. Lone
More in Catch:
Amartya Sen report: 80% Bengal Muslims live on less than Rs 5,000 a month
Nobody has been as aggressive as us: Manish Sisodia on#EkSaalKejriwal
Heart Attack: inside the crazy, colossal $19 billion Valentine's Day industry
How to Be Single review: funny, enjoyable and messy in an all too real way