Arvind Kejriwal plays religion card during his Punjab visit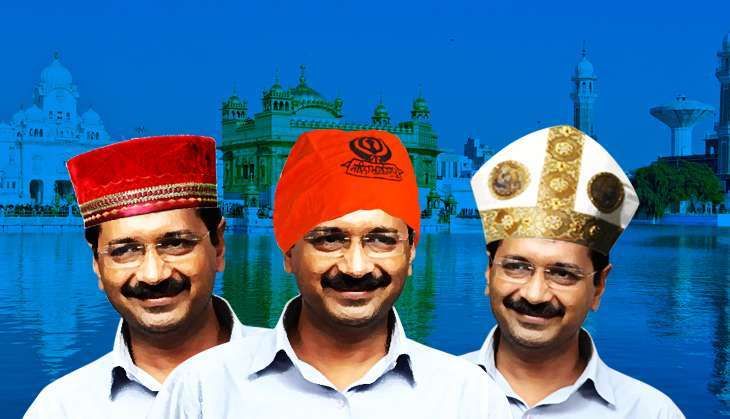 The story
Arvind Kejriwal reached out to various religious communities during his Punjab visit
He accused SAD of desecrating the Quran to defame AAP
Sukhbir Badal led SAD\'s counter attack
More in the story
Kejriwal\'s definition of a "true Hindu"
War of words in Punjab
Religion was the flavour of the three day Punjab visit of Aam Aadmi Party's (AAP) national convener and Delhi chief minister Arvind Kejriwal. Kejriwal tried to woo Sikhs, Christians and Muslims while travelling through the state's heartland.
At the same time, he attacked the Shiromani Akali Dal (SAD)-BJP combine in Punjab and the Narendra Modi government at the centre.
He spoke about the desecration of Sikh religious texts last year and the recent desecration of the Quran in Malerkotla on 24 June. An AAP MLA Naresh Yadav, has been booked in connection with the Malerkotla incident.
Kejriwal accused the SAD-BJP of indulging in communal politics and trying to defame AAP since it had emerged as a serious challenger in Punjab. "They are not leaving any stone unturned to defame AAP. It is shameful that to defame AAP, they (SAD) did not even spare the holy Quran Sharif."
Also read - How a 'Muslim hater' failed to instigate a communal riot in Malerkotla
"After becoming the prime minister, most of the time Modi is on 'flying mode' and whenever he lands in India, he is always in 'planning mode' to disturb the Delhi government by creating hurdles in the on-going developmental works", Kejriwal said while addressing a function organised by the Punjab Christian United Front.
Reaching out to Muslims and Dalits
Later while addressing a gathering at Malerkotla, the only Muslim dominated town in Punjab, Kejriwal said that some anti-national elements are trying to destabilise the country. Expressing his pain over the desecration of Quran, he said, "Some people are trying to malign me and my party in the name of religion. But I am anguished that they had to resort to sacrilege to malign me. In their endeavour to malign AAP, they have played with the sentiments of minority community".
He supplemented his statement by saying that a true Hindu would never indulge in the desecration of holy book of any religion, he would rather have love and respect for all religions. He participated in an Iftar and later interacted with the town's Muslim population.
He tried to strike a chord with the Dalits in Doaba region again by expressing concerns over the growing number of incidents of atrocities on Dalits in Punjab. He announced that once voted to power, AAP would constitute a Special Investigation Team (SIT) to review these cases.
"It has been noticed that many false cases were registered against Dalits. There have been atrocities against Dalits An Akali leader chopped of a Dalit's (Bhim Tank's) hands because he refused to work for him," Kejriwal said while addressing a gathering of Dalits. He cited the suicide of Rohith Vemula and accused the BJP of being anti-Dalit.
Protests
Kejriwal's visit was not a smooth affair as there was opposition to him right from the start. He was targeted by some unidentified persons who threw leaflets at calling him "anti-Sikh" when he was on a visit to the Golden Temple on the first day of his visit. The pamphlets held him responsible for razing a "piao" (drinking water kiosk) outside Sis Ganj Gurudwara in Delhi. The protestors also raised anti-Kejriwal slogans and entered into a scuffle with AAP supporters.
Kejriwal's visit was not recognised by the Shiromani Gurudwara Prabandhak Committee (SGPC) that did not give a Siropa (scarf of honour) to him.
At Malerkotla he faced protests by the local Muslims affiliated to SAD on his party's MLA being an accused in the Quran desecration episode.
On the political front, deputy chief minister Sukhbir Badal led the charge against him. He castigated the AAP for committing sacrilege by insulting and disrespecting Guru Granth Sahib by equating it with a 'frivolous' manifesto released by the party in Amritsar. He said that AAP and its spokesman Ashish Khetan had equated the document with the Guru Granth Sahib in presence of Kejriwal."This is an act of blasphemy which has hurt the sentiments of the Sikh community worldwide and we condemn it as such," Sukhbir said.
Pointing that it was understood that AAP leaders in Punjab do not have any conscience and have become yes men of Kejriwal and his team of outsiders and hence had not raised their voice against this sacrilegious act, Sukhbir said, "But for me as a Sikh it is galling to learn how this new party and its mentally sick leaders have attacked Sikhism. They have through their actions shown they don't respect Sikhism and its tenets."
Asking Arvind Kejriwal to take immediate action against his underling, the SAD president said no apology on the part of Khetan would be good enough to assuage the hurt feelings of the Sikhs.
"However immediate dismissal of Khetan from all party posts and expulsion from AAP will send a signal that you are not party to this heinous act. But if you do not act immediately against your arrogant and mischievous underling it will be presumed that this utterance was part of a planned AAP agenda authored by you," he added.
Besides Sukhbir, his other party men too launched a frontal attack on Kejriwal on the issue of Ciao demolition in Delhi. "You have hurt sentiments of the Sikhs by being responsible for demolition of the piao at Sisganj Sahib gurudwara. People of Punjab have come to know you and will no longer be befooled by fake promises and manifestos," said party leader Daljit Singh Cheema.
Punjab chief minister Parkash Singh Badal too attacked AAP for arousing communal passions in the state. Speaking at the sidelines of a Sangat Darshan programme in Batala, Badal reportedly said that AAP is trying to communalize the situation in Punjab and trigger violence. He made this comment in the context of sacrilege of Quran at Malerkotla.
More in Catch - Kejriwal in Punjab: entices youth with manifesto, crosses swords with Akalis
Malerkotla Quran sacrilege: BJP-turned-AAP leader Naresh Yadav booked