Amma's ghost still haunts AIADMK: Dinakaran responds to Srinivasan's disclosure
S Murari
| Updated on: 25 September 2017, 16:47 IST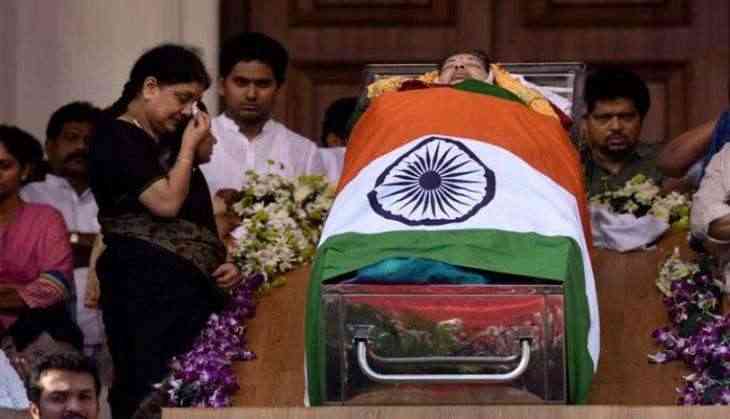 Senior Tamil Nadu minister Dindigul C Srinivasan's confession that he and other ministers lied about J Jayalalitha's health and no one had access to her when she was in hospital except her personal aide VK Sasikala, has revived the demand for an enquiry.
Responding to this, Sasikala's nephew and leader of rebel AIADMK faction TTV Dinakaran has said" No one, not even Sasikala, had access to Jaya after October 1, 2016. Sasikala was with Jaya only for a brief while every now and then. We are ready for any enquiry as we have CCTV footage".
He has said the entire second floor of Apollo Hospitals was reserved for Jaya and even VIP visitors like the Governor, BJP leader Venkaiah Naidu and Congress vice-president Rahul Gandhi only interacted with attending doctors.
Srinivasan made this confession at a public meeting in Madurai and he apologised for having misled the people with falsehoods like "she was recovering" and "she had started taking edible food like idli".
He has said:"We were not all allowed to meet Jaya and we merely repeated lies peddled by Sasikala". He has charged that Sasikala prevented them from meeting Jaya for fear that she would reveal the kind of treatment she was getting.
Stalin attacks AIADMK
Following these disclosures, DMK working president and Leader of Opposition in Tamil Nadu, MK Stalin asked, "If no one had met Jayalalitha she was admitted to hospital on September 22 last year, on whose advice did Governor Ch Vidyasagar Rao reallocate the Chief Minister's portfolios to the then Finance Minister O Pannerselvam on October 12?"
This question was raised by DMK president M Karunanidhi then itself and he wanted to know if Jayalalithaa had actually signed the file.
Stalin has also recalled that it was in October that Jaya's left thumb impression was taken on nomination forms for AIADMK candidates when they contested three by-elections. "On whose behest was the thumb impression obtained for the nomination forms at a time when she was critically ill?" he asked.
Stalin also said that Karunanidhi had asked the government to release video proof of its claim that she interacted with officials on the Cauvery issue so as to end malicious rumours circulating about her health. The same set of ministers, who are now admitting that they lied all along, had pounced on him back then for being "insensitive".
He has also said both AIIMS and Apollo Hospitals were equally responsible for the cover-up and so was the Centre. Rejecting the government's decision for a judicial enquiry as eyewash, he has said the Centre should order a CBI enquiry.
There is nothing startling about Srinivasan's confession as the ministers' lies had fooled no one, least of AIADMK cadres. They knew that Jaya was critical and the end was near. Most AIADMK cadres had come to terms with it during the 75 days she was in hospital. That was why they gave a silent, dignified farewell to Jayalalithaa after she breathed last on December 5 last year.
Jayalalithaa showed visible signs of failing health right from the time the special court in Bengaluru found her guilty of corruption in September 2014. Though she recovered and even led the AIADMK to a second term in May 2016, she was never the same again.
She was admitted in a critical condition to Apollo with a lung infection which left her short of breath. She also had a history of high BP and uncontrolled diabetes. The hospital had to manage both.
It was British specialist Richard Beale, who gave this information even as Apollo maintained she was responding to treatment. He said the infection led to respiratory failure and she was put on ventilator. The infection also led to sepsis, the body's reaction to bacterial infection. Sepsis over time affected all organs and finally the heart, resulting in cardiac arrest.
The fact was that Jaya was 68, she had the best treatment and yet doctors could not save her.
If an enquiry is held into actions taken in Jaya's name when she was battling for life, it will bring to light who were all party to the charade that was played out.
On top of the list will be the Governor who claimed that he got approval from Jaya for reallocation of portfolios. Second would be Apollo chairman Pratap Reddy who claimed shortly before her death that she had fully recovered and she could go home "any time she wants".
The target of all those who demand an enquiry, is Sasikala, who is marking time in jail in Bengaluru. This is because of the haste with which she tried to grab power soon after Jaya's passing.
Sasikala can be blamed for hiding from the world the true state of Jaya's health which was not the case when her mentor MGR was admitted to the very same Apollo in October 1984.
It is far-fetched to suggest that she influenced the course of treatment when specialists from not only Apollo but also from Singapore and UK were brought in.
Jaya's ghost has returned to haunt those who have played politics in her name.