Amity Student Death: Family demands SOG probe, slams police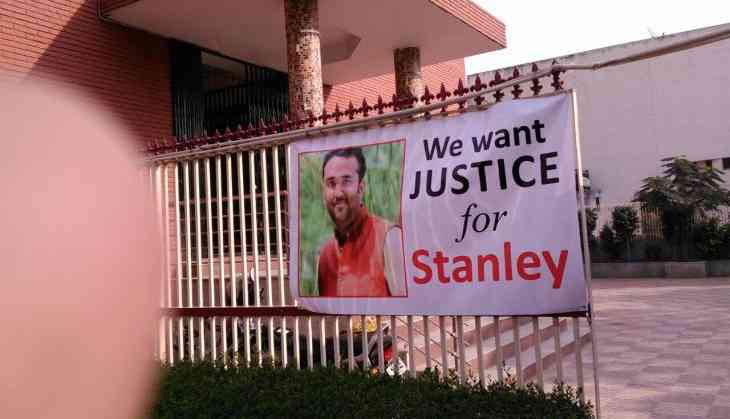 Family members protest demanding action against killers
The family of 24-year-old MBA student from Patiala, Stanly Benny who died on November 17 after allegedly being beaten up by fellow students at Amity University Jaipur, has demanded a SOG probe into the case.
On Tuesday, the family members of the deceased met Rajasthan Home Minister Gulab Chand Kataria and demanded that the probe should be handed over to Special Operations Group (SOG) as the local police have not made any progress in the matter. "We have no confidence in the local police as they want to supress the matter. And, that is why we want that this case must be transferred to SOG," CR Benny, father of deceased Stanly Benny, informed Catch News.
In a letter to Chief Minister Vasundhara Raje a few days back also he had made a similar demand alleging of police indifference in the investigation.
CR Benny pointed out that he had to even insist on a post-mortem on the body since the authorities of the university and NIMS hospital, located in the neighbourhood of the Amity campus along Jaipur-Delhi National Highway, appeared keen on handing over the body without the post-mortem examination. The post-mortem report revealed that the stitches on Stanley's head were about three days old. That means the injuries were inflicted three days prior to the death.
"Considering the evidence, it is clear that this is a cold-blooded murder. There is a potential danger to other students studying there. I will fight until the end. I want justice for my son. So many days after the murder, the police have not arrested the accused," Benny said.
Benny's letter refers to the alleged lenience of the city police to the suspects, Gunjeet Juneja, Avnish and Jeet, who continues to live in the hostel. It is being pointed out that the suspected students have a past record of petty crimes as per the police records.
SHO of Chandawaji Police Station, Amir Husain said, "We are collecting evidence, and we have got a few more facts from relatives of the deceased. We are awaiting pathology and forensic test results to take the investigation forward."
The south Indian population in the city and its neighbourhood is agitated over the incident and the police apathy. A candle march was taken out near St. Xavier's School in Jaipur on December 10 by people belonging to various Christian churches and Malayalee organizations.
Lok Sabha MP, K Suresh, representing Mavelikkara constituency in Kerala has also written to CM Vasundhara Raje seeking expedition of the probe into the case so that people's faith in the State police is restored.