Amit Shah spooked by 'Hardik' swagat in Surat as Patidars ambush rally
Catch Team
| Updated on: 8 September 2016, 23:27 IST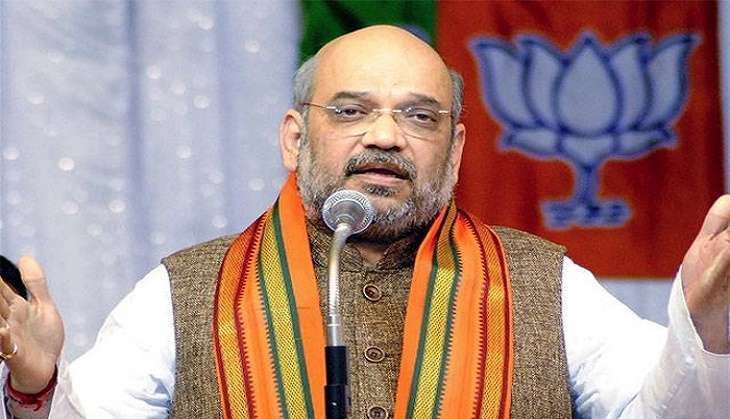 BJP president Amit Shah's function for the Patidar community in Surat ended in complete chaos. Many of the Patels present began chanting slogans in praise of Patidar leader Hardik Patel, who has been on the warpath against the BJP.
Shah was forced to cut short his speech to barely five minutes and left the venue. The protestors went on to break the chairs at the function.
WATCH: Chanting Hardik Patel's name,supporters vandalise chairs & create chaos at Amit Shah's Patidar meet, in Surat pic.twitter.com/2VoCwstx22

— ANI (@ANI_news) September 8, 2016
Surat:Chaos at Amit Shah's Patidar Abhivaadan samaroh as Hardik Patel's supporters vandalize chairs & chant his name pic.twitter.com/6cEaqMwPLW

— ANI (@ANI_news) September 8, 2016
The ambush appeared to have rattled Shah, who posted a series of tweets praising the Patidar community later in the evening.
भाजपा का विकास यानी गुजरात का विकास और गुजरात का विकास यानी पाटीदार समाज का विकास |

— Amit Shah (@AmitShah) September 8, 2016
1995 से 2016 तक गुजरात में भाजपा की विकास यात्रा में पाटीदार समाज का विशेष योगदान रहा है |

— Amit Shah (@AmitShah) September 8, 2016
पाटीदार समाज आने वाले समय में भी गुजरात के विकास में भाजपा का सहयोग करता रहेगा और भाजपा सभी समाज की भलाई के लिए अनवरत कार्य करती रहेगी |

— Amit Shah (@AmitShah) September 8, 2016
The function was meant to be a felicitation of the newly sworn in Patidar ministers in the Vijay Rupani government. Rupani, a Jain Baniya like Shah, was handpicked by the BJP president ahead of Nitin Patel, who was made deputy CM.
The rally was supposed to be BJP's show of support among the Patidars. The chants of "Hardik! Hardik!" began as soon as Shah came on to the stage. By the time he started his speech, the audience had begun leaving and only a small fraction remained. As a result, Shah had to cut short his speech.
The BJP has accused the Congress of instigating the protestors.
However, one of the first leaders to rub salt into Shah's wounds was Delhi chief minister and Aam Aadmi Party convenor Arvind Kejriwal.
Scenes from Amit Shah's Surat rally. BJP losing Gujarat? pic.twitter.com/85J9GP4wG4

— Arvind Kejriwal (@ArvindKejriwal) September 8, 2016
Kejriwal's glee is understandable given that BJP workers had heckled him the same morning at the railway station in Delhi.
The Congress, too, wasn't far behind in taking on Shah.
Well said!
People of Surat "tadipar " @AmitShah
Now entire #Gujarat to do that. https://t.co/oeZLwQytMz

— Shaktisinh Gohil (@shaktisinhgohil) September 8, 2016
The hashtag #GujaratRejectsTadiparShah trended on twitter all evening. The use of "Tadipar" being an allusion to Shah's exile out of Gujarat due to the fake encounter case against him.