BigB for President did you say? Here's what it will look like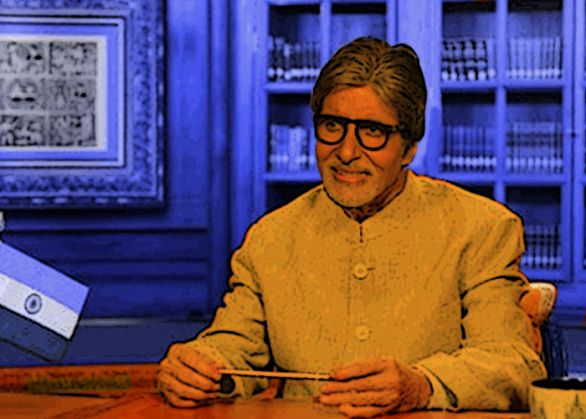 Is there anything Amitabh Bachchan can't do? Well, if his fans have any say in the matter, then the answer is no.
Prime Minister Narendra Modi is certainly a fan. Maybe, it's because he bases his theatrical oratory on Amitabh's delivery, or maybe it's for Bachchan's years of service as Gujarat's brand ambassador. Either way, Modi is definitely a fan. So much so, that if, Amar Singh is to be believed, Modi is set to propose Bachchan's name for the highest office in the country - President.
Read- India Vs Pakistan: Amitabh Bachchan, Shafqat Amanat Ali to sing national anthem before epic battle
As we all know, Bachchan is a versatile actor. Over the course of his career, he's played all sorts of roles - from coolies to crime lords. Heck, he's even played the son to his own real-life son -- something not everyone can put on their resume. The man was even cast as God. But even within the psychedelically imaginative realm of Bollywood, Bachchan has never made it past the post of CM-elect.
But the BJP brass is nothing, if not imaginative. After all, they took a look at Sreesanth, and thought he'd be a popular election candidate. Sreesanth, a man who couldn't even manage to appear on a dance show without picking a fight. And let's not even get started on Smriti Irani.
No, the BJP is all about imagination and Amitabh Bachchan is the ridiculous climax of that spirit of imagination.
Maybe it's just a continuation of Indian politics' ongoing welfare scheme -- providing jobs to retired athletes, forgotten singers and ageing thespians. Or maybe it's Indian politics ultimate acceptance of the fact that it's no longer about political agendas but daily drama.
Amar Singh says Amitabh Bachchan could be the next president, we take a look at how ridiculous that is
Because, if we're being honest, what we witness playing out in the corridors of power and on the news isn't politics, so much as political theatre.
When cliche-ridden speeches, crocodile tears, chest thumping and increasingly cheesy showmanship are the order of the day, who better to add to the fray than someone who's built a career out of those things. And, while we're Bollywood-ising politics, why not just go the whole hog and nominate an actor for President.
Bachchan as President is no surprise
That Bachchan's potential Presidential nomination comes in 2016, is hardly a surprise. While he tends to shy away from politics, his actions ever since the T20 World Cup began have been enough to make any right-wing nationalist weak in the knees. He sang the national anthem before a game against Pakistan for god's sake!
Also read: Amitabh Bachchan joins Narendra Modi - Urges people to #GiveItUp
And, even better, he challenged the nationalism of cricket commentators on social media -- for not being pro-India enough. Usually behaviour like that is enough to get a BJP ticket to the Lok Sabha. Or, like with Anupam Kher, a national award.
But the next national elections are a long time away and Bachchan has more national awards than he has the space to put them. How else could he be rewarded for his patriotism than a Presidential nomination.
For those of you outraging about an actor becoming President even though there are probably more deserving candidates, you may as well brace for it. Because if it does happen, there's little chance of anyone standing against him.
Here's a man who stood with Rajiv Gandhi, was brand ambassador for Modi's Gujarat, campaigned for Mulayam Singh, even has a wife in the Samajwadi Party and sings for Mamata Banerjee, which makes him one of the most universally accepted candidate.
Read more: 63rd National Awards: Kangana bags her 3rd; Bachchan Sr, Baahubali win big
And in today's India, disliking Bachchan is likely to get you branded anti-national and asked to leave the country. So no matter how stupid an idea it may sound, if it's true, you best suck it up.
Besides, can anyone really be worse than Pratibha Patil?
Anyway, here's what we think Rashtrapati Bachchan will look like: