Ahmed Patel sure he can scramble BJP's poaching plans and keep his Rajya Sabha seat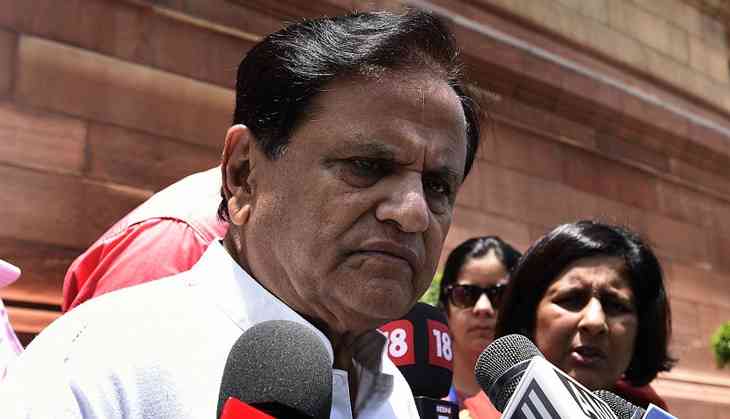 (Sonu Mehta/Hindustan Times/Getty Images)
Desperate to keep its flock together, Congress moved 44 of its MLAs to yet another resort in Gujarat after they were flown back from Bengaluru where they were holed up in a resort owned by a Congress minister. These MLAs had been in the hiding ever since six sitting Congress legislators resigned from the party, with three joining BJP on 28 August.
The aggressive poaching of Congress MLAs by BJP had raised a question mark over Congress President Sonia Gandhi's political secretary Ahmed Patel's re-entry into the Rajya Sabha for a fifth consecutive term.
Elections for three Rajya Sabha seats are to be held on 8 August and Congress is leaving no stone unturned to ensure Patel's victory in a contest which will witness three BJP leaders, including party president Amit Shah and Union minister Smriti Irani, seeking to secure their berths in the upper house.
A confident lot
While Shah and Irani are expected to win with comfortable ease, Congress defector Balwantsinh Rajput has been pipped against Patel by the saffron party which has cast aspersions on senior Congress leader's return to the Rajya Sabha. However, Congress is confident of Patel's win and senior party leader Arjun Modhwadia told Catch that they have the requisite numbers to ensure Patel's victory.
"We need 45 votes and we have that. Moreover, we have support of two Nationalist Congress Party legislators, one MLA each of JD(U) and Gujarat Parivartan Party. In fact, the NCP and JD(U) MLAs accompanied Patel when he went to file his nomination. We are confident of our victory and there is no reason to be alarmed," he added.
When questioned about the support of the six MLAs who were not taken to Bengaluru and have not been brought to the resort in Gujarat, Modhwadia said, "They are still part of the Congress and we are hoping that they would vote in favour of the party. Let's wait till tomorrow to see what happens," he said.
Two camps
These six legislators include senior Congress leader Shankersinh Vaghela and his aides, who are expected to vote against Patel. Vaghela had earlier raised the banner of revolt against the grand old party and had said he would not resign from the party till the Rajya Sabha elections were held. His decision to not resign was seen as a move to block Patel's entry into the upper house which has somewhat become a matter a prestige for the grand old party and even Patel.
In its efforts to secure a fifth term for Patel, Congress is also hoping to win some of its legislators who are currently in Vaghela camp. Before Vaghela rebelled, Congress had 57 members in the house of 182. After six of its MLAs resigned, Congress' tally has come down to 51.
Of the remaining 176, each candidate must secure one-fourth of the total votes plus one to get elected. Overall, each candidate must secure 45 votes to win and the BJP with 121 MLAs is set to win two of three seats. Meanwhile, for the third seat, it is still short of 14 votes which seems like an uphill task in the current political scenario in the state.
The political developments in the state suggested that Vaghela was scheming to ensure Patel's defeat which rattled the party leadership forcing it to swing into action. Vaghela was apparently upset for not being named party's chief ministerial candidate.
Meanwhile, in the run up to the Rajya Sabha polls, Congress had also alleged that party MLAs were being offered huge sums of money to defect forcing the grand old party to fly out its legislators out of Gujarat.
Fault lines
Earlier on 6 August, NCP leader Praful Patel gave jitters to Congress after he announced that his party had not taken a decision on whom to support in the ensuing elections. NCP had a pre-poll alliance with the Congress during the 2012 assembly elections and managed to elect two legislators – Kandhal Jadeja and Jayant Patel.
Though these MLAs had claimed that they would abide by the party's decision, but Congress is still not sure of their support considering they attended Vaghela's birthday celebrations wherein the veteran leader announced his separation from the Congress.
However, NCP changed its position on 7 August and rallied behind Patel. Sources have informed that Patel had personally reached out to NCP leadership to ensure their support. At present, Congress has 51 MLAs in the house but Vaghela's loyalists are expected to abstain or vote against Patel on Tuesday.
Meanwhile, sources informed Catch that Congress leadership too is in touch with BJP MLAs and the likelihood of some of them voting in favour of Patel is not being ruled out. "BJP usually follows the policy of not repeating nearly 40% of its MLAs in next elections. So we have zeroed down on certain individuals and are trying to pursue them to vote in Patel's favour. At this moment, nothing can be said," he added.
The Rajya Sabha elections have yet again exposed the fault lines within the Congress leadership in the state which goes to elections in 2018. Having been out of power in the state for nearly two decades, the ongoing crisis in the state unit doesn't bode well for the grand old party that aims to end BJP's rule in the state.
The party will have to do something extraordinary to wriggle out of this crisis or else it will have to contend with sitting in the opposition for yet another term.