Aheer College and the Yadavs: Story of clashing castes and political skirmishes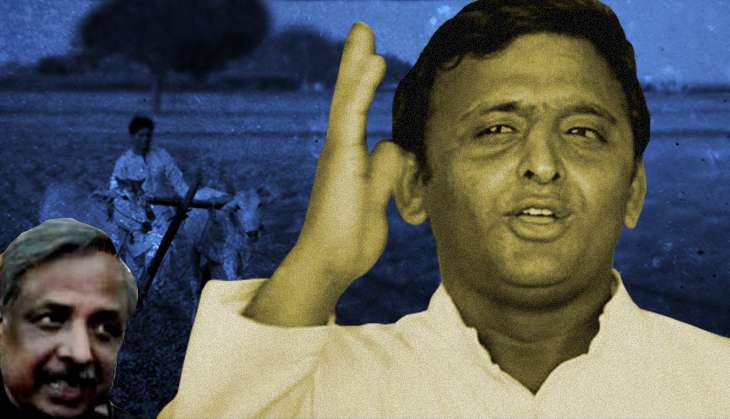 What did Akhilesh do?
Akhilesh Yadav recently visited Aheer College in Shikohabad
He wasn\'t aware that it had completed 100 years and he did not mention the founders in his speech
And why was that?
The battle between Mulayam and Shikohabad strong-man Ashok Yadav is legendary
Ashok Yaadav has been used often by the Opposition to unnerve Mulayam
More in the story
Who is Ashok Yadav?
The history of Aheer College
If you thought that Yadavs were only about brawn and grazing buffaloes, your perception of this politically influential caste may be misplaced. And here's why.
Exactly 100 years ago on 10 July, 1916, people of this caste set up Aheer Degree College in Shikohabad, which Uttar Pradesh Chief Minister Akhilesh Yadav visited on Sunday.
Also Read: Uttar Pradesh 2017: here's your primer to the caste cauldron
Perhaps Akhilesh was not informed about the Aheer College's centenary because he made no mention of it in his speech. But what he did say was that he would try to get university status for the college where his father had studied.
The present Yadav chieftain belonged to Shikohabad's Itauli village before migrating to Saifai.
After Shikohabad, three more Aheer colleges were opened in Rewari (Haryana), Madurai (Tamil Nadu) and Machhlipatnam (Andhra Pradesh).
This was proof that no matter how they came to be typified, the Yadavs were also aware of the importance of education and were ready to spread it.
Breaking those stereotypes
But why open an Aheer College in Madurai and Machhlipatnam? Surprisingly because, as a former UP minister Ashok Yadav claimed, Yadavs were present in these places in large numbers.
There goes another myth of Yadavs being a 'phenomenon' restricted to North India.
Ashok Yadav, whose grand-uncle started the college along with others, said most Yadavs were in Tamil Nadu, where they used 26-27 different surnames.
The college at Shikohabad was started by Chaudhary Shyam Singh Yadav, a big zamindar of Uraavar estate who donated Rs 700 of his lagaan (revenue) to the college, which in those days had British principals.
Initially, only boys were allowed admission; later on it became a co-ed.
Putting the money where it matters
Like him, Chaudhary Gajraj Singh Yadav of Rupdhani riyasat, his son Chaudhary Kripal Singh Yadav, Chaudhary Maharaj Singh Yadav of Bharol in Mainpuri, Chaudhary Pratap Singh Yadav of Ganga-Jamuni riyasat and 19 other zamindars allowed the revenue from their land to be attached to the college for its maintenance and growth.
In 1912, the All-India Yadav Mahasabha, with a membership of 29 lakh, held its first congregation in Shikohabad which, much like Etawah today, came to be recognised as the Yadav heartland.
A few decades ago Aheer College had to 'drop' its caste-based prefix and was renamed AK College, in which AK stands for Aheer-Kshatriya. The college is still popular by its original name.
Political battles
Over the years, Shikohabad became Ashok Yadav's political turf. Ashok Yadav is the same person who gave Mulayam Singh Yadav a scare in an election by polling 40,000 votes against 44,000 polled by Mulayam.
Since then Mulayam has not contested from Shikohabad.
In 1998, former Prime Minister Atal Bihari Vajpayee and BJP leader LK Advani prodded Ashok Yadav into contesting against Mulayam from Mainpuri.
According to Ashok Yadav, Mulayam belongs to Kamariya gotra of Yadavs while he is of ghosi gotra. Ghosis constitute 84 per cent of Yadavs while Kamariyas are a mere 16 per cent.
"Sensing this gotra tilt loaded against him, Mulayam moved to Budaun but connived with his friends Kalyan Singh and Rajnath Singh to ensure my defeat," said Ashok Yadav, who added that he "will never allow any member of Mulayam's family to take over the AK College".
Also Read: Asaduddin Owaisi likely to bank on riot victims to capture Uttar Pradesh
He was reacting to a local MLA's request to Akhilesh on Sunday that the Saifai family should look after the college.
Ashok Yadav described the CM's visit as thoroughly disappointing one.
"Imagine not talking about the history of the college, once the pride of Yadavs, not a word of tribute to its founding members and no announcements when he was supposed to make 26. All that he did was to distribute tricycles which even the district magistrate could have done. He cannot give the college the status of a university as that comes under the purview of Central government, " said Ashok Yadav.
Perhaps, Ashok Yadav's family association with the AK College and his past political skirmishes with Mulayam could have been the reason why Akhilesh Yadav did not delve into the college's history or praise its founding fathers.
But will his "unfriendly" gesture antagonise the majority gotra - the ghosis? Well, that remains to be seen.
Also Read: 5 reasons why the Congress is in a shambles in Uttar Pradesh