AgustaWestland: the curious case of Swamy's 'evidence' against Congress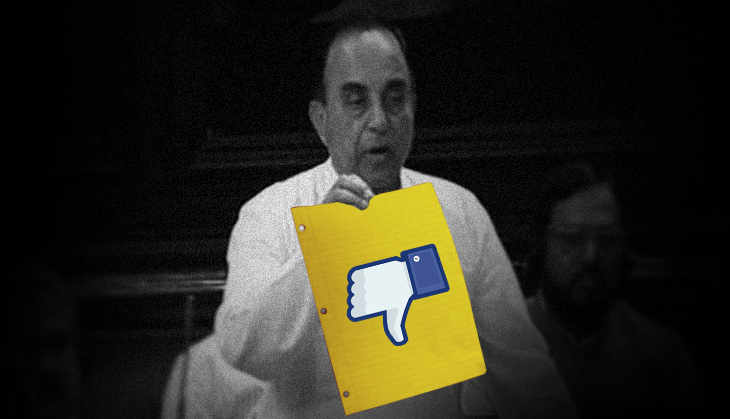 Throughout the stormy debate over the AgustaWestland bribery scandal in Rajya Sabha on 4 May, Congress MPs Anand Sharma and Jairam Ramesh kept insisting that newly-nominated BJP MP Subramanian Swamy furnish credentials of the sources of allegations he was making.
It now appears their insistence wasn't misplaced: Swamy had presented as evidence a set of allegedly dubious documents.
Jairam announced on 12 May that he had accessed those documents, only to realise they amounted to a "big lie". He also declared his party would move a privilege motion against Swamy. Of course, Rajya Sabha was adjourned sine die on 13 May without the party having moved the motion. Swamy even took a dig at the Congress for this.
I waited the whole day today in Rajya Sabha for Congis to file their proclaimed Breach of Privilege Notice. None was filed!! Chickened?

— Subramanian Swamy (@Swamy39) May 13, 2016
What are these documents?
On the day of the debate, Rajya Sabha Deputy Chairman PJ Kurien had concurred with the opposition MPs and asked Swamy to authenticate the documents they had objected to. The former Janata Party chief took two days to provide the documents, during which time Ramesh kept urging the Chair to get Swamy to comply with the order. After Rajya Sabha Chairman Hamid Ansari allowed Swamy to submit the documents on 6 May, the latter put out this exultant tweet:
Rajya Sabha has approved my documents. Jairam Ramesh run for cover pic.twitter.com/kwhBgYKjLJ

— Subramanian Swamy (@Swamy39) May 7, 2016
The next day, Jairam asked the Chair whether Swamy's papers had actually been approved. Kurien said Swamy alone had authenticated the documents. "Neither the Chairman, nor me, who was sitting at that point of time, nor anybody else... the responsibility of authenticating is of Dr. Subramanian Swamy only...The Chair bears no responsibility for that. The Chair has not authenticated any paper."
Jairam's revelation explains why Rajya Sabha's presiding officers washed their hands off Swamy's documents, and made him solely responsible for proving their credibility.
According to Jairam, the documents run into 13 pages, and consist of two pages of an email from Subramanian Swamy to Subramanian Swamy, nine pages from a little-known website and two pages from a private TV news channel's website.
Dubious credentials of sources?
None of these documents are official. They are, in fact, a collection of Swamy's own views and claims on the issue. The website in question is www.pgurus.com, which claims to be provide "analysis of Indian market" and investment advice.
Currently, however, some of the website's top headlines are: "Decoding the Tunisia connection in AgustaWestland", "Did Shashank Manohar quit BCCI because some inconvenient truths may emerge in SC", "Will the BJP open its account in the Kerala Assembly", "Who are the media houses/journalists that got their pound of flesh from AgustaWestland deal", "Sonia Gandhi - the lady doth protest too much"; "Why Sonia Gandhi's #SaveDemocracyMarch won't cut any ice".
Not surprisingly, the website is also all over Swamy's twitter timeline. Sample this:
Decoding the Tunisia connection in #AgustaWestland scam https://t.co/dgbjVLJPUH via @pgurus1

— Subramanian Swamy (@Swamy39) May 12, 2016
Agusta middlemen Michel, Haschke & Gandhi family ties https://t.co/Go0xDi2X0s via @pgurus1

— Subramanian Swamy (@Swamy39) May 10, 2016
Who are the media houses / journalists that got their pound of flesh from #AgustaWestland deal? https://t.co/qMZUc6E4Qm via @pgurus1

— Subramanian Swamy (@Swamy39) May 8, 2016
How BJP outsmarted Congress during the Agusta debate https://t.co/HkLK6Er8z6 via @pgurus1

— Subramanian Swamy (@Swamy39) May 5, 2016
The website's editor is Sree M Iyer, who describes himself as an Indian-American "inventor, innovator, out of the box thinker." Iyer also advises Swamy on tweeting and retweeting.
.@Swamy39 Pl. RT with this picture as this is formatted for easy viewing pic.twitter.com/w8RQvv5xVH

— Sree Iyer (@SreeIyer1) May 10, 2016
Jairam has alleged that Iyer is a follower of Prime Minister Narendra Modi and "plants" information through his website, which has links with the RSS. Among the people associated with the website are Swamy, RSS leader S Gurumurthy and an IIM professor R Vaidyanathan, Jairam has claimed, adding that Swamy had publicly asked for Vaidyanathan to be appointed governor of the RBI.
Whatever the veracity of Jairam's charges, there does seem to be a symbiotic relationship between Swamy and this website -he quotes it and it quotes him. In fact, the website seems quite fond of the BJP leader. An article published on 24 April 2016 declared: "Now, like the 'Return of the Dragon', Swamy is entering Parliament through Rajya Sabha. From his comments on Twitter, it is easily seen that he would not spare Sonia Gandhi. Now it would be fun to watch Rajya Sabha TV."
Should such sources be quoted in Parliament?
It's, of course, for the Congress to answer why it did not move the privilege motion against Swamy, this question begs asking: should MPs be allowed to quote such dubious sources during parliamentary debates?
Ideally, MPs should avoid referring to such sources even outside Parliament, especially on social media, since they are public representatives and whatever they say in public carries an air of authority.
Journalists anywhere are expected to send out only that information which they have obtained from verified, reliable sources. This rule must, and does, apply to parliamentarians with even greater gravity.