After Ahmed Patel's win, Opposition plans to make BJP sweat in LS bypolls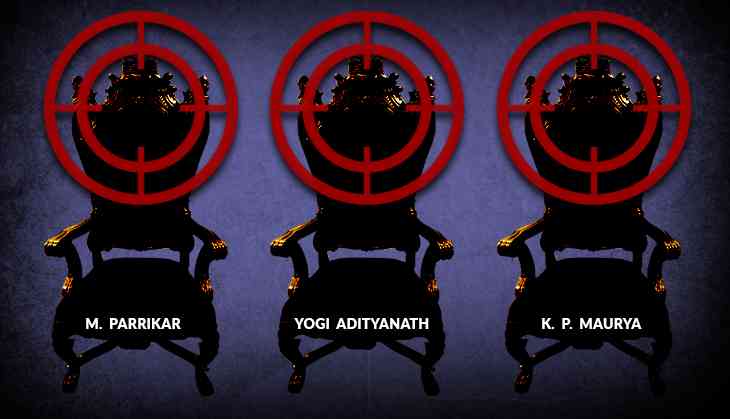 Congress leader Ahmed Patel's dramatic one-vote victory in the Gujarat Rajya Sabha elections has infused a new aggression in the Opposition camp. It is now planning to wage a similar battle for the Lok Sabha seats which are soon to be vacated by BJP MPs.
BJP chief ministers Yogi Adityanath and Manohar Parrikar along with UP deputy chief minister Keshav Prasad Maurya will have to vacate their Lok Sabha seats and contest fresh elections to be elected to the respective state legislatures. Three of these BJP leaders will have to get elected to state Assembly by mid-September to ensure they continue as chief ministers and deputy chief minister.
Both Adityanath and Maurya will have to vacate their Gorakhpur and Phulpur seats in UP respectively, which has given an opportunity to the Opposition to regroup and strategise to ensure BJP's defeat which could be a huge morale booster for them in the run-up to the 2019 Lok Sabha elections.
The Opposition parties in UP have been pitching for a grand alliance of sorts to field consensus candidates who can take on the BJP. While there have been no discussions as yet on who would be their candidate for the Gorakhpur seat, BSP supremo Mayawati is being persuaded to fight the Phulpur by-poll.
In July, Mayawati had resigned from Rajya Sabha after she was prevented from raising issues of atrocities on Dalits across the country. Though Mayawati and her party have remained non-committal on fighting the Phulpur by-election, Opposition parties have not yet given up hope.
Meanwhile, jittery with the prospect of defeat in Phulpur, the prospects of Maurya being brought back to Delhi, have gained momentum.
Similarly, Goa chief minister Parrikar will have to sweat it out if he hopes to win an Assembly seat from Goa. After sitting MLA Siddharth Kuncalienkar resigned from the Panaji seat, it was clear that Parrikar might will contest from there. However, the contest is not expected to be a cake walk considering Goa didn't overwhelmingly vote in favour of BJP in the 2017 Assembly elections.
In fact, after the results of the Assembly elections were announced, Congress emerged as the single largest party but failed to form the government largely because of infighting within its own ranks. Sensing an opportunity to defeat Parrikar, Congress is planning to rope in Atanasio Monserratte to contest against the chief minister.
A former minister, Monserratte, was earlier expelled from the party but all efforts are being made to convince him to take on the chief minister. During the 2017 state polls, Monserratte lost to Kuncalienkar by a narrow margin of nearly 1000 votes. Congress is hoping to use aggressive campaigning to ensure Parrikar's defeat.
Another Lok Sabha seat that the Congress has its eyes on is Gurdaspur in Punjab that has fallen vacant after the death of cinestar-turned-politician Vinod Khanna. The name of senior party leader Partap Singh Bajwa is doing the rounds as a possible candidate.
The Ajmer Lok Sabha has also fallen vacant after death of sitting BJP MP Sanwar Lal Jat has also given the Opposition a chance to take on the BJP in Rajasthan where the ruling party's popularity has hit an all time low. Rajasthan goes to polls next year and a win here could yet again bolster the Opposition to burst BJP's bubble of invincibility.
Congress sources claimed that Sachin Pilot could contest from the seat considering he won from Ajmer in 2009 and lost to Jat in 2014, there is a fair chance of him winning the seat. If he wins, it would be a huge boost for Congress just before the 2018 Assembly polls.
Moreover, the Anantnag by-poll has long been overdue and is likely to be held as and when the situation in Kashmir improves. The PDP-BJP coalition in the state has been under severe criticism for its handling of fragile situation in Kashmir. It is unlikely that the ruling combine's candidate will win considering the angst against chief minister Mehbooba Mufti for joining hands with BJP.
Meanwhile, Congress President has called a meeting of Opposition leaders on Friday which also happens to be the last day of the Monsoon Session of the Parliament. It is expected that the Congress president could raise the issue of these by polls and build a consensus amongst Opposition parties to field candidates that could take the fight to BJP.
Even Trinamool Congress chief and West Bengal chief minister Mamata Banerjee will fly down to Delhi to attend the meeting. Among other issues, Bihar chief minister Nitish Kumar joining hands with BJP is likely to feature during the course of the meeting.
It would be foolish for the Opposition to assume that BJP led by Prime Minister Narendra Modi and party president Amit Shah would give in without a fight as witnessed during the Gujarat RS polls. However, if both the Opposition and BJP slug it out as they did during the Gujarat Rajya Sabha polls, more nail biting finishes are anticipated as and when these by-polls happen.