Remembering AB Bardhan: anecdotes from the life of a pragmatic communist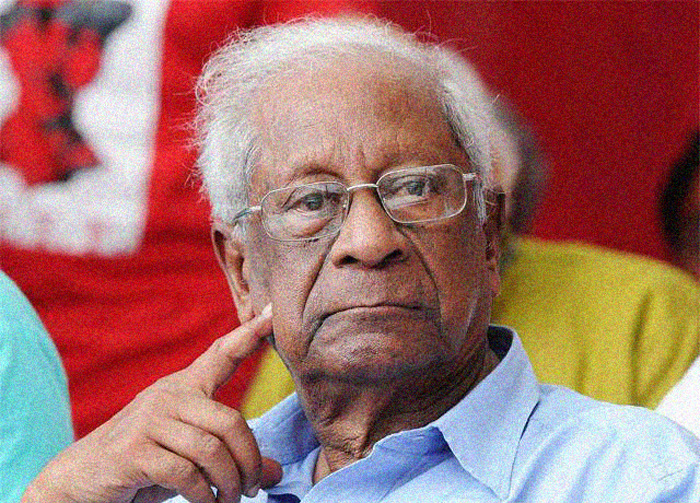 The leader
Veteran CPI leader AB Bardhan died on 2 January at the age of 92
More than anything else, he will be remembered as a parliamentary democrat
The approach
His main struggle was to keep CPI relevant in a changing political scenario
Bardhan was popular even among his ideological adversaries
More in the story
Anecdotes from Bardhan\'s life
What were his successes and failures?
How will we remember Ardhendu Bhushan Bardhan aka Comrade Bardhan? The former general secretary of the Communist Party of India (CPI) had completed 92 years last September. It was a journey full of accomplishments. At least, he would have departed with the satisfaction of experiencing all the hues of life.
Would Bardhan have left with the regret that he could not die in a communist India? It is difficult for a man as pragmatic as Bardhan to have such a delusion. He was well past the romanticism of revolutionary communism and had grown into a more rational democrat. He was in many ways an ideal parliamentary democrat.
Read: 7 must-know facts about one of India's oldest politicians, AB Bardhan
BJP leader Nitin Gadkari visited the CPI headquarters Ajay Bhawan to seek his blessings after becoming a minister. The two hail from the same city Nagpur. The meeting was criticised in leftist circles. Yet, it demonstrated Bardhan's enviable acceptability even among the most bitter ideological adversaries.
Although, this didn't always yield great results. Bardhan was the first leader to pitch Pratibha Patil's name as country's first female President in 2007. He played an instrumental role in forging consensus within the UPA over her candidature. However, it is an open question whether Pratibha Patil's track record as President did justice to Bardhan's wisdom.
Memories
My first memory of AB Bardhan dates back to 1986. We were present at the first national conference of 'Jan Natya Manch' after its reconstitution. I was a part of the bunch of youngsters from Patna who stood against the official manifesto of the organisation. We even managed to get it rejected at the conference. Those familiar with the functioning of leftist organisations would know it was nothing short of a mini-coup. Nevertheless, Bardhan was encouraging and incorporated two of us as members of the manifesto committee along with AK Hangal.
However, not everyone in the party swears by his generosity. When I suggested that the party should publish Shripad Amrit Dange's writings, a party leader recounted that Bardhan had tossed Dange's booklet with disdain at Ajay Bhawan's bookstall. "So such things are still found here," an annoyed Bardhan had reportedly remarked.
After becoming a minister, Nitin Gadkari visited the CPI headquarters to seek Bardhan's blessings
But then there was a liberal side to him as well. We were organising a gathering to demand the release of Binayak Sen. Few leaders were sympathetic to our cause. Even non-Maoist leftist leaders were suspicious of the 'Naxalite' tag attached to Sen. We were finding it hard to find a leader who could speak at the gathering. Somebody proposed Bardhan's name and put forward our request.
When we approached Bardhan, he asked us in a somewhat harsh tone, "Hundreds of our activists are languishing in jails of Chhattisgarh. Do they not deserve the attention of human rights activists like you?" Still, he assured us of his presence saying, "You might have missed your duty, but I won't." Bardhan not only participated in the gathering, he also presented irrefutable arguments for Sen's release in his address.
I met Bardhan again with Mainstream magazine editor Sumit Chakraborty during the heat of the Nandigram movement. We wanted other leaders of the Left Front to speak against the atrocities committed by CPI(M). Bardhan spoke to us for about two hours. He completely agreed with us but declined to issue any statement that would embarrass the Left Front. We argued that his silence would do more harm to the left cause. He nodded with a smile. Then, putting his hands over Sumit's shoulders, he said, "but we will still be friends".
"No, not after Nandigram," retorted an agitated Sumit. Bardhan remained polite and came downstairs to see us off.
In 2004, CPI(M) Central Committee members were gathering at the party headquarters to discuss the issue of support to the Congress-led government. Many sympathisers and former members like myself were present outside the office to pitch for the party's participation in the government. Leaders, one after another, entered the gate of the building.
Also read: CPI(M) tweets resolution. But its aims haven't changed in 37 years
Nobody even bothered to look at us barring Jyoti Basu. He stopped with a congenial smile to say only as much that all decisions within the party are taken in a democratic manner.
When Bardhan, came, we commented with a touch of humour, "You remain the big brother in the left alliance despite lesser number of seats".
Bardhan's response was rooted in ground. He reminded us of the United Front government to clarify his point. "Our party leader Indrajit Gupta might have been the Home Minister, but 'daadhiwala' was running the real show," said Bardhan referring to CPI (M) leader Harkishan Singh Surjeet. Clearly, he didn't want to challenge the CPI(M)'s supremacy.
Political challenges
Bardhan was one of the foremost advocates of the left unity. However, he is also blamed for relegating CPI into insignificance within the left front. He led the Indian communist movement at the time when the ideology was losing ground across the world.
The forces of 'social justice' had claimed the ground of the left. An array of social movements were taking away the issues espoused by the communist parties. Bardhan had entered Indian left politics during its heydays. It had lost its direction when he reached its top.
Bardhan was the first to pitch Pratibha Patil's name as country's first female President in 2007
Bardhan was an eloquent speaker. It is difficult to term him as a thinker or philosopher with fundamentally cardinal thoughts. He was a liberal democrat who took limited risks. He could not create new opportunities for the left movement and was late in identifying new ones. He spent the latter half of his career seeking to find relevance for his party within the options available in a parliamentary democracy.
This was the reason he was seen with the likes of Naveen Patnaik, M Karunanidhi, Mulayam Singh Yadav and Jayalalithaa. This was the limitation of Bardhan as well as his strand of politics. A rich trove of memories of 'socialist' India has left us. A complaint would always remain that he never penned down his autobiography.
More in Catch:
Explained: Why the CPI (M) Plenum is crucial for the Left
Vidrohi, the last people's poet in Hindi, departs
An Indo-Pak origin actor was on American TV long before Priyanka Chopra
Less talk, more work: what economists want from the NDA in 2016