AAP ups ante on agrarian issues in Punjab, organises protest on food grain scam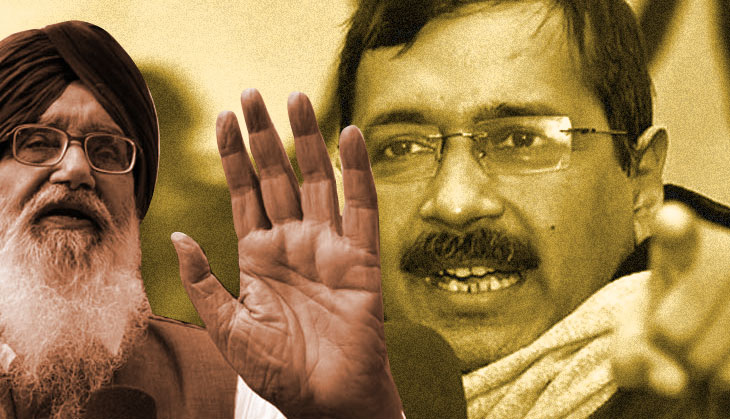 Building upon its support base amongst the farming community in Punjab, the Aam Aadmi Party (AAP) has upped its ante on agrarian issues against the ruling Shiromani Akali Dal (SAD).
Having under taken a sustained campaign on the alleged Rs 12,000 crore food grain scam that saw a delayed release of Rs 17,523 crore worth Cash Credit Limit (CCL) by the Centre for payment to commission agents and farmers for the current wheat procurement season, the party organised a massive protest on Monday to gherao the chief minister Parkash Singh Badal. This was preceded by a sharp exchange between the two sides.
While AAP had galvanised its workers to attend the protest in thousands, the police thwarted their attempts to enter Chandigarh. The police deployment on the Chandigarh - Mohali border was unprecedented where thousands of AAP supporters braved the heat waving brooms - the poll symbol of AAP.
Protest march against Badal
A contingent of AAP was allowed to enter Chandigarh and submit a memorandum of its demands to Badal. Badal had canceled all his programmes for the day to "remain available" at his residence to receive "any responsible political leader or representative for discussion on any issue concerning the people of the state."
AAP leadership had been attacking Badal and his deputy Sukhbir Badal for pressurizing transporters to not send their buses to ferry people for the scheduled gherao. Civil and police officials were threatening the transporters.
In-charge of Punjab party affairs Sanjay Singh said, "Chief Minister Badal is using all coercive ways and means at his command to ensure AAP doesn't hold a massive protest demonstration and expose his misdeeds".
Singh said that the Reserve Bank of India (RBI) had feared that the food scam in Punjab, if investigated by an independent agency, could go beyond Rs. 25,000 crore. "Where has the money or the food grains from Punjab godowns vanished. Has the money gone into the pockets of Badals. Let there be a probe by a Special Investigative Team (SIT) monitored by a sitting supreme court judge," he added.
He said many transport owners had already refused to provide bus service to AAP after they received threats from the government officials.
"We have come to clean the dirty politics and put an end the rule of sand, land, drug, liquor, cable and transport mafia. Let Badal register as many cases against us but we will not surrender to his dictatorial ways of governance," Singh said.
Diverting attention
Badal on his part, has been trying to divert attention from the food grain scam by accusing AAP's Punjab unit of cowardice against their high command, despite the latter's brazen and broad daylight betrayal of Punjab's interest on the river waters issue.
The Punjab government had placed advertisements in the daily papers on Monday under the caption 'Allegation of missing wheat' and 'A bundle of lies'. Giving statistics in support of the government claims of complete transparency in procurement of grains, the advertisement had a bottom line saying, 'Beware of those out to defame Punjab'.
Describing the AAP programme to gherao his residence in Chandigarh as a cheap act to distract people's attention from their own cowardice, Badal said, "If AAP leaders in Punjab are sincere and if they have moral courage, they should sit in dharna against Arvind Kejriwal to persuade him to stop betraying Punjab."
He said that AAP was treading the beaten path of treachery against Punjab which was followed by the Congress party all these years. "Why Are AAP leaders in Punjab silent on this betrayal of their beloved state? The faceless AAP leadership in Punjab now lacks courage to oppose Kejriwal on its betrayal of Punjab," said Badal during a Sangat Darshan programme on Sunday.
He said that he would welcome everyone to his residence as long as the reason for the visit was to defend the interests of Punjab.
Badal on the attack
Badal chose to attack Delhi chief minister Arvind Kejriwal and said that the latter has mastered the art of shedding crocodile tears for the poor farmers. But the reality of his anti-farmer stand was clear when he refused even to stop his speech during a party rally in Delhi when a farmer, Gajendra Singh committed suicide by hanging himself from a tree right in front of the eyes of Kejriwal. He did not even step down from stage to offer help to the tragic farmer.
He has challenged AAP leaders to ask the Delhi government to implement even one fourth of the welfare schemes which his govt has implemented for the welfare of farmers in Punjab like free power to the every farmer, Rs 50,000 interest free loan per crop, insurance of Rs 5 lakh to every farmer against accidental death, Rs 50,000 as medical care and pension cum provident scheme. "Punjab is the only state to have set up a Kisan Vikas Chamber on the lines of the FICCI and CII. What has AAP government in Delhi done for their farmers even though the number of farmers in Delhi is not even a fraction of the farmers in Punjab," he said.
Since last month, the AAP leadership had launched a massive farmer outreach programme, just as procurement of wheat started. They used the opportunity to interact directly with the farmers and get an insight to the issues elated to them. The campaign named 'Saddi Mehnat, Sadda Haq' (Our labour, our right) was being carried out by the Kisan and Labour Wing of the party during which AAP cadres camped at the procurement centres helping farmers get their dues while highlighting the malpractices in the mandis. The party claimed to have trained a workforce of 10,000 people to cover 500 procurement centres across the state.
Public Distribution System scam
As if this food grain scam was not enough, the AAP leadership has also come up with allegations of a multi crore scam in the Public Distribution System (PDS) in the state. Party leader Aman Arora has alleged that the scam amounts to thousands of crores and an impartial probe by a sitting High Court judge is needed into the distribution of wheat and other commodities including pulses, sugar and kerosene oil.
He claimed to have records of three ration depots of village Bir Kalan of Sunam Tehsil in Sangrur district which showed the names of beneficiaries who were never given even a single grain of ration under PDS. He said that the UID Card Numbers are not registered against the names of any beneficiary and single beneficiary is registered many times under different schemes.
On the other hand, Congress president Captain Amarinder Singh, has also attacked the state government for selective and discriminatory process of issuing 'blue (ration) cards' to the people for subsidized food under National Food Security Act.
Arora said, the blue cards must be issued without any discrimination to all the deserving people living below poverty line and not on the basis of the colour of their turban.
"Why is it mandatory to wear a blue turban to get a blue card?" Arora asked Badal. He claimed that the SAD-BJP government has asked all the deputy commissioners to allow registration of 2,000 blue ration cards for each assembly constituency, as recommended by the 'halqa in-charge' or the concerned MLA of the ruling alliance.
"The halqa in-charge/MLAs have virtually been given absolute authority to issue the cards with obvious intent", he pointed out.
Edited by Sahil Bhalla