Sanjay Singh: We all accept Kejriwal's leadership. What's wrong with that?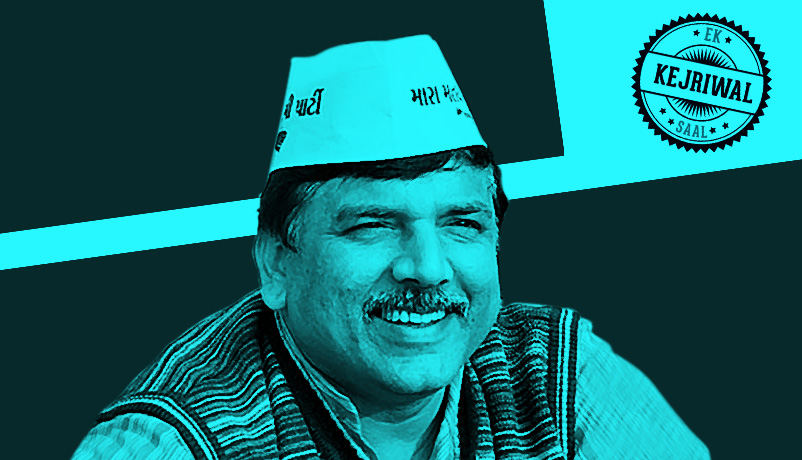 The anniversary
The AAP govt in Delhi completes one year on 14 February 2016
AAP leader Sanjay Singh says most of the big promises in its 70-point manifesto have been \'completed\'
The opposition
Singh says the govt is working hard but could\'ve achieved much more if not for opposition from the Centre
He says cases against AAP MLAs are false, and filed at the behest of opposing parties
More in the story
What about key promises like Jan Lokpal and the statehood referendum?
Singh asks, what\'s wrong with everyone accepting Kejriwal as their leader?
Sanjay Singh is a member of the two most powerful bodies of the Aam Aadmi Party - its national executive and its political affairs committee.
He was among the group of activists who first came together to form the India Against Corruption team, which spearheaded the Jan Lokpal Agitation.
Hailing from Sultanpur, Uttar Pradesh, Singh is also in charge of AAP's affairs in Punjab, the next electorally crucial state for the party.
Also read - #EkSaalKejriwal: We have achieved somethings. Many more are left
He spoke to Catch about what one year of AAP being in power in Delhi means for the party.
In this one year, AAP has seen many ups and downs. What are the biggest achievements, in your assessment?
We have completed most of the big promises of our 70-point manifesto.
- We have halved electricity rates in Delhi and implemented a scheme for free water supply.
- We effected a 106% hike in the budget for education and 50% hike for health.
- We introduced collateral-free educational loans for students who can't afford fees.
- We opened mohalla clinics and announced a grand scheme for compensating farmers who suffered loss to their crops.
- We are providing free medicines to poor patients.
- The odd-even scheme was implemented.
- Our citizens' charter is unparalleled in the entire country.
- The project to install CCTVs in buses has also begun on a pilot basis.
Also read - Vishal Dadlani on AAP@1: it has done more in a year than others do in a lifetime
Out of these, which are the ones closest to your heart?
I would say the steps related to the electricity rates, water tariff, health and education infrastructure and farmers' compensation.
What were the achievements at the organisation level?
Well, we have a terrific structure ready in Punjab, from booth level to state level. Many frontal organisations have also been set up. Apart from Punjab, we have also built a party structure in Uttar Pradesh, Madhya Pradesh, Goa, Maharashtra, Gujarat, Bihar and Jharkhand. This expansion is much more than what one would normally expect a fledgling party to achieve in a year. Now, any call that the central leadership takes here goes to around 280 districts.
"In one year, we have completed most of the big promises of our 70-point manifesto"
What have been the biggest difficulties faced by the party in this period?
We knew the kind of politics we were creating would be opposed as much by Congress as by BJP or SP or BSP or any other party. This is because we are against traditional politics - the politics of religion, politics of corruption, politics of criminalisation.
All these parties practice this kind of politics. They won't allow our kind of politics to take root. Therefore they threw many difficulties in our path. The multiple false cases against several party leaders are one such challenge. We are tackling them.
These cases that you refer to, they have created an impression that the party has too many tainted MLAs. How do you defend the party?
Most of these are false cases, deliberately filed or instigated by our opponents to bog us down.
Look at the one against Somnath Bharti. Even the charges of domestic violence filed against him were found to be false.
It's the same thing in the cases against Manoj Kumar, Akhilesh Tripathi, commando Surender Singh. Why, there is even a false case against me related to farmer Gajendra Singh's death.
What about Jitender Tomar? His certificates are still facing scrutiny...
One certificate of his from an institution in Bihar was found to be original. The police is probing the rest of the matter. Lets see what the outcome is.
Haven't these controversies impacted the party's image?
On the contrary, I would say we have been benefited. All of these were false cases and people now feel sympathetic towards us and all the more committed to stand by us.
Indira Gandhi employed this tactic of filing false cases against political adversaries in 1975, and look at what the outcome was. She was wiped out in 1977.
Modi will suffer the same fate. Can you imagine the things that they have done? The Solicitor-General of India appeared in court to oppose Somnath's bail plea!
This period also saw the bitter parting of ways with former colleagues Prashant Bhushan and Yogendra Yadav. Do you regret the episode?
The parting was unfortunate. The party definitely suffered a setback. However, the circumstances that had been created left us with no alternative. No organisation can run with indiscipline. Minimum discipline will have to be followed, otherwise there will be chaos. What message will the cadres receive?
You call it action against indiscipline, they call it absence of democratic space...
No party in this country is as democratic as us. I will tell you how. Is there any other party that complains about and probes its own candidates like we did?
Respected Prashant Bhushan and Yogendra Yadav had complained against 12 candidates. Our internal Lokpal probed all 12 candidates and the candidature of two of them was cancelled.
We also told the other 10 while acquitting them that the party won't campaign for you. Where else have you seen this kind of intra-party democracy.
"Most of the cases against AAP MLAs are false, deliberately filed or instigated by our opponents"
And speaking of Yadav and Bhushan, where was their sense of democracy? They did not even accept the Lokpal's decision.
That same Lokpal who you are referring to, Admiral Ramdas, had expressed displeasure with the turn of events at that time.
I just said it was an unfortunate episode. But as far as Admiral Ramdas is concerned, he was the party's Lokpal. His job was to probe corruption complaints within the party. He had no reason to give any reaction as a party member or party office-bearer. He should have worked within his rights.
Medha Patkar has also told Catch that she feels the party lacks democratic space...
I have a lot of respect for Medhaji. I feel she is working for her causes with great dedication. Best wishes to her. There is no dispute with her.
This could be her personal opinion. I have already given you an example of our democratic practices.
Another criticism pointed out by her is the promotion of a personality cult within the party; that a huge publicity campaign had been created around an individual...
Tell me, how many names do you know of in the Narmada Bachao Andolan?
Does this mean you accept the allegation? You are essentially saying that just as the NBA has only one leader, so does AAP.
Also read - A year in power, has AAP-led by Kejriwal succeeded in bringing down corruption in Delhi?
No, I am not saying that. Try to understand what I am saying. Any movement has its leaders. Don't link it with individualism. Try to see why has that particular face emerged. Is it because of his dedication, hard work, anshan and aandolan or he has been imposed from above like Rahul Gandhi or Akhilesh Yadav?
Arvind Kejriwal was dedicated towards the movement. He worked hard night and day. His leadership is accepted by everyone in the party, from booth-level worker to a national-level leader. We naturally accepted his leadership. What is wrong with that?
What happened to the core issue of that movement, the Jan Lokpal? Have you moved on to other issues and left it behind?
The Delhi govt has passed the best legislation possible for a powerful Lokpal. The ball is in the Centre's court now to give its sanction and implement it.
Will you just stop at that? No movement anymore?
Anna (Hazare) is pressurising the government. We will also discuss with him and take the issue forward.
What about the referendum for Delhi statehood? That's another issue which seems to have been put on the back-burner.
See, the party has many things to do. There is a lot of pressure. Its time will also come.
So it has not been put in cold storage?
The Centre keeps us entangled in so many things. We are doing our work. They sometimes get the CBI to raid us, take away the control of the Anti-Corruption Bureau from us, file false cases against us. Many things suffer because of this. For example, the CBI raid took place just when Odd-Even was being implemented.
"Kejriwal was dedicated towards the movement. His leadership is accepted by everyone in the party"
Are you hiding behind excuses?
No. We are saying that we are working. However, in spite of our best efforts, work is affected when your opponents do things like these. Besides, only a referendum won't be sufficient. Who are the people who have to pass the legislation? These are the people who, if they could have their way, would dissolve the Delhi government, let alone grant statehood.
One quick question on Punjab. What do have to say about the allegations that AAP put up Bhindranwale's posters in Punjab?
Those posters were not ours. We have officially said that. We have also requested media not to publicise such posters. It's irresponsible of the media not to verify the origins of such posters and report them as AAP's.
Are you not going to at least probe the matter?
We don't wish to do that. That's what our adversaries want, that we get entangled in such things when what we want to do is work for the people of Punjab.
What are the organisational goals from here on?
To win Punjab and to expand across the country.
More in Catch - AAP@1: How serious is Kejriwal about cleaning up Delhi's air?
AAP occupies exact space it promised to cleanse: Hegde on #EkSaalKejriwal
AAP@1: Has Kejriwal delivered on his 'bijli, paani and sadak' promise?