AAP inducts Akali icon Gurcharan Tohra's kin to cash in on his legacy. It backfires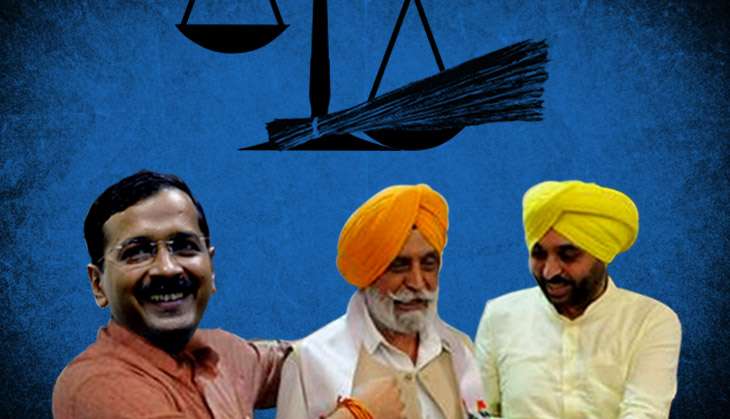 As part of its quest for political faces, preferably Sikh ones, to project in Punjab ahead of next year's assembly election, the Aam Aadmi Party has inducted Harmail Tohra, a former Shiromani Akali Dal minister and, more important, son-in-law of the iconic Akali leader Gurcharan Singh Tohra.
The move, though, has boomeranged. It seems Harmail's induction, along with his wife Kuldeep Kaur, earlier this week is unlikely to bring political dividends for the party, which is already reeling under the fallout of the sacking of its state convener Succha Singh Chhotepur.
Political analysts pointed out that the AAP leadership wants to reap political gains from the legacy of Tohra, who besides being a top Akali politician had also presided over the Shiromani Gurudwara Prabandhak Committee for 27 years. Punjabis see Tohra as the balancing force in the SAD, who prevented the current chief minister Parkash Singh Badal from taking complete control of the party as long as he was alive. Tohra's influence over the Punjabis was unmatched - be it political workers, voters and even the bureaucracy. This is what seems to have informed the AAP leadership's outreach to his daughter and son-in-law.
Also Read: Farmer suicides: Punjab agrarian crisis deepens, Badal tries to wriggle out
Only it didn't go as per script. Harmail and Kuldeep's entry has sparked another round of rebellion in the party at the grassroots level - and even leaders such as Kanwar Sandhu have openly expressed their reservations. The matter of Harmail having allegedly plotted an attack on AAP's suspended Patiala MP Dharamvira Gandhi has also come back to haunt the leadership although Harmail has denied the charges.
The induction was overseen by senior AAP leaders Sanjay Singh, Bhagwant Mann, Gurpreet Ghuggi and Himmat Singh Shergil, in full media glare.
Mann said the Tohra family would definitely strengthen the party's prospects in the assembly election.
Pointing out that his father-in-law had spent his entire life serving the SAD, Harmail said, "Things became worse when Sukhbir Badal took command as he started ignoring Taksali (true) Akalis to run the party as a private limited company."
Feeling betrayed
He recounted the Tohra family's contribution to the movements led by the Akalis in the past, and said it was because of the anti-Sikh and anti-Punjab policies of the Sukhbir-led SAD that the family has been forced to leave for AAP, which has come as a ray of hope for Punjabis and Punjab. "There is no place for honest and dedicated politicians in the SAD and many other Taksali Akalis are feeling suffocated in Sukhbir's Akali Dal," Harmail said.
Harmail was miffed at the recent removal of his wife as the SAD's in-charge of Patiala Rural assembly constituency. Sukhbir had replaced her with Satbir Singh Khatra, who contested as a rebel candidate against Kuldeep in the last assembly election. Harmail and his family felt humiliated at being replaced by a man who was instrumental in Kuldeep's defeat in 2012. Their supporters went around saying Sukhbir was hell bent upon writing off the Tohra family from Punjab's politics.
Barely hours after Harmail and Kuldeep's induction, AAP workers and leaders started slamming the party's decision. The issue that was raised prominently was that Harmail had been allegedly involved in the attacks on AAP's suspended Patiala MP Dharamvira Gandhi in the run up to the 2014 parliamentary election.
Also Read: Campaign season: how AAP is trying to win over Punjab's voters
None other than Kanwar Sandhu, the head of AAP's manifesto committee, posted on Facebook: "Tohra's hasty induction - I wish I had known about Harmail Singh Tohra's involvement in the unfortunate attack on AAP MP, Dr Dharamvira Gandhi in 2014 Lok Sabha polls. I would have opposed his entry. Now this person must publicly apologise for his role in the attack. Besides, he should prove that he is committed to AAP's strategy before being made a candidate for any polls. Obviously, we need to be more careful in inducting people left and right and broad-base the screening process for the same."
War of words
While Harmail has refuted the charges leveled by Gandhi and his supporters that he had played a role in organising the assault on him, he has reportedly admitted to have unintentionally honoured Gandhi's attacker as the accused stepped out of Patiala Central Jail. He has offered to apologise to Gandhi and AAP for this. He also said Sandhu could have asked him about the details of the incident before going public.
Gandhi is at a loggerheads with the AAP leadership and has already floated a new political front. He has immense individual clout in rural Malwa thanks to his social activism spanning over four decades.
The Congress, meanwhile, has used Harmail's departure as yet another plank to hit out at the Akalis. Punjab Congress chief Amarinder Singh has accused Parkash Singh Badal of so completely destroying the century-old "great and glorious" Akali legacy that "the real and true Akalis" are feeling "suffocated and seeking a way out".
At the same time he cautioned the Taksali Akalis not to make wrong choices. "Beware that you only make a better choice, not a wrong and worse one," he said, adding that the future of Punjab was at stake. "It is a tragic reflection on the state of affairs that the inheritors of the legacy of someone like Jathedar Tohra had to find political asylum somewhere else," he regretted.
He said what Badal was leading today was far removed from the Akali Dal which was born out of the Gurudwara movement and had been conceived by great Sikh leaders such as Baba Kharak Singh, Sant Fateh Singh, Master Tara Singh. "It has just been reduced to a private profit-making company which only and only watches the business interests of the Badal family,"he said.
Meanwhile, Harmail and Kuldeep's departure from the SAD will likely lead to a peculiar problem in Patiala area as they will be pitted against the Tohra loyalists who are still well entrenched in the SAD. How AAP makes use of the couple, therefore, remains to be seen.
Also Read: AAP on a roll in Punjab but don't write off Congress and Akalis