AAP claims on education "false" says Yogendra Yadav
Catch Team
| Updated on: 11 February 2017, 5:46 IST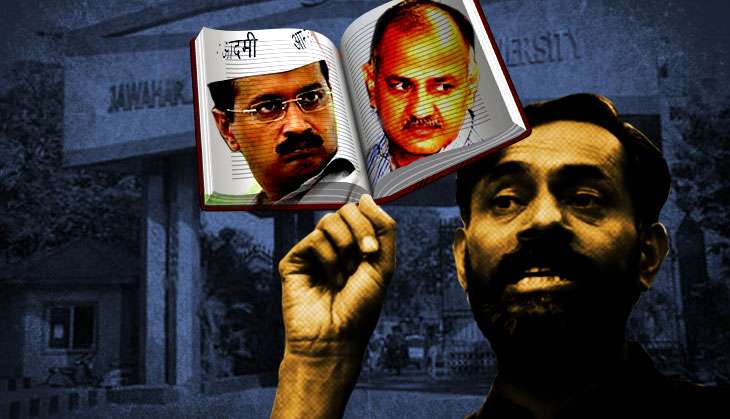 The Aam Aadmi Party (AAP) government might be selling its 'education model' in poll-bound Punjab and Goa, but ousted party leader and political scientist Yogendra Yadav isn't impressed with how the Arvind Kejriwal government has performed in Delhi. He said that the Delhi government has not fulfilled a single education-related promise made in its election manifesto.
Addressing a press conference on behalf of his newly formed political party Swaraj India, Yadav pointed out that the state education budget had doubled only on paper while enrolment in government schools had declined and not a single regular teacher had been appointed since AAP came to power.
Yadav backed his attack with statistics culled from the Delhi government itself, and said while the Arvind Kejriwal-led AAP had promised 500 new schools in its manifesto, only four new government schools had been constructed by the end of 2015-16. As for the promise of 20 new general education colleges, the number had instead gone down from 85 to 84 by the end of 2015-16.
Citing a White Paper published by Praja.org, Yadav said enrolment had fallen by 28,000 students in Delhi government schools and by 20,000 in MCD-run schools.
As for the AAP government's first budget presented in 2015, which announced an increase of 106% in its education expenditure, Yadav said only the 'planned' component of the Budget was hiked to Rs 4,570 crore from the previous year's Rs 2,219 crore. The actual expenditure of the government had been only Rs 2,932 crore.
Yadav took Kejriwal to task for awarding loans only to three students so far under the Higher Education & Skill Guarantee Scheme, guaranteeing an amount of Rs 3.15 lakh. He compared this amount to the Rs 30.04 lakh spent by the Kejriwal government on advertisements in its first year alone.
As for the manifesto promise of ensuring implementation of the 25% quota for students from the Economically Weaker Section (EWS) category in private schools, as required under the Right to Education (RTE) Act, Yadav cited a report that said 57% of EWS seats remained vacant.
On the crucial issue of teacher recruitment and abolishing contractual employment of school teachers, he said that 44% of teaching positions remain vacant or have temporary teachers in Delhi government schools.
While the AAP had promised 17,000 new teachers, not a single permanent teacher has been recruited so far.
Yadav said the government had also flouted the Supreme Court order mandating "same pay for same work" for permanent and temporary teachers.
He also raised the issue of guest teachers in government schools being victimised by the Delhi government.
He also cited parts of a video showing deputy CM and education minister Manish Sisodia at an annual government school function last year, where he openly threatened guest teachers for protesting against the Delhi government.
Yadav criticised Sisodia saying the latter was behaving like a "zamindar" or a feudal landlord, that too in front of kids, even though he was an elected public servant. He said it was shameful that a party born out of a movement was resorting to intimidating and authoritarian tactics.
After Yadav finished speaking, a former guest teacher named Shoaib Rana addressed the media. Rana claimed he had been removed on "false" allegations after teaching Science in Urdu-medium at a Jafrabad school for five years, because he had demanded regularisation as part of the All India Guest Teachers' Association.
Yadav at JNU
On Friday, Yogendra Yadav addressed around 300 people at the Jawaharlal Nehru University (JNU) as part of a five-day lecture series started by the JNU Teachers' Association (JNUTA) against the university administration's recent "undemocratic" and "authoritarian" actions.
Speaking on the topic "UGC, university autonomy and social justice", Yadav read out the contentious UGC circular that changed MPhil/PhD admission rules and asserted that it left enough room for universities to decide their own internal criteria.
Students and teachers have been protesting against the administration's adoption of the circular, which says written exam be treated as "qualifying" and viva or oral interviews be a necessary basis for selection.
While students for years had been demanding reduction in viva weightage citing discrimination against SC/ST students, the university has now changed the rules to give 50% weighatge to the written test as "qualifying" exam and 100% weightage to viva, citing the UGC circular.
But Yadav said that while the university claimed it was "helpless" when it came to deciding the selection criteria and reducing the weightage for the viva, this was not the case.
The former professor said he had spoken to UGC chairman Ved Prakash a couple of weeks ago, who had categorically said that the universities could decide how much weightage to give to viva and to written exams.
So far, the weightage was 30% to viva and 70% to the written exam.
Yadav apparently quoted Prakash as saying it was still up to the varsities whether to give "10% or 20% or 40% or whatever" weightage to either the written or the oral component. It was merely mandated that both the components be part of a two-stage process for selection, he said.
Yadav also said there was no need to end JNU's "deprivation point" system, that awarded points to applicants based on certain criteria such as belonging to backward districts. While the university administration had claimed the new UGC rules required JNU to end the system, Yadav again cited the UGC chairman as saying that this was the case.