A new politics of identity is taking shape in UP. And Akhilesh is its face
Ashutosh
| Updated on: 11 February 2017, 21:24 IST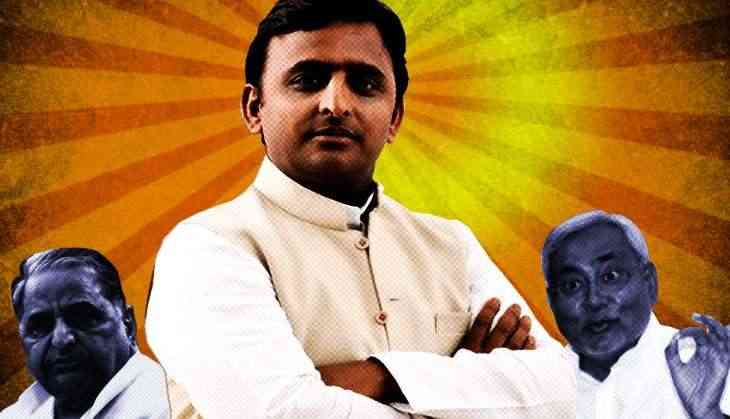 (Ashutosh is an official spokesperson for the Aam Aadmi Party. He comments on the change of guard in the Samajwadi Party, and what it means for the politics of Uttar Pradesh.)
Is this the beginning of the end for identity politics in India?
In a country riddled with the scourge of caste, sub-caste, gotra, religion, region, language and gender, it may be blasphemous to ask such a question.
Political pundits might ridicule it and zealots could mock the very premise of it, but a recent development in Uttar Pradesh seeks an answer from the political class, the ruling elite and also from the academia.
I refer, of course, to Mulayam Singh Yadav being upstaged by his son Akhilesh.
Now, Mulayam is a veteran socialist-turned-icon of identity politics. So, if he could be so easily upstaged by his son, it does call for a greater scrutiny of the new social forces that are bent on asserting their primacy in the Indian political system.
The birth of identity politics
Mulayam started his political career as a disciple of Ram Manohar Lohia, who was the originator of OBC politics in India. But till the pronouncement of the Mandal Commission recommendations by then-Prime Minister VP Singh, he was like any other socialist leader.
Mandal gave him a new identity, which was overtly defined by the backward caste which had been denied its rightful place in the history by the dominant upper castes. Lalu Yadav acquired a similar status in the neighbouring state of Bihar.
Mandal had also given space to another caste - Dalits - who were historically more suppressed than the backwards.
UP then witnessed the most innovative experiment of Dalit politics since Babasaheb Ambedkar. Kanshi Ram's mobilisation of the Dalit identity helped install the first Dalit-led state government in India under Mayawati, who went on to become Chief Minister four times.
Unfortunately, both the identities worked at cross purposes and tried to neutralise each other. If Mulayam and Mayawati could sit together, the history of UP would have been different.
Still, in their separate ways, both stalled the march of Hindutva assertion in UP and, after Kalyan Singh, the BJP could not form a majority government in the state on its own.
The fall of Mulayam
But in 2012, very silently, a new phenomenon crept in. This was the time when Mulayam passed the baton to Akhilesh, who was just 37 years old at that time.
Akhilesh was educated in Australia, exposed to modern values, but in office, he was constrained by his overbearing father and relatives. He was always perceived to be a modern man, but in chains.
This young man finally decided to unshackle himself on the eve of Assembly elections and dumped his father and his legacy. The way he did it amazed even his bitterest critics. Some dubbed it Machiavellian politics; others called it the return of medieval history.
But it was overlooked that the battle-hardened Mulayam could only be subdued if he lost the support of the same social forces who had iconised him as the 'Mandal messiah' or 'Mullah Mulayam'.
Today, Mulayam is left with no party and no cadre. He has been orphaned by his own men, by his own son.
The Bihar similarity
A similar thing had happened in Bihar in 2005, though it was less dramatic. Lalu 15-year reign, which was interrupted only by jail terms where his wife Rabri Devi took over as CM, ended rather quietly, and Nitish Kumar emerged as the new leader of Bihar.
Now, over a decade later, Nitish is CM for a third successive term, and is still going strong.
There's no doubt that Lalu's militant backward politics has socio-politically empowered the 'have-nots', but it has also given this brand of politics a bad name.
Bihar became a subject of ridicule, it earned notoriety as the badlands of India, where a 'jungle raj' was in place.
Under Nitish, Bihar has acquired a better reputation. Economic indicators have given new hope, though a lot still needs to be done to progress on the path of development.
In 2015, Lalu, despite getting more seats than Nitish, had to play a subordinate role, because the time for his brand of identity politics is over. Lalu knows that he alone can't win elections; history will come back to bite him. His party won so many seats because it asked for votes in the name of Nitish.
Nitish's name was an assurance to the people of Bihar that despite the presence of Lalu, the dark ages wouldn't come back to haunt Bihar.
Bihar is now experimenting with a version 2.0 of identity politics. If the first one was defined by the raw urge for socio-political equality, the second is striving for "economic-parity and dignity of equality". Backward politics no longer wants to be ridiculed - it craves for dignity, which can only be achieved by good governance and economic might.
Version 2.0 in UP
In UP too, Mulayam's name, like Lalu's, evokes the images of lawlessness and goonda-raj. In 2007, Mayawati wrested power from Mulayam on the issue of law and order. But she herself became synonymous with corruption.
Mulayam, being a shrewd politician, knew that his own record on the law and order front was abysmal, and wouldn't fetch votes. So, he smartly pushed Akhilesh to the forefront.
And when Akhilesh, most insultingly, threw mafia don DP Yadav out of the Samajwadi Party, it gave confidence to the people that the son wouldn't re-enact his father's follies. It was the beginning of the end of Mulayam's brand of identity politics, which took five years to complete.
Today, UP too is experimenting with a version 2.0 of backward politics. Akhilesh, today, is not just seen as the leader of the Yadav clan. He gives the impression of a man who wants to carry UP on the path of development.
Akhilesh's journey has just begun. Nitish can be his role model. Will he succeed? Only time will tell.
But one thing I can say with certainty: that with every new version, identity politics won't be the same. It will come back with diminishing returns; and who knows, with the technological revolution unleashing new forces of modernisation every hour, the process of secularisation of identity politics might be the light at the end of the tunnel.
Edited by Shreyas Sharma