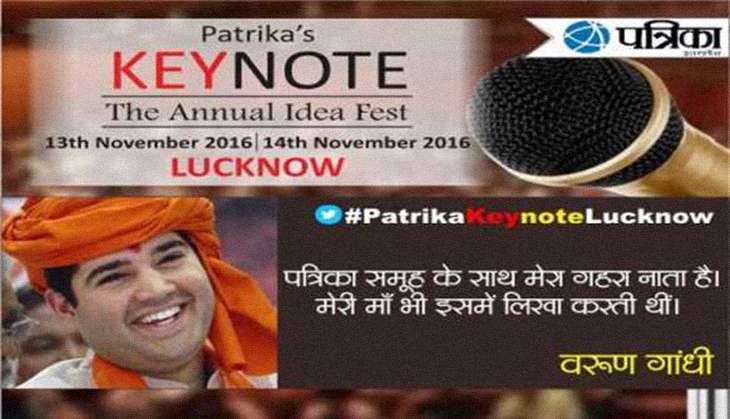 BJP MP Varun Gandhi, who participated in the Rajasthan Patrika Keynote Idea Fest 2016 held in Lucknow, spoke about a host of issues that plague India, from economic inequalities to famer suicides and foreign investment.
On economic inequality
"Economic inequality is a principal issue - 10% of the people own 90% of the resources and property.
I had heard about farmers committing suicide in Telangana, but these are even happening in UP now. In Sultanpur, it troubled me when I hear 5-7 farmers had killed themselves. I thought of helping them with the salary I received over the past few years. But then I asked myself if this was my ego talking and tried to find other ways to help.
I met Akhilesh Yadav and even travelled to Bundelkhand and spoke to the local administration. I asked people to make a list of who the most needy are and linked those people to my project.
We have to make farmers free from the burden of debt. We have to bring the world's richest together with the world's poorest - this work is quite distinct from politics.
The undertaking, or pilot project, I have started will be done by 2017. I started working for farmers when I realised the farmer is neither rich nor secure. I am also writing a book on the subject, which will be released in early 2018."
On foreign investment
Talking about how one should not depend on outsiders of help, Gandhi said that those who talk big outnumber those who take action.
"UP has got just 0.01% of all the foreign investment received over the last few years. We will neither depend on foreign investments nor on foreign companies for progress.
On ethics
Gandhi went on to talk about how no one ever remembers what position one held or how many elections they won. What they do remember is the work accomplished.
"Politics has become a wrestling rink for problems. When someone says, 'you are the son of Sanjay (Gandhi), I also drive a Maruti', I like it. The Maruti was his dream. If they say, 'Noida was conceived by Sanjay,' I like it. If people say, 'your mother (Maneka Gandhi) protects animals', I like it but when they say that she won eight elections, I do not like it.
On Rajasthan Patrika
Gandhi spoke on how Rajasthan Patrika has long been fighting a battle for intellectual freedom. "If there is an attack on intellectual freedom, you will immediately find a response from the newspaper," he said.
Speaking of how his mother wrote for the newspaper, Gandhi said he has had a long association with Gulab Kothari, since the day he made a phone call and asked him about whether he could write an article. "He came to my house in Delhi. I was very impressed by his thinking - he has a will and strength to work for others. I think the freedom of speech is a sacred right and has to remain intact."