Catch Team
| Updated on: 10 February 2017, 1:37 IST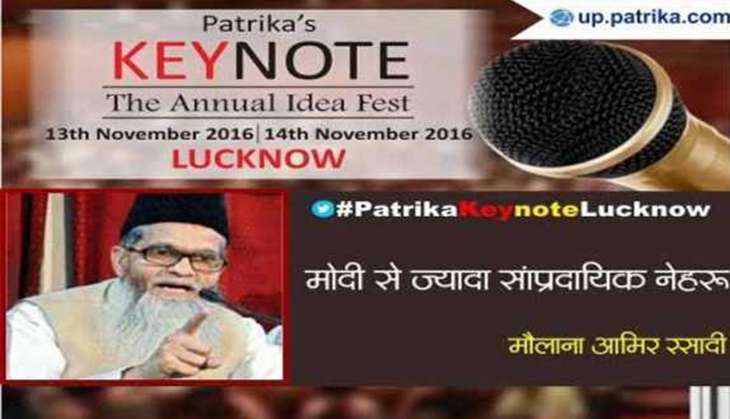 Maulana Aamir Rashadi Madni, president of the Rashtriya Ulama Council, has lashed out at the Bharatiya Janata Party and many other national political parties for the divided state of India's society.
However, he added that Prime Minister Narendra Modi wasn't the only one to whom the 'communal' tag should be applied; that he was no more communal than the country's first PM, Jawaharlal Nehru.
Speaking at the Keynote programme organised by Rajasthan Patrika in Lucknow, which was also attended by Uttar Pradesh Chief Minister Akhilesh Yadav, state Congress president Raj Babbar and many other dignitaries, the Maulana accused parties of merely paying lip service.
Here are some key quotes from the Maulana's speech:
"It has been 70 years but still we don't understand the meaning of the term 'politics'. Politics is making such governing policies that may lead to the development of the country."
"Raj Babbar from the Congress and many other political leaders present have come here to pay lip service only."
"We don't produce leaders but slaves, who have no worth of themselves. Slavery is basically of two types: mental and physical. Muslims are mental slaves, and have therefore not developed much, whereas Dalits, who were physical slaves, were able to produce a leader like Kanshi Ram, and developed much more than us."
"I am thankful to Patrika for calling me to attend this programme. But even here, I am asked to speak on our qaum (community), instead of the general society."
"The mistake committed by our forefathers is of not understanding and sympathising with Dalits. They bred hatred instead of love."
"This violence won't end unless we are able to convince the poor that we are all humans. Until this happens, casteism will not be eliminated from the politics."
"Modi is no more communal than Nehru. The system of reservation was based on caste in place of Hindu/Muslim religious grounds till 1950. But in 1952, Nehru added a condition that if people from a particular community became Hindus, they could reap the benefits of reservation."
"There is no honesty left here. Our people come on foot, while they bring their men in buses. BJP spent Rs 470 crore on Modi's rallies, which means that there was a scam at the very base of this government. Why do you only look at 2G? Why not at Vyapam?"
"We are not calling the (SIMI activists') encounter fake, but only demanding an investigation. Understand the pain of our community; we never pleaded to anyone to feed us or to give us our justified rights. We have accepted every leader as ours, but are you ready to accept a Muslim as your leader?"
Edited by Shreyas Sharma