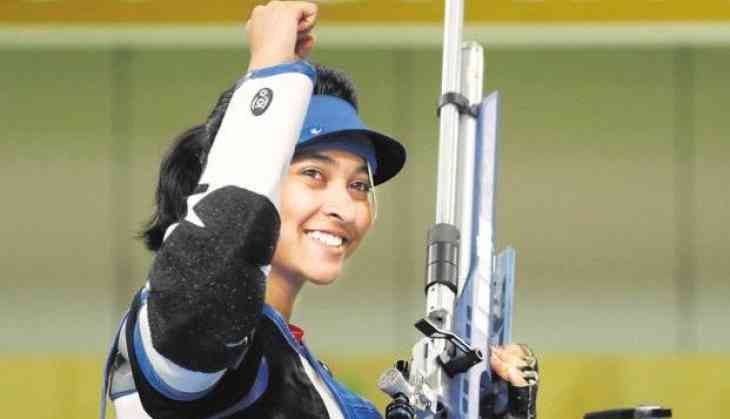 The highly-talented Mehuli Ghosh came within striking distance of winning a historic gold before settling for a silver medal in the women's 10m air-rifle shooting event of the Youth Olympic Games here Monday.
A 9.1 in the 24th and final shot, after an excellent sequence of high and mid 10s, cost her the gold medal as she eventually settled for the second position with a total of 248.0. India has never won a gold in these Games.

The 18-year-old Indian finished behind Denmark's Stephanie Grundsoee, who ended with a score of 248.7.
This was India's second silver from the shooting ranges in two days with Shahu Mane coming second in the men's air rifle event on Sunday.
Mehuli had topped the qualifying with a score of 628.8 earlier in the morning and led the eight-woman finals field after 10 shots with a score of 104.3, 1.1 ahead of Stephanie.

By the 12th shot, which is also the stage where the first of the eight finalists get eliminated, German Anna Janssen had come up to second. Meanwhile Serbia's Marija Malic was also following the leading trio.
It was then a seesaw battle between the Indian, Dane, German and Serbian and after the 16th shot the difference was 0.2 between the four of them.
As the Chinese Wang Zeru, a gold medal winner in the 3 Positions event at the senior World Cup in Changwon this year, bowed out after the 18th shot, it was the German who eventually missed out on the medal with a 9.7 for her 20th shot.
Mehuli then shot a 10.7 for her 22nd and with the final two shots to go, ahead of the Dane by 0.8 as the Serbian Marija settled for bronze.
Mehuli took a 0.6 point lead into the final shot but a 9.1, to the Dane's 10.6, meant that she had to settle for silver.
India also has Manu Bhaker and Saurabh Chaudhary to look forward to in shooting, besides the mixed events.
-PTI