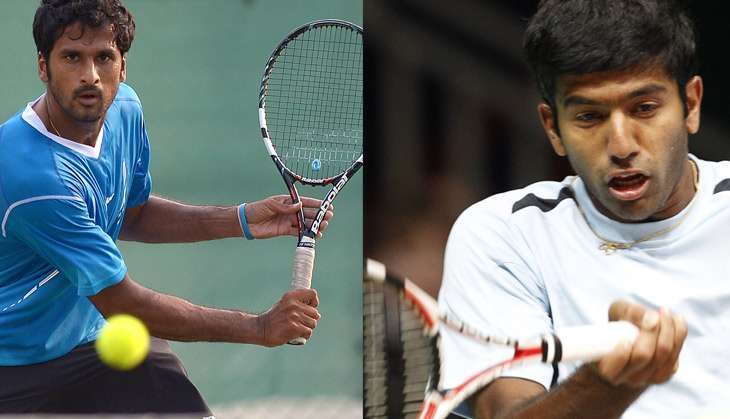 On 10 June, tennis ace Rohan Bopanna announced his decision to pick Saketh Myneni as his preferred partner over Leander Paes for the men's doubles competition in the Rio Olympics 2016.
Bopanna won the direct ticket to the Rio Games by virtue of his top 10 ATP ranking, NDTV reported.
While he has made his preference clear to the All India Tennis Association (AITA), the national selectors may have a different choice as the Rio squad will be named on 11 June.
In a statement released to the media on Friday, NDTV quoted Bopanna as saying, "A direct acceptance provides me the right to nominate my men's doubles partner, an opportunity for me to exercise my judgement as to the best possible partner for me. I have, earlier today, communicated my decision to the AITA."
AITA CEO Hironmoy Chatterjee told NDTV that the final decision lies with the selection committee "which may or may not honour Bopanna's preference."
Referring to India's during the 2012 London Olympics, he said, "We hope there will be no repeat of what happened in 2012. The selection committee's decision will be final and of course, Bopanna can certainly voice his preference".
On the other hand, Paes - the winner of 18 grand slam titles - is keen to play in his record seventh Olympics at Rio. In an interview to NDTV, Paes said that he was ready to play at Rio after winning the French Open mixed doubles title with Martina Hingis.
"Rohan and I are the best possible combination. We are playing at a very high level. My career speaks for itself and Rohan has also been doing well in the last 18 months. We both are ready and without a shadow of doubt; me and Rohan are the best team," Paes told the Hindustan Times.
Bopanna will also play the mixed doubles with Sania Mirza at Rio Olympics, NDTV reported.