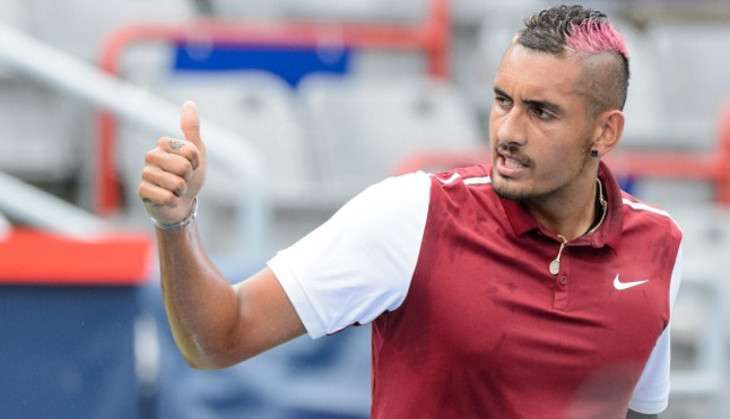 Controversial Australian tennis star Nick Kyrgios has announced that he will skip the upcoming Rio Games, citing 'unfair and unjust treatment' on part of the Australian Olympic Committee (AOC) as the reason behind his withdrawal.
Admitting that it was an extremely difficult decision to withdraw from contention for Australia's Rio 2016 team, Kyrgios insisted that he had every intention of trying to win a medal for his country at the Olympics. However, it seemed that the AOC had other plans for him, news.com.au reported.
Kyrgios observed that the AOC had chosen to publicly and privately disparage him and, therefore, despite the assurance of Tennis Australia, the unwarranted attacks he had received forced him to pull out of the event.
The world number 19, however, thanked Tennis Australia for standing by his side and nominating him for the Olympic team.
Earlier, Kyrgios' fellow countryman Bernard Tomic had also decided to give Rio Olympics a miss due to his 'extremely busy playing schedule' and 'personal circumstances'.
The duo was earlier warned by Australia Olympics chef de mission Kitty Chiller to improve their behaviour in order to avoid facing a ban from the Rio Games.
Tomic had attracted a torrent of criticism when he gave up on the last point of his first-round match against Italian Fabio Fognini by holding his racquet the wrong way round at the Madrid Masters last week.
He then aggravated the situation with his outspoken comments claiming he didn't care about losing the point given the wealth he had earned already in his short career.
Describing the incident as 'appalling', Chiller had said that such behaviour goes against the spirit of the Olympics, adding that she wouldn't want any Olympian to behave in similar manner.
Responding to Chiller's warning, Kyrgios had said if Australia is not interested to send their best players to Rio 'then so be it'.
Now, Chiller said that regardless of Kyrgios' withdrawing his candidacy for selection, Tennis Australia was not due to nominate selected players until 30 June.
--ANI