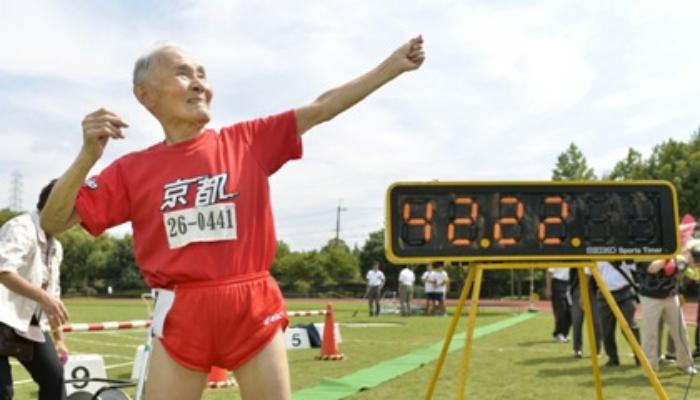 Hard work always pays off, and no one could have given a better exhibition of the same than a 105-year-old Japanese sprinter who defied his age to script his name in the Guinness World Records book.
Hidekichi Miyazaki raised many eyebrows as he set a fresh 100 metres world record in the over-105 age category by clocking 42.22 seconds in Kyoto, one day after reaching the milestone age.
However, Miyazaki's unwavering dedication to the sport has to be applauded as he was clearly disappointed at falling short of his own personal best mark.
Reflecting on his performance, Miyazaki said that he was not happy with the time, adding that he started shedding tears during the race because he was going slowly, News.com.au reported.
He insisted that he can still go faster than the actual result, adding that his training had been going splendidly and, therefore, he had set himself a target of 35 seconds.
Dubbed as the 'Golden Bolt' for imitating sprint king Usain Bolt's famed lightning bolt pose, Miyazaki said that he would love to compete against the Jamaican.
Describing himself as a 'medical marvel', Miyazaki also refused to take retirement and vowed to train harder for next month's Japanese Masters Championships.
-ANI