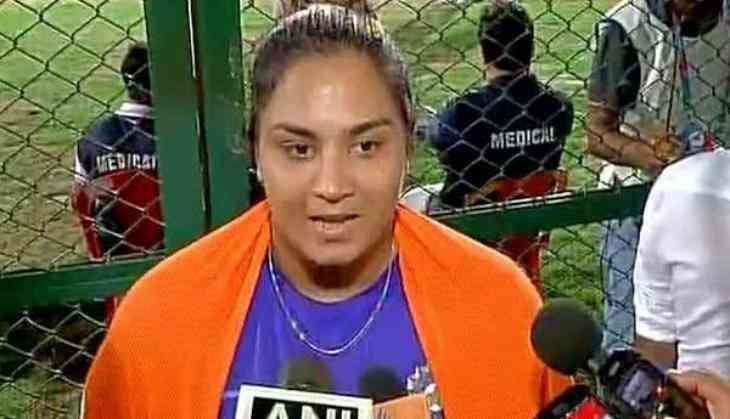 India's leading shot-putter Manpreet Kaur has been provisionally suspended by the National Anti Doping Agency (NADA) after she was found to be tested positive for banned substances for the second time in a couple of days.
It is reported that urine sample 'A' of Manpreet collected during the first leg of the Asian Grand Prix at Jinhua (China) on April 24 was also found to have banned stimulant DMBA dimethylbutylamine in it.
This stimulant was the same one which was found in her urine sample 'A' taken during the Federation Cup National Championships at Patiala on June 1, which came to fore a couple of days back.
"Shot-putter Manpreet Kaur was yesterday provisionally suspended by NADA. At the time of result management process, NADA came to know she took anabolic substance while participating in China this year," NADA Director General Navin Agarwal told ANI.
"NADA has clubbed the two cases and yesterday put her under suspension."
"We have told the federations and the Sports Authority of India that whenever an athlete is to comeback from foreign country, we should be informed so that we can do a physical check of his/her belongings for any doping substances and also test him/her for presence of any dope material in the body."
The NADA DG also informed that they are now coming up the athlete biological passport to prevent the dope.
"This will come in to effect from 1st January 2018," he said.
Yesterday, the Athletics Federation of India ( AFI) also put a provisional suspension on the Indian shot-putter.
It means that Kaur will now not be able to participate in World Athletics Championships in London slated to be held next month.
The IAAF World Championships will be hosted by London from August 5 to 13.
However, India might lose the gold medal won by her at the 22nd Asian Athletics Championships in Bhubaneswar if her confirmatory urine sample 'B' test also returns positive.
Kaur's brilliant throw of 18.28m on the opening day of the 22nd Asian Athletics Championships at the Kalinga Stadium won her gold medal.
In the Asian Grand Prix held in China in April, she won gold with a throw of 18.86 metres.
-ANI