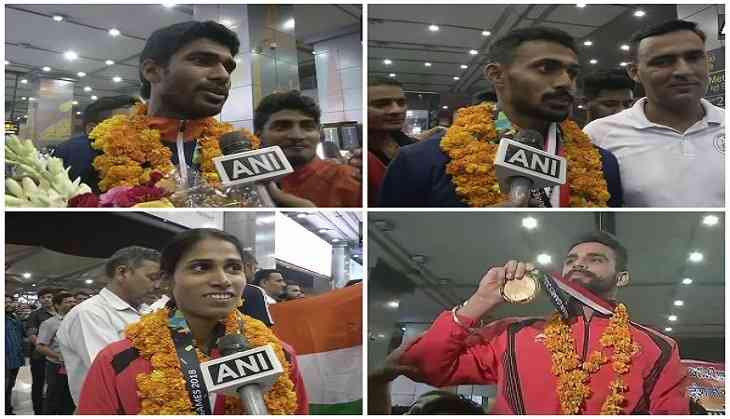 Indian athlete Jinson Johnson, who clinched a gold medal in Men's 1500m athletics event at the 18th edition of the Asian Games, arrived in India on Friday.
While talking to media at Indira Gandhi International Airport, Johnson revealed that he will be preparing for upcoming championships.
He said, "I'm very happy. In 800 m India won gold and silver. I won gold in the 1500 m. Overall it's a very good result. I'll prepare for upcoming championships."
He also bagged a silver medal in Men's 800m athletics event, after he finished just behind his Indian counterpart Manjit Singh.
Arpinder Singh, who won a gold medal in men's triple jump at the Asian Games, also arrived in India on Friday evening and said that he was sure about winning gold.
"I'm overwhelmed with this welcome. I would like to thank the Sports Authority of India for their support," he said.
Sudha Singh, the silver medal winner in women's 3000m steeplechase also arrived in Delhi. She said that she has aimed for gold this time.
"I'm very happy. I had won gold in 2010 and stood 4th in 2014 so I had aimed at winning gold this time but I won silver. I'm now focusing on the World Championship," she told media.
Silver medal winner in Men's 400m mixed 4x400m relay Muhammad Anas on his arrival from the Asian Games asserted that he will be focusing on upcoming championships. While talking to media, the athlete said, "I'm proud to have won a medal for India. I am thankful to those who supported me. My family and coach are the reasons for my success. I am focusing on upcoming championships now."
India's total medal tally at the ongoing prestigious tournament now stands at 63-thirteen gold, 22 silver, and 28 bronze.
(ANI)