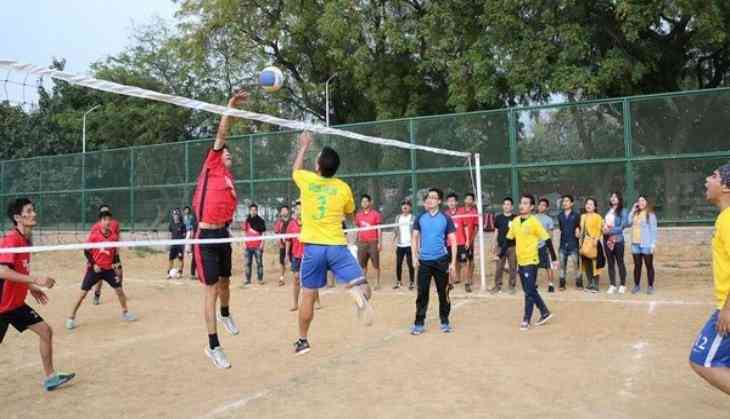 With the emergence of globalisation, Delhi has become the most preferred destination for northeast people as the city offers a land of opportunities.
The national capital houses premier education institutions of the country and is a blessing to many people from across the country.
At the same time, there is a remarkably high volume of students from the northeast, who have made their presence felt on the basis of their excelling performances, both in academics as well as in sports.
To celebrate unity and strength through sports, the Naga Students' Union Delhi hosted a three-day long annual sports meet at Vinay Marg Sports Complex, which brought people from all walks of life under one platform.
Celebrated under the theme 'Redefining human excellence through sports' the meet presented 12 teams from the region competing with high team spirit and great enthusiasm.
The meet also created a platform for students to come together and get close to each other, even though they are living far away from their homes.
"Nagas are from different tribes and here in Delhi, we are more than 21 tribes. So even among different tribes, we have our own tribal unions where they conduct sports meet every year. So Naga Students' Union Delhi also organises sports meet every year; it's an annual event where we promote unity and oneness among ourselves. The best players from all the tribes come and play together and it is a big tournament which is held from 8th to 11th this year", informed Ketoukhrietuo Theinou, vice-president, Naga Students' Union Delhi.
Asholi Chalai, Joint Secretary, Ministry of Corporate Affairs and Issac Kario Maheo, winner of Super Fight Challenger 2012, graced the closing ceremony of the event in the presence of elders and students from the community.
"Students should be more focused as I mentioned that it appears that most of the students are losing their focus. Many of them are here in Delhi for their career and having a determination to achieve something. But I must say that they need to be more focused in their fields. I am not saying that they should not indulge in sports, but it should be just their hobby unless they become professionals. They need to be focused more in their studies and to achieve something in their career", said Asholi.
For most of the elders of the community, such tournament brings back all the priceless memories during their initial years in the city.
As Issac Kario Maheo, the Mixed Martial Arts fighter says, "This reminds me of my initial years in Delhi. I used to make sure that I never missed it, playing basketball and other game activities. It is very reminiscent. Now I am not very frequent in Delhi but whenever I am here, I make sure that I attend the meet. I could see huge changes now; the meet becomes way bigger and more participants from the student fraternity".
Various games like football, basketball, chess, high jump, long jump and tug of war were organised at the meet keeping every participant and spectators on hook.
"It is a very good idea because all of us are coming together here. And over here in Delhi, NSUD is of one of the strongest student union bodies from the and it symbolizes that we are a very united students' union. So, it will bring more confidence in our state-level sports over the years", said the beaming Keibila, a student from Manipur.
Student fraternity from the Naga community in Delhi celebrated the annual sports meet in good spirit bringing out the very essence of human excellence through sports.
The tournament promoted the diverse culture of the Naga community spread across the northeast region.
Neli Ashihrii, a student from Manipur, said, "It has been a great opportunity and coming here together being a Naga. We are of diverse environments and from different tribes in Manipur, Nagaland and Assam. Everybody came here to show unity through sports and it is a good thing to do."
Such events and tournaments promote the acknowledgement and recognition of northeastern talent in the rest of India and will enable people outside the region to learn about the enormous good virtues and traits of the region, which remain largely unknown to the outside world.
--ANI